American Honda Motor Co., Inc. ("Honda") offers the i-HDS (Honda Diagnostic System) software suite for the diagnosis and repair of electronic systems on Honda and Acura automobiles, and for the reprogramming of electronic control units (including, but not limited to, ECMs and PCMs). This software provides access to all Honda and Acura vehicle systems (access to the immobilizer security system requires a Security Professional level software subscription and Vehicle Security Professional [VSP] registration with NASTF). To use the i-HDS software, you need to purchase one of our convenient subscription options. In addition, you will need a pass-thru Vehicle Communication Device (VCI) that is compliant with SAE J2534-1 and J2534-2 in order to communicate with the vehicle.
Minimum PC Requirements for the i-HDS Software
| | |
| --- | --- |
| Processor Speed | 2.0 GHz |
| Memory | 4 GB of RAM |
| Hard Drive Space | 20 GB free |
| Video Resolution | 1024 x 768, 16-bit color |
| Network | 10/100 Mbps Ethernet or Wi-Fi equivalent with internet access |
| I/O Ports | USB 2.0 |
| Operating System | 32-bit or 64-bit versions of Microsoft Windows 7, 8, 8.1, or 10 |
| Hardware Accessories | generic keyboard and pointing device |
Vehicle Communication Interfaces (VCI)
The i-HDS software supports the use of a generic pass-thru VCI that is compliant with SAE J2534-1 and J2534-2. However, Honda recommends the Denso DST-i or the Bosch MVCI for use on Honda and Acura vehicles, as Honda has worked closely with these manufacturers to ensure their hardware and our software interact safely and within the J2534-1 and -2 specifications, for both diagnostics and reprogramming. If you choose to use a generic VCI, please carefully consider the customer and technical support options you will receive from your chosen device supplier. Honda does not provide technical or customer support for generic VCI devices.
The VCI Application Table below lists devices that either are approved and supported by Honda or are known to have completed and passed an independent, exhaustive validation program with our i-HDS software suite.
Manufacturer
VCI Name
Version Information
Notes
Firmware
J2534 API
DENSO
DST-i
2.00.0010*
04.04
This is the current generation VCI used by Honda and Acura dealers. Honda routinely validates the functionality and provides customer support for this device.
Bosch
MVCI
3.01.54*
04.04
This is the previous generation VCI used by Honda and Acura dealers. Honda routinely validates the functionality and provides customer support for this device.
Drew Technologies
MongoosePro Honda
1.7.7**
04.04
This company has completed an independent i-HDS validation and claims it to function with the i-HDS software. Honda does not provide ongoing validation, nor customer support for this device.

Dearborn Group
d-briDGe Pro
3.303**
04.04
This company has completed an independent i-HDS validation and claims it to function with the i-HDS software. Honda does not provide ongoing validation, nor customer support for this device.
* These versions may have been superseded. Honda provides the latest supported versions to current i-HDS subscribers.
** Version used in validation program. See Terms and Conditions and Important Notice Regarding Reprogramming below for more details.
Reprogramming with the J2534 Rewrite Application in i-HDS
Included in the i-HDS software suite is a new reprogramming application called J2534 Rewrite. This application is made available to all subscribers of the i-HDS software suite and replaces the previous generation software, J2534 Honda Pass-thru Reprogramming Software.
This new application is compatible with generic VCIs that comply with SAE J2534. It must be used to reprogram any Honda/Acura vehicle equipped with ECUs that support reprogramming. Refer to the table below for legacy applicability for the programming of ECMs and PCMs. Though system dependent, late-model vehicles may be equipped with other ECUs that support reprogramming as well, e.g. ABS or VSA. J2534 Rewrite must be used to reprogram these control modules, as instructed in an applicable service bulletin.
As shown in this table, not all legacy Honda/Acura models are equipped with a reprogrammable ECM/PCM. Furthermore, all 2007 and later models not listed in the table are fully supported with this application.
X= Reprogrammable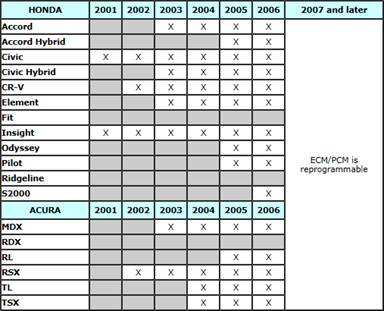 Terms and Conditions
The following statements describe American Honda Motor Co., Inc.'s ("Honda") policies and terms of use for Honda's i-HDS suite of diagnostic and reprogramming software. By using this software you acknowledge and agree to all terms and conditions stated herein. If you do not agree to these terms, do not use any component of the suite. You are responsible for proper diagnosis and reprogramming of Honda/Acura control modules. All problems and complaints that may occur from the use of any allegedly compliant J2534 devices are the sole responsibility of the device manufacturer. If you experience any problems, contact the device manufacturer. Honda will not provide technical support.
The VCI Application Table above is voluntarily provided by Honda as a courtesy to its aftermarket customers. While the i-HDS software suite has been validated to be J2534 compliant by several third-party device manufacturers, it is the responsibility of the device manufacturer to ensure and maintain the interoperability of its device and our i-HDS software. Device manufacturers listed above that have completed an independent validation of i-HDS attest that those specific devices are both J2534 compliant and work with the i-HDS suite. If Honda determines that a device listed above is no longer compliant with the J2534 standard or is not compatible with the i-HDS suite, Honda may elect to remove the device from the list without notice. Furthermore, the applicability scope of the devices above is limited to Honda/Acura vehicles intended for sale in North America. Device compatibility with Honda/Acura vehicles for sale outside of the North American market is not guaranteed and may not meet the standards of that market.
All reprogrammable Honda/Acura ECUs/ECMs/PCMs comply with the SAE J2534 standard. You are responsible for using a compliant J2534 reprogramming device. Contact the reprogramming device manufacturer to confirm Honda/Acura compatibility before use.
Honda will NOT be responsible for damaged control units/modules.
HONDA MAKES NO WARRANTIES OR REPRESENTATIONS, EXPRESS OR IMPLIED, IN FACT OR IN LAW, INCLUDING THE IMPLIED WARRANTIES OF MERCHANTABILITY AND FITNESS FOR A PARTICULAR PURPOSE. IN NO EVENT WILL HONDA BE LIABLE FOR INCIDENTAL, SPECIAL OR CONSEQUENTIAL PENALTIES OR DAMAGES, INCLUDING LOST PROFITS.
These Terms & Conditions are subject to change without notice.
Important Notice Regarding Reprogramming
Do NOT program a control unit/module unless you are directed by a service procedure or an applicable Honda/Acura Service Bulletin. Control unit/module updating should only be undertaken by a skilled professional using proper equipment and procedures, or damage can occur. Updating control units/modules to the latest software not associated with a specific symptom may not resolve other specific customer concerns. Unauthorized or self-directed programming may cause unintended and irreversible effects and lead to vehicle harm and/or customer dissatisfaction.
Honda urges end users to always use the LATEST production release of the J2534 Rewrite software in the i-HDS suite. Using the latest version of the software is the best way to ensure successful reprogramming of applicable control units/modules.
It is possible to damage the vehicle's electronic control units/modules during reprogramming. Ensure the following conditions are met BEFORE programming a control unit/module:
The vehicle battery must be fully charged before programming the control unit/module. Stable battery voltage is critical during programming. Any fluctuation, spiking, over voltage, or loss of voltage will interrupt programming.
Turn OFF or disable any system that may put a load on the vehicle battery.
Make certain all tool connections are secure. Do NOT disturb the tool harnesses while programming. If an interruption occurs during the reprogramming procedure, reprogramming failure or control unit/module damage may occur.
THE REPROGRAMMING PROCEDURE MUST BE FOLLOWED EXACTLY AS OUTLINED BY THE SOFTWARE AND/OR SERVICE INFORMATION. FAILURE TO FOLLOW THESE INSTRUCTIONS WILL CAUSE THE REPROGRAMMING EVENT TO FAIL.
Some units/modules may require additional programming/setup events performed before or after programming. Please refer to the appropriate Service Bulletins for details. (e.g. IMA Battery Module)
Warning: Certain control module systems require special procedures and or hardware to be properly reprogrammed. Before proceeding ahead, check the vehicle list below.
Honda J2534 Pass-Thru User Guide
Honda J2534 Pass-Thru Software Download
DST-i Information:
MVCI Information:
---
Bestseller No. 1
Mongoose-Plus J2534 OEM Vehicle Interface Cable - Honda / Acura OEM Reprogramming and Diagnostics
Industry-leading J2534 Pass-Thru Technology: Enabling diagnostics, reprogramming and security functions for dealerships and the independent repair facility. Economical and compact pass-thru devices provides an easy-to-use interface that allows you to repair complex vehicles with OE applications in your shop. Each type (see single branded types above) Mongoose-Plus is engineered to work with one of the following OEM's J2534 applications for Chrysler, Ford, GM, Nissan, Toyota, & VW/Audi.
Supports Current & Earlier Vehicles: Enables diagnostics, programming and other "dealer" functions through OEM applications
NEW Bluetooth Wireless Options Available: Providing wireless connectivity between your laptop and the Mongoose-Plus
Expert Product Support: Staffed by technicians who understand vehicle repair and J2534 Pass‑Thru applications to help you with any technical setup questions
Key Registration and Immobilizer Support: Using NASTF Vehicle Security Professional credentials
Bestseller No. 2
Bosch Automotive Tools MTECH2 Mastertech II J2534 VCI with Wired/Wireless Capability for OEM Reprogramming and Diagnostics on GM, Ford, FCA, Nissan/Infiniti, Honda/Acura, and Toyota/Lexus Vehicles
[J2534 COMPLIANT] - The Mastertech II is a J2534-1 and J2534-2 compliant VCI for OEM reprogramming and diagnostic applications
[FULLY VALIDATED BY TOP 6 OEMS] - Mastertech II has been fully validated to operate with the top 6 OEM reprogramming applications: GM, Ford, FCA, Nissan/Infinity, Honda/Acura, and Toyota/Lexus
[PRE-CONFIGURED] - The pre-configured wireless and wired connections make it quick and easy to connect to a vehicle from your PC (requires PC compliant with OE specifications and software)
[RIGHT TO REPAIR] - Supports 'Right to Repair' (R2R) initiatives
[COMPREHENSIVE KIT] - Kit includes: VCI, WiFi adapters (wireless PC to VCI), J1962 Cable (connect to vehicle), USB cable (connect to PC for firmware updates and setup), and Quick Start Guide
Bestseller No. 3
Bestseller No. 4
Bestseller No. 5
LAUNCH X431 PRO5 Elite,J2534 Reprogramming Tool with CAN/CAFD/DoIP/HD protocols,AutoAuth for FCA SGW OBD2 Scanner Diagnostic Tool,Bidirectional Scan Tool,ECU Coding,50+ Reset,OEM Full Systems Scanner
🆚LAUNCH X431 PRO5 scan tool Upgrade all functions of X431 PRO3/X-431 Throttle III/X431-TorqueIII/X431 V+, PROS V+, PAD3. ⓵ J2534 ECU Programming &Online functions directly connect to OEM server, 50+ reset same as X-431 Throttle;⓶Bi-directional control and All system diagnostics as Snap-on scanner; ⓷ Support 150+ brands Vehicles (include CAN/CAFD/DoIP/HD protocols and AutoAuth for FCA SGW) ⓸Powered by 8-core processor(1.8GHz), Android9.0 OS, 2.4 & 5GHz WiFi connection.
🚜[J2534 Reprogramming With FREE SMARTBOX 3.0】Save more than $2000, LAUNCH X431 PRO5 support J2534/DOIP/CANFD/HD protocols (Needn't buy HDIII Module,Manufacture software and non-16pin adaptors need to be purchased separately.) Download OEM software from the manufacturer's server to 1) program data to blank/used ECUs; 2) Reflash ECUs with data loss; 3)Upgrade ECU software version. As a wireless VCI allowing the vehicle to transmit data to the diagnostic tablet without a physical connection.
👏[50+ Reset, Continuously Updated Reset Functions]: With the LAUNCH diagnostic tool, You will never be bothered by tricky vehicle issues and keep pace with newer technology. 50 commonly reset functions ( in the quick page ) reaching into the smallest parts to root out the problems. Extra 300+ repair functions ( in-vehicle catalog) for specific models extend the capability to reset, regeneration, initiation, matching, etc. (Functions vary by models, configurations, and systems.)
🌐[One stop Intelligent Diagnostic Tool]: LAUNCH X431 PRO5 obd2 scanner Bluetooth provides Repair Tips, Repair Assist, Component Measurement, TSB, Relevant Cases DTC Analysis to simplify complex diagnostic and achieve the trouble-free repair. 🤩[One Scanner For Multiple Uses]: LAUNCH diagnostic tool PRO5 collaborates with add-on modules (ADAS, Videoscope, TSGUN, X-ProG3, WiFi Pinter, Battery Tester) to expand business applications and improve diagnostic accuracy.
👍【2023 New OE Level Online Functions 】Bidirectional Scan Tool offers you various high-end online functions, which enable you to access the online data to do fast & complicated vehicle repairs, e.g. 1) ECU Coding for replacing, match, relearn, recode new ECU modules; 2) Online Coding for BMW, Audi, VW, Porsche, Benz to surf OEM data; 3) VAG Guided functions ease complex issues; 4) Personalization & ADAS improving car performance and driving safety.
Bestseller No. 6
OBDLink EX FORScan OBD Adapter
CUSTOM-DESIGNED FOR USE WITH FORSCAN and recommended by the FORScan Team
DEALERSHIP-LEVEL DIAGNOSTICS: OBDLink EX supports all Ford protocols, modules, and advanced features of FORScan
ELECTRONIC SWITCH allows FORScan to access all CAN buses simultaneously and enables advanced functions not possible with "toggle switch" adapters
MAXIMUM THROUGHPUT -- up to 20 times faster than "toggle switch" adapters
ROCK-SOLID CONNECTION avoids data corruption and dropped packets
Bestseller No. 7
LAUNCH X431 PRO 5 Scan Tool: 2023 J2534 Reprogramming Tool, ECU Online Coding with 50+ Services Upgraded of X431 V+, Bi-Directional Diagnostic Scanner, with SmartBox 3.0 CANFD & DOIP, 2 Years Update
👍【Why Choose LAUNCH scanner X431 PRO5】It is the original LAUNCH X431 scan tool, the 2023 upgraded version of PROS V+, X431 PRO3 and V+ 4.0, which is a worthwhile investment for repair shops and mechanics. LAUNCH X431 PRO 5, all is set to OE-level standards with 1) J2534 ECU Programming & 50+ service same as PAD Series; 2) Bi-directional control + All system diagnostics as Snap-on scanner; 3) Online Coding functions directly connect to OEM server; 4) support 150+ brands Wordlwide from 1996-2023.
👍【J2534 Programming with Smart Box 3.0】 What is super SmartBox 3.0 VCI? Worth 1000$, Smart Box 3.0 is backed on new J2534/CANFD/DOIP, which enables you to run 14x quicker data trans and advanced OEM J2534 reprogramming for B-MW, Ben-z, F-ord, Jaguar, Land Rover, GW, Volvo, etc. (please reach to us for more details). It also serves as a wireless VCI allowing the vehicle to transmit data to the diagnostic tablet without a physical connection.
👍【LAUNCH X431 PRO 5 with Powerful 50+ Services】Especially designed for pro mechanics and big repair shops, Launch X431 scanner PRO5 is equipped with 50+ hot reset functions for 150 car makes which same as X431 PAD serious. Easy to navigate and help you do ABS Bleeding, TPMS Reset, Oil Reset, EPB Reset, Suspension, BMS, Injector Coding, IMMO, Power balance, Throttle Matching and more. 🚩Notice: we offer 2-year f ree update while other brands generally 1 year.
👍【A-ctive Test + Local-smith Level ECU Coding】Come with appealing bi-directional control to troubleshoot all possible problems for full systems within 5 minutes. This LAUNCH X431 PRO scanner even develops all practical functions needed by all technicians: 1) ECU Coding for replacing, match, relearn, recode new ECU modules; 2) Online Coding for B-MW, VW, Porsche, Ben-z to surf OEM data; 3) VAG Guided functions ease complex issues; 4) Personalization & ADAS improving car performance and driving safety.
👍【All System Diagnostics for 99% Vehicle Coverage] Serve for 150+ American, Asian, European brands, and cover 99% of vehicle models worldwide. This LAUNCH diagnostic scan tool can operate complete full-function diagnostics to all on-board systems to troubleshoot and repair all vehicle problems, including Engine, Transmission, Airbag, ABS, ESP, TPMS, Immobilizer, Gateway, Steering, Radio, Air Conditioning, etc.
Bestseller No. 8
FORScan ELM327 OBD2 USB Adapter for Windows, Diagnostic Coding Tool with MS-CAN/HS-CAN Switch for Ford Lincoln Mazda Mercury Series Vehicles
FORScan OBD II Adapter is a vehicle code reader, ELM327 scanner, clear check engine light, FORScan and diagnostic scan tool.
OBDii adapter with the reliable advantage of USB cable connection and V1.5 version hardware avoids data corruption and dropped packets. Toggle MS-CAN HS-CAN switch can run rapidly at max 500 kbit per second, achieving pro-level check engine light programming and coding.
Softwares Compatible: FORScan, Elmconfig, FF2 and FoCCCus; Supported operating systems: All Windows versions - XP, Vista, 7, 8, 10; Supports all OBD 2 protocols (J1850PWM, HS-CAN, MS-CAN, HS-CAN2, HS-CAN3), this scanner works as a normal OBD-II/EOBD/CAN car code reader on all supported vehicles. Please install the USB DRIVER & FORScan Softwares before connecting the car.
FORScan Functions contains Discover Global Window Feature/Bambi Mod/Secure idle/Perpendicular Park/Trailer Brake Controller/Disabled Double Horn Honk/Disabled Door Ajar Chime/Reverse Tilt Mirrors/Tire Size Correction and many other features. FORScan FUNCTIONS IS ONLY FOR FORD & LINCOLN & MAZDA & MERCURY SERIES VEHICLES(AFTER 1996).
Vehicle Compatible: It is flawless in scanning, programming and hiding modules for models like Ford F150, F250, F350, F450, Ranger, S-Max, C-Max, Transit, Mondeo, Fusion, Kuga, Mustang, Explorer, Edge, Focus, and other cars and light pickup Ford trucks. Also works for Lincoln/Mercury/Mazda produced after 1996.
Bestseller No. 9
Taotao K+CAN Cable with Switch FT232RL K+D CAN USB Interface Cable Car Ediabas K+ Dcan USB OBD2 OBDii Diagnostic Scanner for BMW
【k + dcan k+can cable】 k + dcan cars obd cable allow diagnostic for E CHASSIS from 1998 - 2019. Works with D-CAN, PT-CAN, K-CAN and etc.
【Original chip】100% Original Brand New FTDI 232RL.It is imported from the Original factory.Board and raw materials are made of high quality Plastic materials.
【Switched inpa k+Dcan】You can use the switch to do more cars .Some cars need disconnect to use the inpa k+dcan,but others need connect. It can support more cars after adding the switch.Not every model need switch.
【Install Note】Any installation problems, please feel free to contact us. The software cannot work with antivirus. The virus protector may notify it as"virus" by mistake. Please disable or uninstall the anti-virus software on your PC to make sure the diagnose software works normally.
【Compatible system】 It is perfect for Windows 7 32bit system. Sometimes, it is compatible with Window 8/10, it is up for your system. Don't fit the mac OSX.
Bestseller No. 10
Thinkdiag OBD2 Scanner Bluetooth, All System Bidirectional scan Tool OE Level Diagnostic Tools with ECU Coding,15+ Service Functions All Software 1 Year Free fits for iPhone & Android
【Tips:】 Recommend to contact us to get quick response if you have any issues. Device already registered please contact us with device SN to get new activation code. When you met the device charge extra fee, please clean the cookies in setting and sign out app, then re-log in all the software will be available for free. Message us on Amazon or mail to support@kingbolen. com. Thinkdiag comes with 15 Reset functions one year free.
【15+ Maintenance Functions】Thinkcar Thinkdiag Scanner has 15 reset functions menu and more maintenance function under the exact car menu: Oil Reset, ABS Bleeding, Injector coding, SAS Reset, TPMS Reset, BMS Reset, Reset Gearbox, AFS Reset, SUNROOF, Break Reset, Suspension Rest, Elec. Throttle Relearn, SEAT Calibration, Key Coding etc. Thinkdiag is a professional diagnostic tool for mechanics. ECU coding is not suitable for every car modules, please check with us.
【All Vehicle Systems Bluetooth OBD2 Scanner】 Thinkdiag OBD2 Scanner supports all Systems diagnostic function, it can read/clear fault codes, read live data, read control module information, actuation tests and maintenance functions for ECM, BCM, SRS, TCM, BMS, TPMS, SAS, A/C system etc... It works with most car models after 1996 year of 120+ car brands, All software with 1 year free update, much valuable than other scanners in the market.
【Bi-Directional Test + ECU Coding】 Thinkdiag car code reader actuates solenoids and actuators for active testing, send commands to systems/components to test their working status, without using the vehicle controls which saves much time to identify malfunction causes. ECU CODING allows you to match the replaced components with ECU, flash hidden functions for BMW, GM, Benz etc. No matter you are private owner or professional technician, Thinkdiag is a powerful and handy scanner tool.
【Intelligent Diagnostic Tool with Auto-VIN】Thinkdiag Bluetooth OBD2 scanner makes your smart device become a professional vehicle diagnostic tool, it compatible with android and ios system. Auto-VIN function supports the Thinkdiag identifies most car models automatically. Full system Vehicle health report will be automatically created after diagnosis, report can be shared. Live Data Stream combined Graphing+Data Record better for monitoring vehicle performance and analyze the abnormal parameter.
Last update on 2022-11-07 / Affiliate links / Images from Amazon Product Advertising API
This product was presentation was made with AAWP plugin.