January 25, 2018
A loss of power can increase the risk of a crash.
NHTSA Campaign Number: 18V068
Manufacturer Honda (American Honda Motor Co.)
Components ELECTRICAL SYSTEM, HYBRID PROPULSION SYSTEM
Potential Number of Units Affected 471
Summary
Honda (American Honda Motor Co.) is recalling certain 2017 Clarity Fuel Cell vehicles. The fuel cell control unit (FC-ECU) may misinterpret a small cell voltage drop, causing the vehicle to have reduced, or a complete loss of, power.
Remedy
Honda will notify owners, and dealers will install a software update, free of charge. The recall began February 28, 2018. Owners may contact Honda customer service at 1-888-234-2138. Honda's number for this recall is R0L.
Notes
Owners may also contact the National Highway Traffic Safety Administration Vehicle Safety Hotline at 1-888-327-4236 (TTY 1-800-424-9153), or go to www.safercar.gov.
Check if your Honda has a Recall
---
Service Bulletin
January 26, 2018
Version 1
Safety Recall: Fuel Cell Stack – Power System Problem Message is Displayed
AFFECTED VEHICLES
| Year | Model | Trim | VIN Range |
| --- | --- | --- | --- |
| 2017 | Clarity Fuel Cell | ALL | Check the iN VIN status for eligibility |
BACKGROUND
The fuel cell stack generates electricity to power the vehicle through a process that combines hydrogen from the fuel tanks and the oxygen from the air. The stack is made up of many individual cells that act like batteries. Each of these cells is monitored individually by the vehicle so if there is a problem with the fuel cell, a warning message appears on the dash before the fuel cell shuts off. Because of a software issue, the monitoring system may shut down the fuel stack at the same time the message appears, resulting in an unexpected loss of motive power, which reduces vehicle control and increases the risk of a crash.
CUSTOMER NOTIFICATION
Owners of affected vehicles will be sent a notification of this campaign.
Do an iN VIN status inquiry to make sure the vehicle is shown as eligible.
Some vehicles affected by this campaign may be in your new or used vehicle inventory.
Failure to repair a vehicle subject to a recall or campaign may subject your dealership to claims or lawsuits from the customer or anyone else harmed as a result of such failure. To see if a vehicle in inventory is affected by this safety recall, do a VIN status inquiry before leasing it.
CORRECTIVE ACTION
Update the FC (fuel cell) system with the i-HDS.
WARRANTY CLAIM INFORMATION
Operation
Number
Description
Flat Rate
Time
Defect
Code
Symptom
Code
Template ID
Failed
Part
Number
3105H7
Update the FC system with the i-HDS.
0.2 hr
6CL00
R0L00
A18016A
3K201-5WM-A22
Skill Level: Repair Technician
SOFTWARE INFORMATION
NOTE
Unnecessary or incorrect repairs resulting from a failure to update the i-HDS or MVCI are not covered under warranty. i-HDS Software Version: 1.004.005 or later
J2534 Software Information:
PC Application Version: 1.1.0.2 or later
Database update: 28-DEC-2017 or later
Before beginning the repair, make sure that both the i-HDS and J2534 software are updated as listed above. Do only the update listed in this service bulletin.
You cannot apply the updates with the MVCI as a standalone tool. To update the vehicle, you must use the MVCI or DST-i interface in conjunction with the J2534 Rewrite PC application on the i-HDS.
For more information about updating the iHDS, MVCI, or DST-i and vehicle systems, refer to Service Bulletin01-023, Updating tControl Units/Modules.
| Trim | Software System | Program ID (or later) | Program P/N (or later) |
| --- | --- | --- | --- |
| 2017 Clarity Fuel Cell | FC | WMA220 | 3K201-5WM-A22 |
REPAIR PROCEDURE
NOTE
You cannot update the vehicle using the MVCI as a standalone tool.
Do not use the MongoosePro VCI tool.
Connect a fully charged 12-volt jumper battery to the vehicle, and leave it connected during the entire procedure to maintain steady voltage.
Never turn the ignition to OFF or ACCESSORY during the update. If there is a problem with the update, leave the ignition turned to ON.
To prevent control unit damage, do not operate anything electrical (headlights, audio system, brakes, A/C, power windows, door locks, etc.) during the update.
If you see the following Error Display, check that you are using the correct tool (MVCI or DST-i) with the i-HDS.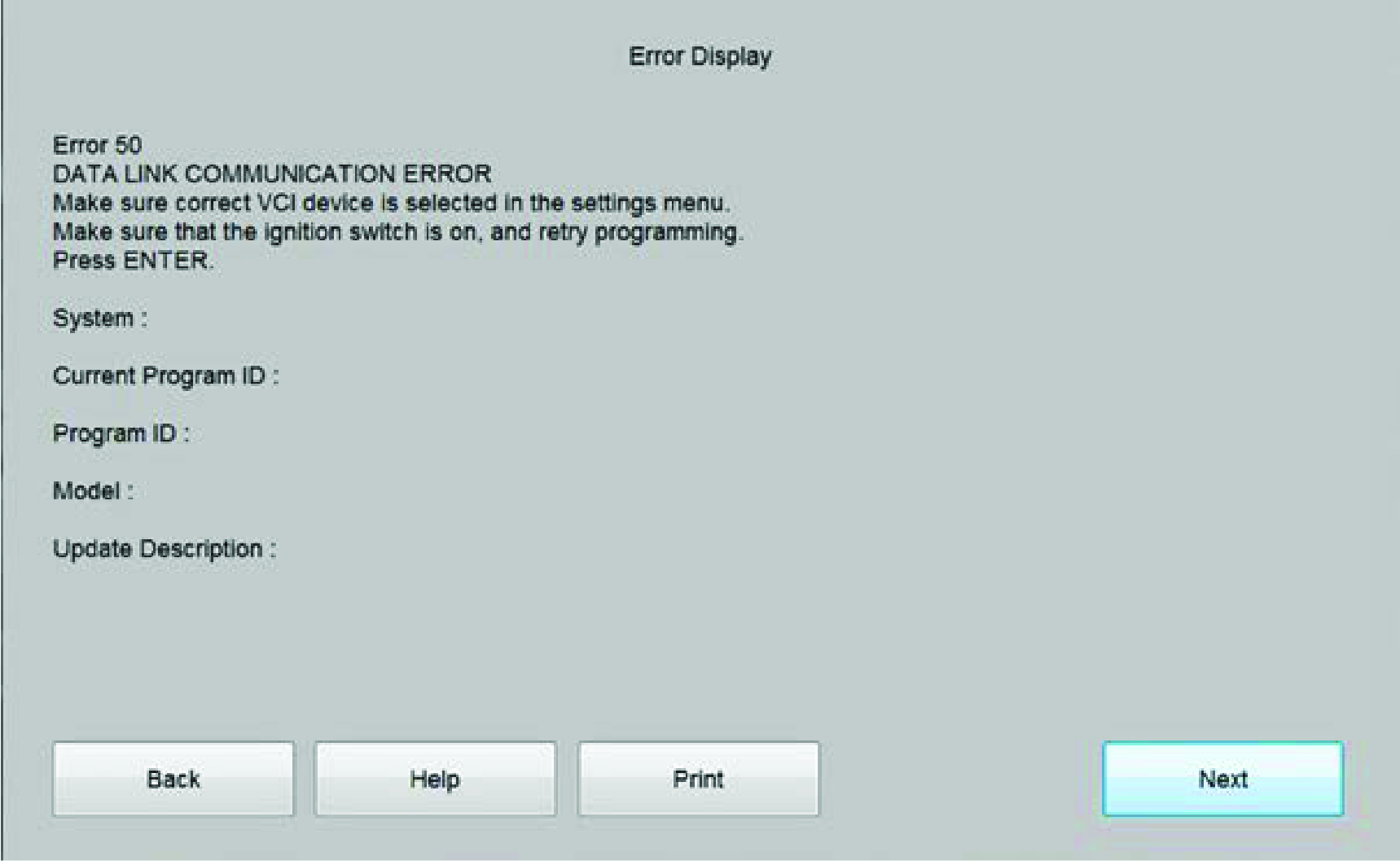 To change this, click on either of the SETTING selection buttons at the bottom of the J2534 initial screen as shown.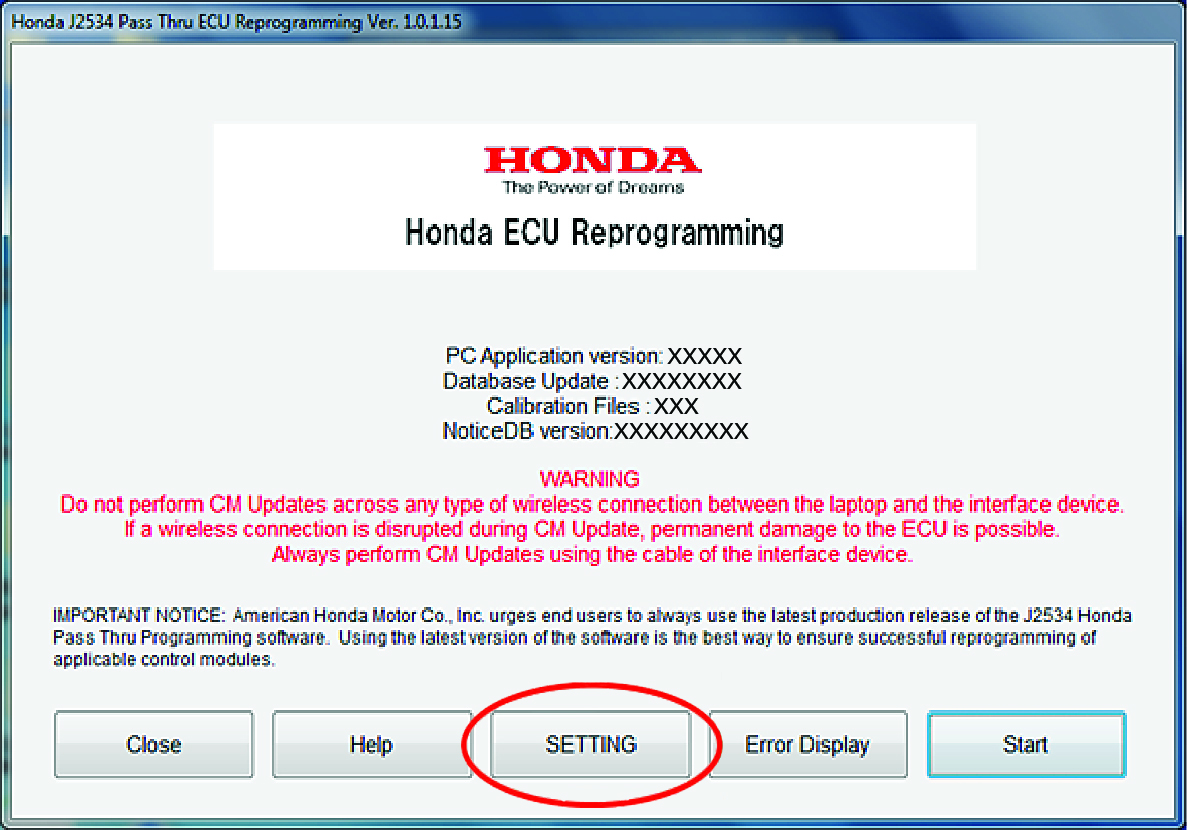 Make sure the 12-volt battery is fully charged. Check the condition of the 12-volt battery using the GR8 battery diagnostic station. If necessary, replace the battery before updating the FC software. Refer to Service Bulletin 88-023, Battery Testing and Replacement.
Connect a fully charged jumper battery to the vehicle, and leave it connected during the update to maintain steady voltage.
Make sure the parking brake is applied and the headlights are turned off. Turn the power mode to ON by pressing the start button twice.
NOTES
Do not press the brake pedal while pressing the start button.
The MID should not display "Ready to Drive."
Update the FC software by selecting the i-HDS Diagnostic System Refer to Service Bulletin 01-023, Updating Control Units/Modules
NOTE
Do not use the Rewrite icon on your desktop.

Select J2534 Rewrite.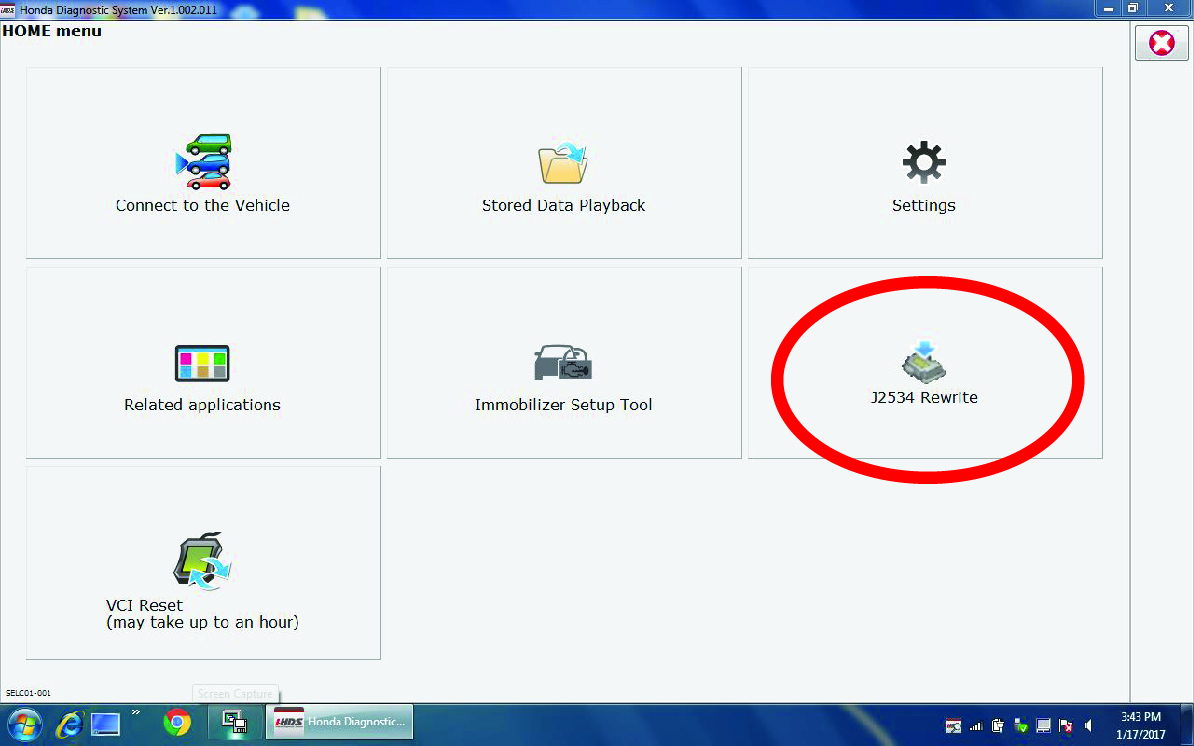 Confirm the software is the same or later as listed in SOFTWARE INFORMATION.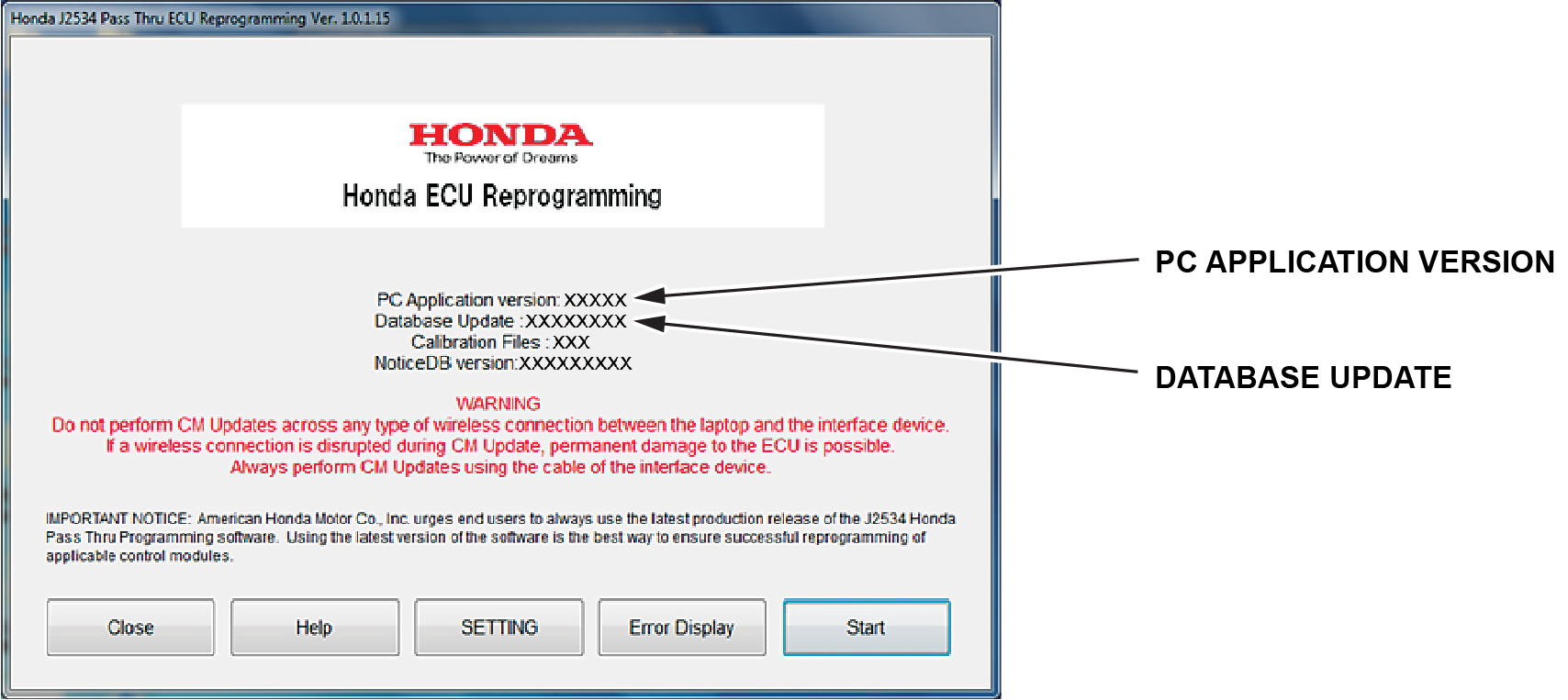 Select Start, then follow the screen prompts.
NOTE:
Do not enter a bulletin number.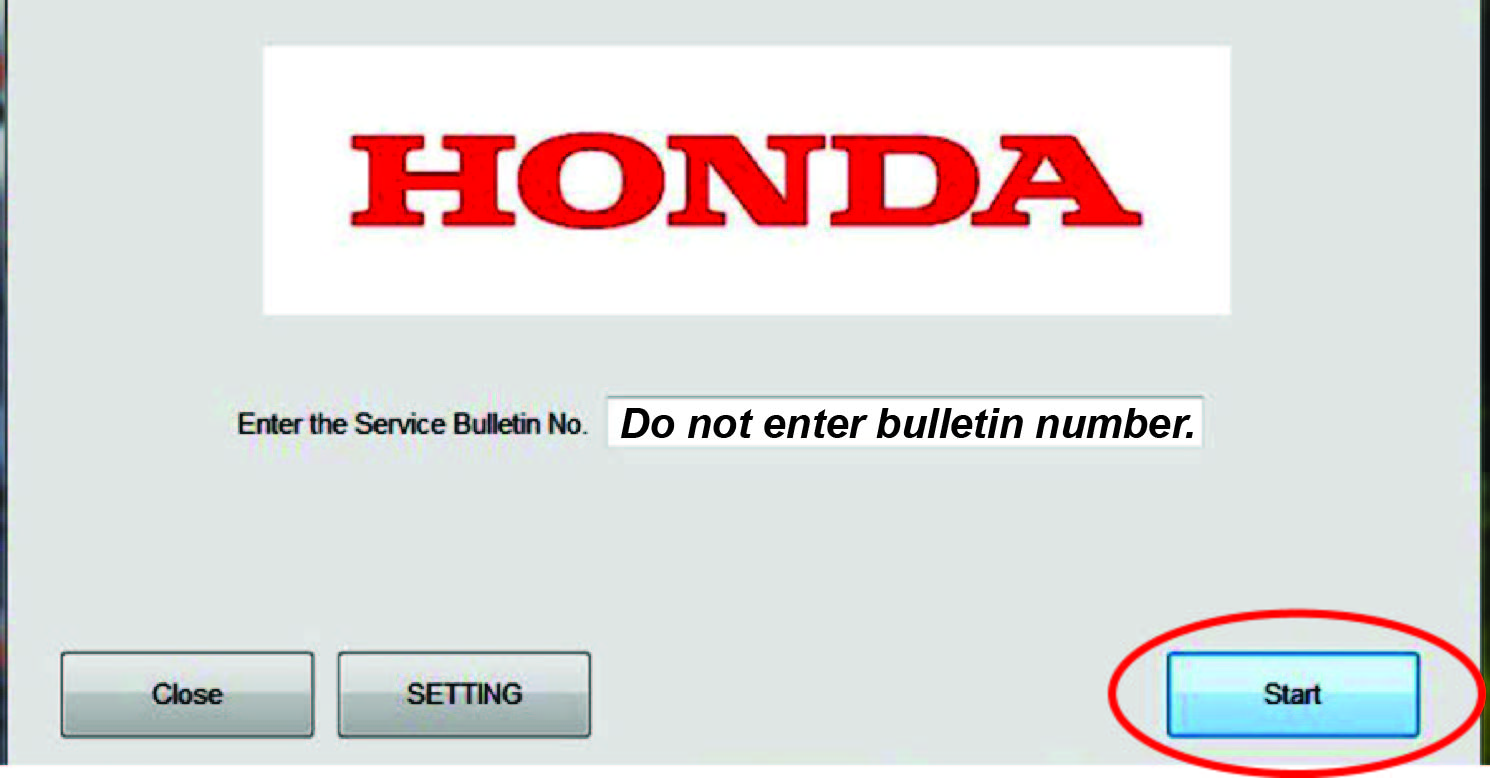 If you receive a message that the vehicle has been already updated or that no update is available, check the FC Data List. The header should indicate one of the following numbers (or later).
3K201-5WM-A22
The program ID's are displayed when you click this icon.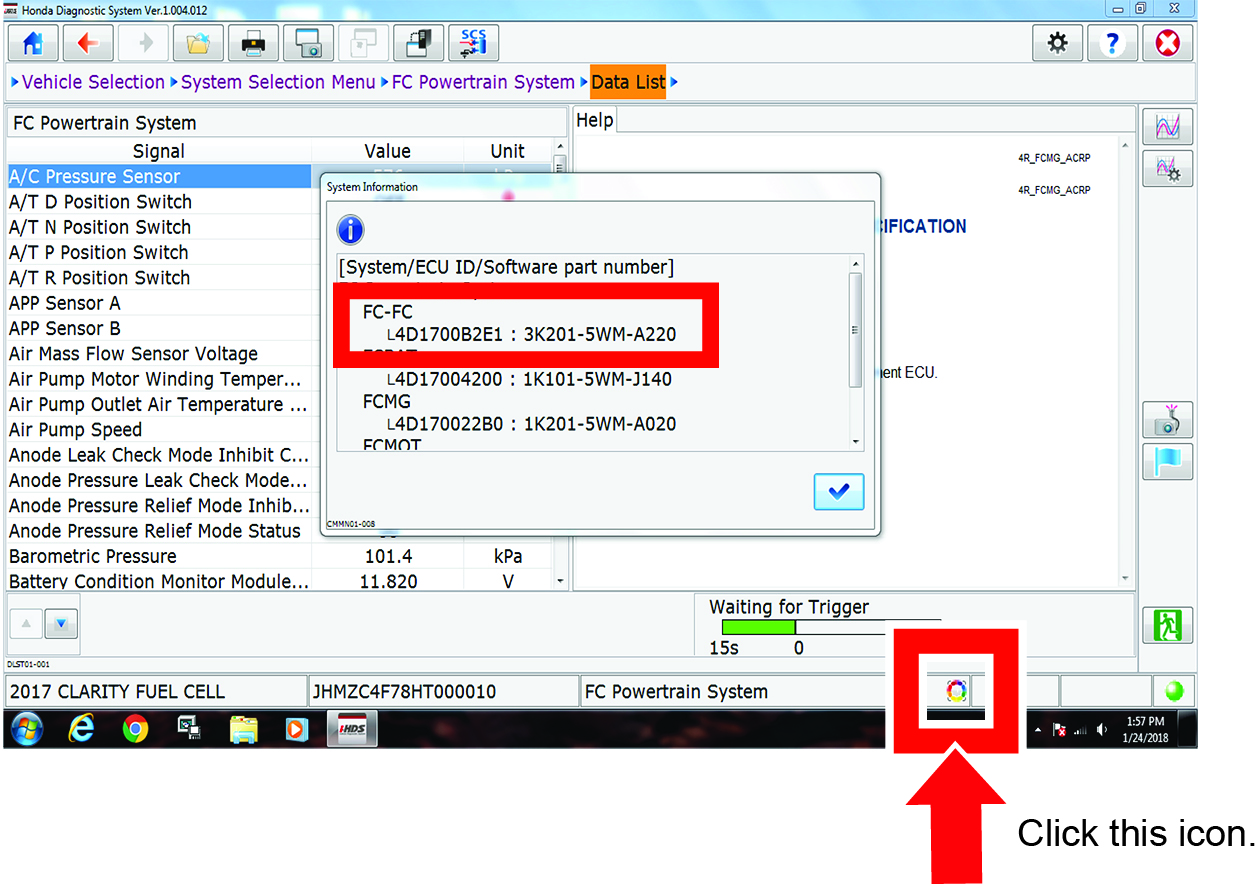 If the program part numbers do not match those listed above, the i-HDS software needs to be reinstalled. Contact the Special Tools Hotline at 800-346-6327 for assistance
Remove the 12-volt jumper battery.
END
---
1 Affected Product
Vehicle
MAKE
MODEL
YEAR
HONDA
CLARITY FUEL CELL
2017
---
14 Associated Documents
Recall 573 Report-Amendment 2
RCLRPT-18V068-1600.PDF 215.182KB
---
ISSUED Owner Notification Letter(Part 577)
RCONL-18V068-9604.pdf 130.025KB
---
AMENDED DEFECT INFORMATION REPORT
RMISC-18V068-3519.pdf 47.234KB
---
Statement by American Honda Regarding Fuel Cell ECU Software Recall: 2017 Honda Clarity
RMISC-18V068-5364.pdf 73.234KB
---
Recall Acknowledgement
RCAK-18V068-5555.pdf 247.427KB
---
DEFECT INFORMATION REPORT
RMISC-18V068-4990.pdf 77.608KB
---
Manufacturer Notices(to Dealers,etc) – DATE: January 26, 2018 Re: Safety Recall: 2017 Fuel Cell Stack – Power System Problem Message is Displayed
---
Defect Notice 573 Report
RCLRPT-18V068-2502.pdf 215.077KB
---
Recall 573 Report-Amendment 1
RCLRPT-18V068-2582.PDF 215.172KB
---
Remedy Instructions and TSB – Service Bulletin 18-016 January 26, 2018 Version 1
RCRIT-18V068-6879.pdf 7055.84KB
---
Recall Quarterly Report #1, 2018-1
RCLQRT-18V068-0770.PDF 214.508KB
---
Recall Quarterly Report #3, 2018-3
RCLQRT-18V068-1736.PDF 211.314KB
---
Recall Quarterly Report #4, 2018-4
RCLQRT-18V068-0646.PDF 211.422KB
---
Remedy Instructions and TSB
RCRIT-18V068-8101.pdf 144.532KB
---
Recalls Documents
https://www-odi.nhtsa.dot.gov/acms/cs/documentList.xhtml?docId=18V068&docType=RCL
---
Honda J2534 Pass-Thru User Guide
Honda J2534 Pass-Thru Software Download
Vehicle Communication Interfaces (VCI)
The i-HDS software supports the use of a generic pass-thru VCI that is compliant with SAE J2534-1 and J2534-2. However, Honda recommends the Denso DST-i or the Bosch MVCI for use on Honda and Acura vehicles, as Honda has worked closely with these manufacturers to ensure their hardware and our software interact safely and within the J2534-1 and -2 specifications, for both diagnostics and reprogramming. If you choose to use a generic VCI, please carefully consider the customer and technical support options you will receive from your chosen device supplier. Honda does not provide technical or customer support for generic VCI devices.
The VCI Application Table below lists devices that either are approved and supported by Honda or are known to have completed and passed an independent, exhaustive validation program with our i-HDS software suite.
Manufacturer
Version Information
Notes
VCI Name
Firmware
J2534 API
DENSO
2.00.0010*
04.04
This is the current generation VCI used by Honda and Acura dealers. Honda routinely validates the functionality and provides customer support for this device.
DST-i
Bosch
3.01.54*
04.04
This is the previous generation VCI used by Honda and Acura dealers. Honda routinely validates the functionality and provides customer support for this device.
MVCI
Drew Technologies
1.7.7**
04.04
This company has completed an independent i-HDS validation and claims it to function with the i-HDS software. Honda does not provide ongoing validation, nor customer support for this device.
MongoosePro Honda 
Dearborn Group
3.303**
04.04
This company has completed an independent i-HDS validation and claims it to function with the i-HDS software. Honda does not provide ongoing validation, nor customer support for this device.
d-briDGe Pro
* These versions may have been superseded. Honda provides the latest supported versions to current i-HDS subscribers.
** Version used in validation program. See Terms and Conditions and Important Notice Regarding Reprogramming below for more details.
DST-i Information:
MVCI Information:
---
Bestseller No. 1
Autel (Maxisys Pro) MK908P Automotive Diagnostic Scan Tool Advanced Full System Scanner with ECU Coding and J2534 ECU Programming With TS401
CERTIFIED BY AUTHORITY: As an upgraded version of the MS908P,same function as MS908S PRO and MaxiSys Elite. This superior diagnostic device is awarded as the Best Vehicle Diagnostic Tool in Britain, and characterized by its high-end diagnostic features with easy-to-use operations. It's an ultimate car scanner for DIYers, experienced mechanics, even garage to finish professional-level vehicle repair and maintenance.
ECU CODING/PROGRAMMING: This top-level OBD2 scanner comes with a SAE J2534-1 & -2 compliant PassThru reprogramming interface device which allows you to use the updated OEM software to replace the existing software/firmware in ECUs, programming new ECUs for Benz/BMW and fixing software-controlled drivability issues and emission issues.
TOP-LEVEL CONFIGURATION: This Android4.4 based high-end car scanner is designed with the advanced hardware configurations including super-fast hexa-core Processor, 2GM RAM, 64GB On-board Memory, 8.0 Megapixel rear cam, ultra-clear 10.1 inches LED screen etc. for users to detect the problems of the given vehicle efficiently and accurately.
ABUNDANT VEHICLE MODELS: This diagnostic scan tool is built for testing more than 80 US, Asian and European vehicle makes and you can use it to test more vehicles when you complete the update at our official website once in a while. It is basically a bidirectional scanner that allows you to send and receive data to and from a car's control modules.
DATA MANAGEMENT OPERAION: In order to bring convenience for users to manage all the data and parameters stored in this diagnostic tool, Autel MK908P supports the following user-friendly managing functions: Shop Manager Operation, MaxiFix Operation, Data Manager Operation, etc. to quickly and directly select the required referring information while diagnosing.
Bestseller No. 2
Autel MaxisysCV MS908CV Diagnostic Tool with J2534 ECU Programming Device Heavy Trucks Diagnostics, Coding, Service Functions for Deep Vehicle Repair – for Workshops & Mechanics
TOP-LEVEL HEAVY TRUCK DIAGNOSIS: Want to diagnose different kinds of vehicles? Autel MaxiSysCV that comes with J2534 ECU Programming Device is the diagnostic tool you need! You can use comprehensive diagnostic functions including ECU Information, Trouble Codes, Live Data, Active Test, and Special services for Experts (Allison, Bendix, Caterpillar, Volvo, Freightliner, etc.), Buses (Volvo, Hino, Isuzu, Mercedes Benz, Volkswagen, etc.) and even Trucks (Volvo, Dodge, Ford, Foton, Mack, etc.).
CODING FOR OPTIMIZING PERFORMANCE: With Autel MS908CV, Optimizing vehicle performance is not that hard! The 100% safe ECU Coding allows you to change options within the vehicle's ECU to modify features for the tested vehicle. Note: Coding only changes preprogrammed options already existent in the software. High Beams and Fog Lights Together Double Blink Hazards Digital Accurate MPH Gauge Enhanced Bluetooth Enable, etc.
SERVICE FUNCTIONS FOR FAST MAINTENANCE: You can complete a series of scheduled services and maintenance with only one MaxiSysCV. Free from the trouble of changing basic OBD2 scanners frequently to get related services. The most commonly performed service functions include Oil Reset, EPB, Brake Bleeding, DPF & SCR, IMMO & Keys, Injector, Throttle and more.
USER-FRIENDLY FEATURES FOR HIGH EFFICIENCY: No fuss with complex operations! The user-friendly MaxiSysCV diagnostic tool reduces your fatigue. AutoVIN Scan allows you to check all the ECUs of the tested car in less than 1 seconds. Remote Desk Operation offers workshops a channel of controlling customers' MaxiSys tablets for immediate technical support. Data/Shop Manager reduces the time spent on managing diagnostic files, workshop information, and more.
POINTS FOR AFTER SERVICES: 1.About Quality: Autel MaxiSysCV is designed with advanced configuration (Android4.0 OS, Samsung Exynos 4-Core Processor, etc.) for smooth and reliable using. 2.About Warranty & Update: Within one year, Products with defectives in material or workmanship will be repaired or replaced free of charge and It's free to update the software at regular intervals to increase MS908CV's capabilities. 3. About Service: Autel is ready to answer any questions 7* 24 hours.
Bestseller No. 3
Autel MaxiCOM MK908P Diagnostic Scanner Automotive Scan Tool with ECU Programming and J2534 Reprogramming + Free Oscilloscope MaxiScope MP408
【SUPERIOR CODING & PROGRAMMING】 Supports coding and programming especially for BMW and Mercedes. With the VCI of MK908P for SAE J2534-1 and J2534-2 protocols, it can replace the existing software and firmware in ECU without expensive original equipment.
【WIDE DIAGNOSTIC SOLUTIONS】 Well capable of VCM coding and programming, TPMS coding, intelligent cruise control (ICC), ECU coding, live data, dashboard matching, airbag system reset, anti-theft key matching and more.
【POWERFUL DIAGNOSTIC TOOL】 The oscilloscope MP408 combine with MaxiCOM MK908P is able to measure and test virtually all the electrical and electronic components and circuits in any modern vehicles, providing you an insight to the inner workings of a vehicle's electronic circuits.
【HIGH-EFFICIENCY OF USE】 Being MS908P upgraded, it is Autel's latest and most sophisticated diagnostic scanner which boasts the best hardware including Hexa-CPU, 2GB RAM etc. for fast boot-up and multitasking, and the ergonomic design to resist damage of heavy use.
【WARRANTY & UPDATE】 You can get quality related services within 12 months warranty, besides, 12 months free online update is available for the latest bug fixes and newly added parameters and car models.
Bestseller No. 4
VXDIAG VCX Nano GDS2 and Tech2Win Diagnostic Programming System for GM/Opel
VXDIAG VCX NANO Box is PC-to-vehicle interface compatible with multiple software applications, minimizing your investment in multiple brand-specific diagnostic interfaces
VXDIAG VCX Nano for GM/OPEL compatible with GDS and Tech2win software, support for GM/OPEL Diagnose and programming,for programming function, you would need buy software subscription online
Fully compatible with SAE-J2534-1 & SAE-J2534-2; Quick access to vehicle data for maintenance or management reports; Support all current and most legacy vehicle protocols: CAN, UART, KW2000, Class2, GM LAN, etc.
About Software: Our hardware is compatible with original software and for SPS programming online you need purchase subscription online.
Installation Tips: Tech2win software can only be installed on 32bit computer(win7 or win10 both ok) and please attention Tech2win software can not be installed on virtual machine, need install on physica system. For any technical problem, please feel free to contact us at any time, we have engineer can assist you online.
Bestseller No. 5
CarDAQ-M Auto Universal Diagnostic Scanner and Programming Tool VSI J2534
The CarDAQ-M provides complete SAE J2534-1 and J2534-2 capabilities as well as functionality for all vehicle makes and models.
The "M" in CarDAQ-M stands for "modular" meaning this product evolves with technology as it is introduced to the market.
OEM-level Engine, Transmission and Body Control Module Reprogramming, and Dealer-level Diagnostics are available to you.
Free J2534 Toolbox application with video's and help tools, free software updates and toll-free technical phone and email support
Bestseller No. 6
Bestseller No. 7
Bosch EL-52100-AM GM Multiple Diagnostic Interface 2 (MDI 2) Kit
Wireless connection - simple plug and play configuration Upgraded support includes 802 11bgn
High Speed USB 2 0 Connection with improved protection and faster performance
Improved stability during engine crank with extended temperature range
Enclosure design protects from exposure to fluids and drops
Additional vehicle communications protocols include upcoming Global B vehicles with faster data buses SAE J2534 and ISO-22900 compliant
Bestseller No. 8
Autel MaxiCOM MK908P Diagnostic Tool Automotive Full System Diagnoses Coding and J2534 ECU Programming, The Upgraded Version of MS908P
ECU PROGRAMMING: The diagnostic tool comes with a J2534 ECU programming device that helps Benz and BMW users replace the existing software/firmware in the ECU, program new ECUs and fix software-controlled driving performance and emission issues.
VEHICLE COVERAGE: The software of MK908P has a wide range of compatibility and can be used to diagnose vehicles from over 80 brands in the US, Europe and Asia. Moreover, you can get more newly added car models with the fast-release software update service.
ADVANCED HARDWARE: MK908P, as the advanced version of MS908P, features the 10. 1" 1920*1200 screen upgraded from 9. 7" 1024*768, and the battery capacity is 15000mAh increased by 4000 mA. Also, it has a better anti-impact protection design.
BI-DIRECTIONAL CONTROL: The diagnostic tool supports bi-direction control to check the vehicle operating conditions. The bi-directional control of the ECM in Component Test enables the MK908P to transmit control commands to operate the vehicle systems.
ADDITIONAL SERVICE: The MK908P is designed to serve users with a rich array of easy-to-use functions and features. The Maxi Fix provides you with an online troubleshooter database, and Remote Desk allows you to get help from others via TeamViewer software.
Bestseller No. 9
VXDIAG VCX Nano Diagnose and Programming Tool Compatible with J2534
VCX is designed on the basis of the latest automotive international standards so that it can support many professional automotive diagnostic applications
VXDIAG VCX Nano support latest version software, Compatible with varieties protocols. can be very easy to connect various automotive bus to a PC
OS support both WINDOWS XP and Windows 7, Software support multi-languages: Chinese, English, French, Italian, Spanish, German, ec
Small size, easy to carry and convenient for us
We provide full time online support, if you have any questions about our device, please feel free to contact us online via ask us a question or send us email
Bestseller No. 10
Autel Maxisys Elite Diagnostic Tool (Upgraded Version of MS908P Pro) with WiFi BT Full OBD2 Automotive Scanner with J2534 ECU Programming & 2 Years Free Update
ADVANCED ECU CODING Exceptional OE-Level functionality from comprehensive OBDII diagnostics & services to advanced ECU coding and programming working with a SAE J2534-1 & -2 compliant vehicle programming pass-thru interface
EXTENSIVE VEHICLE COVERAGE; The most extensive complete system coverage for more than 80 US domestic, Asian and European makes and models
AUTOMATIC SYSTEM Automatic system and software updates with real-time push message notifications via internet with instant remote control tech support anytime, anywhere and interactive Data Logging sessions enable direct contact with Autel
ACCURATE DIAGNOSIS Support for first-hand troubleshooting of diagnostic bugs and errors, and one-stop multitasking designed for ideal management of workshop operations to keep all data files, customer info, and vehicle records well organized
UNIQUE ERGONOMIC DESIGN; with rubberized outer protection and a rugged internal housing
Last update on 2020-02-21 / Affiliate links / Images from Amazon Product Advertising API
Last update on 2020-02-21 / Affiliate links / Images from Amazon Product Advertising API