ServiceNews Article
August 2018
A18080E Version 1
Millimeter Wave Radar Won't Align; DTC P2583-76 Won't Clear
AFFECTED VEHICLES
If you're having trouble aligning the front millimeter wave radar, or if DTC P2583-76 is present and does not clear after re-aiming, inspect the radar mounting clips and bracket.
Check that the mounting bracket is not bent or out of shape. Check if the radar unit for play by trying to twist it. If there is play, remove the radar unit and check each mounting clip for damage. Replace all clips that have damage or missing tabs.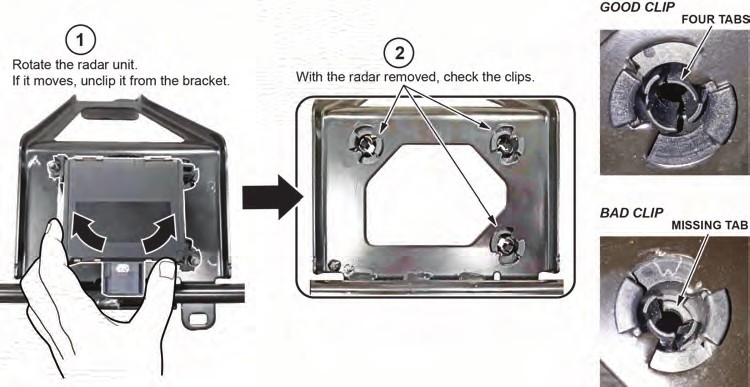 These items should be checked first before replacement of the radar unit. If you are still having issues after following this, then replace the radar unit.
---
August 2018
A18080E Version 1
https://www.nhtsa.gov/recalls?nhtsaId=10144375
https://static.nhtsa.gov/odi/tsbs/2018/MC-10144375-9999.pdf
---
Bestseller No. 1
Autel Maxisys Pro MK908P(MS908P/MS908SP) OBD2 Diagnostic Scanner For ECU coding, Active Test, J2534 Reprogramming (Same as Maxisys Elite, Upgraded Version of Maxisys Pro) With Free Car Battery Tester
ECU PROGRAMMING: This Diagnostic scanner comes with a SAE J2534-1 & -2 compliant PassThru reprogramming interface device which allows you to use the updated OEM software to replace the existing software/firmware in ECUs, programming new ECUs for Benz/BMW and fixing software-controlled drivability issues and emission issues.
SUPERIOR HARDWARE: The Maxicom MK908P is a upgraded version of the Maxisys Ms908P/Pro,it with Android4.4 based system amd super-fast hexa-core Processor, 2GM RAM, 64GB On-board Memory, 8.0 Megapixel rear cam, ultra-clear 10.1 inches LED screen etc.
COMPREHENSIVE FUNCTIONS: Autel MaxiCOM MK908P performs the same function as Autel Maxisys Elite, Autel MS908S PRO, MS908E, and provide better price. this superior diagnostic device is awarded as the Best Vehicle Diagnostic Tool in Britain.12-month free updates,basic functions could still be used without updates
WIDE VEHICLE COVERAGE: Extensive OE-Level vehicle coverage for more than 80 US, Asian and European vehicle makes.It's an ultimate car scanner for DIYers, experienced mechanics, even garage to finish professional-level vehicle repair and maintenance.
Multi-ADD ONS:This Autel Scanner could connect the Oscilloscope-MaxiScope MP408 and Digital Inspection Cameras for vehicle's electronic test or get the sight in the tight spaces. We offer you a free ArtiBattery101, making you easily get the Battery Test Results. This car battery Tester is recommended by Soctty Kilmer and BestReviews. It can directly detect the battery data and give suggestions on whether to replace the battery. It also has cranking test and charging system test.
Bestseller No. 2
Autel MaxiCOM MK808 Automotive OBD2 Scanner (Combination of MaxiCheck Pro and MD802 All Systems) with Oil Reset, EPB, BMS, SAS, DPF, TPMS and Immobilizer
Advanced Functions : Read/clear codes for all available systems ( including engine, transmission, ABS and AIRBAG ), Bi-directional control ability. Support auto bleed test, Forced DPF regeneration and adjusting injectors. Relearn parking brake pad after replacement (brake reprogramming) and IMMO functions (key configuration).
Superior Features : Relearn/ reset throttle body positions. Reset Steering Angle Sensor (SAS, steering wheel calibration). Reset service mileage and service intervals. TPMS sensor relearn, Battery registration and reset, Reading automatic gearbox. Shows the vehicle's operation graphs. Adjust idle/ Relearn idle, Cycle the abs system to evacuate air, Bleed ABS pump/ ABS bleeding brake.
Cost-Effective : The automotive diagnostic scanner supports basic TPMS Service (Tires Pressures Monitoring System) including displaying sensor IDs from vehicle's ECU by inputting TPMS sensor replacement IDs and registering sensors to vehicle.
Extensive Vehicle Coverage : This diagnostic scanner is compatible with all OBD2 protocols and works on over 80 US, Asian and European vehicle makes after 1996. Smart AutoVIN technology for identifying vehicles easily. IMMO, the unique function MK808 is mainly used to disable the lost vehicle keys and program a new replacement key fob.
Update : Automatic system and software updates with real-time push message notifications via Wi-Fi. The most competitive advantage of MK808 is its add-on services for the well data arrangement and better using experience.
Bestseller No. 3
Autel Maxidas DS808 Automotive Diagnostic Tool OBD2 Scanner Key Bi-Directional Control Injector Coding (Same Function as MS906 and MP808)
ADVANCED DIAGNOSIS and ANALYSIS: DS808 is the upgraded version of DS708, which performs as powerful as MS906, contains complete capabilities for codes, live data, active test, ECU information, adaptation, matching.
POWERFUL FUNCTIONS: DS808 includes the most commonly performed service functions, such as: Oil Reset Service, TPMS Programming Service, EPB Service, DPF Regeneration Service, SAS Calibration Service, ABS/SRS Service etc.
SPECIALIZED FUNCTIONS: The Autel DS808 includes the Smart AutoVIN, Cloud-based MaxiFix and Shop Manager functions. These new functions make the Autel DS808 better than the old DS708 model, while selling at an even better price than the older model
BROAD VEHICLE COVEARGE: DS808 covers for more than 80 US, Asian and European vehicles from the year 1996 to 2017, which includes the exceptional OE Level system coverage for all electronic systems.
AUTOMATIC SOFTWARE UPDATING: The Auto Update allows the tool to automatically update the OS, the MaxiDAS system, and the Vehicle. We provide one year update online, and full guarantee.
Bestseller No. 4
LAUNCH X431 V PRO Bi-Directional Diagnostic Tool Full Systems Scanner,Key Programming,ABS Bleeding,ECU Coding,Remote Diagnostic,Reset TPMS,EPB,SAS,DPF,BMS,Injector Coding- FREE Update 2 Years
【Bi-Directional Controls(Actuation Tests) + ECU Coding + Key Fob program+ Reset + Initialization(Adaptation)+Matching】The Bi-Directional Controls of the launch X431 V PRO is used to request information or command a module to perform specific tests and functions, which can judge whether a specific component in your vehicle is working normally. Launch X431 v pro scanner also can do ABS Bleeding, Injector coding, Gear Reset, SAS Reset, TPMS Reset, DPF Reset, IMMO Reset, BMS Reset, ETS Reset, Oil Reset, Brake Reset. Over 100, 000 Auto repair shop choose Launch x431 v pro to work for they customers, such as Auto VIN Identification, ECU Coding,Key programming,Matching,Reprogramming
【FULL systems diagnosis and reset, print health report】Launch x431 v pro offers complete systems diagnostic and reset, pull and clear fault codes, graphing live data for FULL systems (ABS, SRS, Engine, Transmission, Wiper , Seat , EPB, TPMS, Lamp Control, Body System, AWD, Door Lock System, Navigation , Battery , ESP , Multimedia , Parking Sensor, Electric Window, Cruise Control, Instrument, Alarm System, air Suspension, Air Conditioning, etc. ). Helps to email and print the diagnostic health report for your vehicles.
【Better Tablet and Maintenance assist】 This diagnostic tool has 8" Lenovo branded tablet, build up with android 7. 1 systems and Expandable 128Gb memory. LAUNCH technical assistant inside: 1.diagnostic feedback and respond; 2.No IP limited update; 3.Diagnostic Record and save;4.Firmware fix; 5.Remote Diagnostic; 6.Maintenance Help;etc
【Growing Functions & Extensive Coverage】 Launch x431 v pro can work on 150 car brands, 10000 car models; electronic control system of prevailing vehicle models covering Asian, European, American, Russia, Malaysia, India car brands up to .Language: English, German, Japanese, Russian, French, Spanish, Russian, Arabic , Korean Traditional Chinese etc. are available to choose.According the updating of the Launch x431v application, the support car list is growing
【Lifetime Tech Support】 - Launch x431 v pro also comes with 2 YEARS FREE UPDATE. 5(FIVE)YEARS MANUFACTORY WARRANTY , 60days no reason return and replacement. If you need help just message the seller , ask Q&A,and get help as soon as possible
Bestseller No. 5
Autel MaxiSys Pro MK908P Automotive Diagnostic Tool (Same Functions as MaxiSys Elite) with WiFi Bluetooth Jbox J2534 VCI ECUs BCM PCM Reprogramming and Coding
【Advanced Diagnostic Scanner for ECU Programming】 MK908P has been designed to perform some of the most complicated engine diagnostics and reprogramming in BMW and Mercedes Benz. With the jbox/J2534 VCI or BMW Ethernet Cable, you can edit the cars performance data, like adjusting RPM, fuel injection, etc. A professional car diagnostics scanner to save time/effort on repairs and dramatically improve the cars' lifespan/performance. form some of the most complicated engine diagnostics and reprogramming in BMW and Mercedes Benz. With the jbox/J2534 VCI or BMW Ethernet Cable, you can edit the cars performance data, like adjusting RPM, fuel injection, etc. A professional car diagnostics scanner to save time/effort on repairs and dramatically improve the cars' lifespan/performance.
【Comprehensive Features】 Besides Coding and ECU programming functions, the scan tool supports reprogram keys, Bi-directional control, active test, ABS bleeding, complete capabilities for codes, live data, actuation tests, adaptations, prints out recorded data with Wi-Fi. Save the money cost in buying an additional expensive adapter. Warm tips Benz-14 & Chang'an-3 Adapters only for UK version, not US version.
【User Friendly】 The Live Data Stream displayed the real time PID data from ECU and the displayed data included analog inputs and outputs, digital inputs and outputs, and system status information broadcast. The graphic display greatly improved the readability and understandability of above parameters. This is definitely a perfect scan tool for enthusiasts interested in knowing how their car is running.
【Operate Easily】 The hardware can equal to a best rank android tablet in the market and that made the whole diagnostic procedure more quickly and precisely. Maxisys platform, cloud-based Maxisys provide a large amount of data about the diagnosis and repair advices, that's really helpful, whenever you encounter problems, you can find solutions from it.
【Compatible with Some Add-ons】 Combination with Oscilloscope Maxi Scope MP408 and Digital Inspection Cameras MV108, the power of this tool is amazing and the detail you receive about every component of the vehicle makes pinpointing a problem painless. Affordable combination of MS908P and TS601 supports TPMS programming, which turns into a powerful diagnostic tool.
Bestseller No. 6
Autel Maxisys Elite Diagnostic Tool (Upgraded Version of MS908P Pro) with WiFi BT Full OBD2 Automotive Scanner with J2534 ECU Programming & 2 Years Free Update
ADVANCED ECU CODING Exceptional OE-Level functionality from comprehensive OBDII diagnostics & services to advanced ECU coding and programming working with a SAE J2534-1 & -2 compliant vehicle programming pass-thru interface
EXTENSIVE VEHICLE COVERAGE; The most extensive complete system coverage for more than 80 US domestic, Asian and European makes and models
AUTOMATIC SYSTEM Automatic system and software updates with real-time push message notifications via internet with instant remote control tech support anytime, anywhere and interactive Data Logging sessions enable direct contact with Autel
ACCURATE DIAGNOSIS Support for first-hand troubleshooting of diagnostic bugs and errors, and one-stop multitasking designed for ideal management of workshop operations to keep all data files, customer info, and vehicle records well organized
UNIQUE ERGONOMIC DESIGN; with rubberized outer protection and a rugged internal housing
Sale
Bestseller No. 7
Autel MaxiDAS DS808K (Upgraded Version of DS708,DS808) OBD2 Scanner Code Reader Diagnostic Tool KIT Tablet Full Set Support Injector Key Coding with Autel Professional Carry Case
Cover 23 Special Services Function: Airbag Rest, Oil Reset, SAS Calibration, Tran Adaption, Reset parking brake pads after brake system replacement, DPF Regeneration, Battery Registration, TPMS Relearn, ABS brake bleeding, adjusting injectors, Key Fob Programming and etc.
SUPERIOR&EFFICIENT SYSTEM: Based on the Android operating system, and featuring a fast quad-core processor, provides extensive coverage of OE-level diagnostics for maximum efficiency when doing deep diagnostic scans and car trouble analysis.
Auto VIN technology can automatically identify the vehicle's make, model and year information in no time. Display live data in text, graph & analog for easy data review. Relearn parking brake pad after replacement. Cover more than 80 US, Asian and European vehicle makes after 1996.
12-month free software online update. Feel free to get technical support via email [email protected] /Q&A from us, or hotline on our official site, if you are unsure if the scan tool is suitable for your vehicle.
The tool includes a lot of active tests and special functions, fuel injector/fuel sync/monitor misfires/battery registrations/ graph real-time sensors/see crankshaft and camshaft position signals/ functionality test / PCM, TCM, body module, ABS, airbag and overhead console as well as to use some of the bidirectional tests
Bestseller No. 8
Autel MaxiCOM MK808 Automotive Diagnostic Scanner with Full Systems Diagnoses and Special Services Including Oil Reset, EPB, BMS, SAS, DPF, TPMS and IMMO
SPECIAL FUNCTIONS: The MK808 diagnostic tool with specific IMMO function protects car from being stolen as it can clear and program new key , TPMS service enables you to relearn TPMS sensors and store the replaced one(Autel sensor only).
SUPERIOR FEATURES: This scan tool is built with OLS/EPB/SAS/DPF/BMS Service for all around protecting your car system.
COMPLETE DIAGNOSTIC FUNCTIONS: Reads and clears codes for all systems with wide car model coverage, which can detect your car fully; displays live data in text, graph and analog make you review data easily.
ADVANCED HARDWARE: For this autel OBD2 scanner, the combination of MD802 and MaxiCheck Pro, with an A9 processor, 7-inch LCD touch screen and 32G memory ensures you the maximum speed of diagnosis and convenience of quick operation.
WARRANTY & UPDATE: You can enjoy 12-month warranty; besides, 12 months free online update is available for the latest bug fixes, newly added car models software and functions.
Sale
Bestseller No. 9
ELM327 FORScan OBD2 Adapter ELMconfig OBDII USB Scanner Diagnostic Scan Tool with MS-CAN HS-CAN Switch for Ford F150 F250 Cars and Light Trucks Code Reader Diagnose on Windows Only
[ELM327 USB OBD2 Reader] With reliable advantage of USB cable connection and V1.5 version hardware, works more stable than the wireless conenction,achieve pro-level check engine light programming. Supports all OBD2 protocols (J1850PWM,HS CAN, MS CAN, HS CAN2, HS CAN3), this scanner works as a normal OBDII/EOBD/CAN car code reader on most supported vehicles(from year 1996).
[Ford OBD2 Scanner Special Design] With MS CAN and HS CAN toggle switch, this obd ii interface is able to access and enable the hidden modules, troubleshoot all the undesired features pre-set in your vehicle with faster functionality. You can edit and change settings without a visit to a dealer and saving to pay for each single module to be activated / deactivated.
[Ford Forscan Powerful Functions] The comprehensive list of Mods on FORScan: Discover Global Window feature, Bambi Mod, Secure idle, Perpendicular Park, Trailer Brake Controller, disabled Double Horn Honk, Disabled Door Ajar Chime, Reverse Tilt Mirros, Tire Size Correction and many other features.You can apply them to your vehicle.
[Forscan OBD2 tool] It is flawless in scanning, programming and hiding modules for models like Ford F150, F250, F350, F450, Ranger, S-Max, C-Max, Transit, Mondeo, Fusion, Kuga, Mustang, Explorer, Edge and other cars and light pickup Ford trucks— all from year 1996 and newer. Mods for 2017, 2018 and 2019 car models have also been updated. This code scanner also works for Mazda, Lincoln and Mercury.
[Deserve to Own] ELM 327 obd2 USB Softwares Compatible: FORScan, Elmconfig, FF2 and FoCCCus, Scanmaster plus more. Easy to use elm327 modified tool on all 32 /64 bite Windows(XP, Vista, 7, 8, 10 system) computer, install related software and update drivers, connect obd2 interface, then begin car diagnostics.
Bestseller No. 10
Last update on 2019-12-10 / Affiliate links / Images from Amazon Product Advertising API
Last update on 2019-12-10 / Affiliate links / Images from Amazon Product Advertising API