ServiceNews Article
August 2018
A18080E Version 1
Millimeter Wave Radar Won't Align; DTC P2583-76 Won't Clear
AFFECTED VEHICLES
If you're having trouble aligning the front millimeter wave radar, or if DTC P2583-76 is present and does not clear after re-aiming, inspect the radar mounting clips and bracket.
Check that the mounting bracket is not bent or out of shape. Check if the radar unit for play by trying to twist it. If there is play, remove the radar unit and check each mounting clip for damage. Replace all clips that have damage or missing tabs.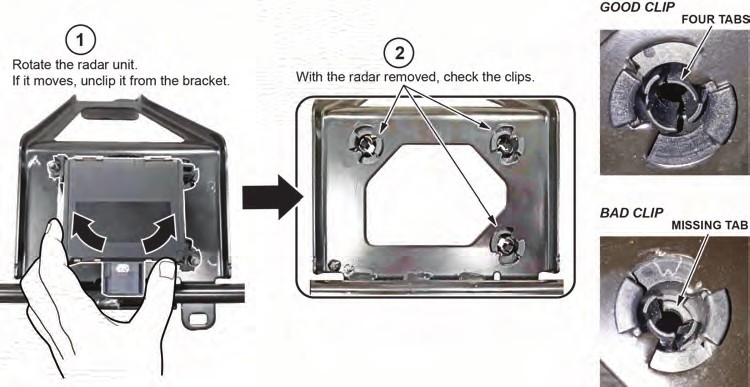 These items should be checked first before replacement of the radar unit. If you are still having issues after following this, then replace the radar unit.
---
August 2018
A18080E Version 1
https://www.nhtsa.gov/recalls?nhtsaId=10144375
https://static.nhtsa.gov/odi/tsbs/2018/MC-10144375-9999.pdf
---
Bestseller No. 1
Bestseller No. 2
TT TOPDON Artipad I Car Key Programmer Automotive Reset Scanner Vehicle Diagnostic Tool with ECU Coding for Universal 12V Car/SUV/Light Truck
【ECU CODING 】: With VCI device, Artipad I diagnostic tool is capable of ECU coding; designed for professional techs who need superior automotive scanners. Comparing to others, Artipad I is the unique one.
【Full OBD2 FUNCTIONS】: Artipad I professional giagnostic equipment comes with the 11 special services and full obd2 functions, this full system code scanner is your best choice.
【EXCELLENT PERFORMANCE】: Worked with Scopebox and Videoscope of Topdon, this auto scanner provides users with an insight to the inner work of a vehicle's electronic circuits
【WIDE COVERAGE】:This exceptional OE-Level functionality diagnostic scanner is available for over 80 1996 US-based, 2000 European-based and newer OBD2 protocol vehicles. For only 3-in-1 Auto battery taster please click the link: http://a.co/a552g4A
【NOTICE & WARRANTY】:Please close antivirus software when the software is updated.12-month warranty for any quality problems;First 3-month warranty for free refund or replacement; Free update for 1 year
Sale
Bestseller No. 3
VXDIAG 12in1 Auto Diagnostic Tool Key Programmer Scan All Cars Immobilizer OBDII Scanner Diagnosis Work for BMW icom a2 a3 for Volvo for Chevrolet for Mercedes C6 Replace Star C4 +Used Laptop 2tHdd
【Application for most Car】---: Professional Vxdiag 12 Cars in 1 Diagnostic Tool supports all models, for Honda for GM for VW for Ford / Mazda for JLR for Toyota for Subaru for Volvo for BMW for Benz for Pors-che. same function as original software HDS, G-M TECH2, VAS 5054, VCM for Toyota it2 or it3, for Subaru, for Volvo Vcads, ICOM A2 or A3, Mb star C6 etc.
【Function】---: All System Diagnosis and Check; OBDII Diagnostic Saved Data Display ; Immobilizer; Reprogram; Read CF application measurement data; Convert/ Save measurement data on driving recorder Coding & Programming; Program New keys
【Language】---: all supports English, different verhicle supports different language kinds
【Package】---: 1*VXDIAG VCX-PLUS ,1*OBDII Cable , 1*WLAN cable, 1USB cable, 1*hdd ,1*Used Laptop , 1*User Manual
【Guarantee】---:One Year Warranty; One Year free update;Note, the software install is a little complicated, if you are in trouble, please feel free to contact the seller.
Sale
Bestseller No. 4
Autel MK908P Automotive Diagnostic Scanner with ECU Coding and J2534 Reprogramming with Free Maxi TPMS PAD
As an upgraded version of the MS908P,same function as MS908S PRO and MaxiSys Elite. This superior diagnostic device is awarded as the Best Vehicle Diagnostic Tool in Britain, and characterized by its high-end diagnostic features with easy-to-use operations. It's an ultimate car scanner for DIYers, experienced mechanics, even garage to finish professional-level vehicle repair and maintenance.
This top-level OBD2 scanner comes with a SAE J2534-1 & -2 compliant PassThru reprogramming interface device which allows you to use the updated OEM software to replace the existing software/firmware in ECUs, programming new ECUs for Benz/BMW and fixing software-controlled drivability issues and emission issues.
This Android4.4 based high-end car scanner is designed with the advanced hardware configurations including super-fast hexa-core Processor, 2GM RAM, 64GB On-board Memory, 8.0 Megapixel rear cam, ultra-clear 10.1 inches LED screen etc. for users to detect the problems of the given vehicle efficiently and accurately.
This diagnostic scan tool is built for testing more than 80 US, Asian and European vehicle makes and you can use it to test more vehicles when you complete the update at our official website once in a while. It is basically a bidirectional scanner that allows you to send and receive data to and from a car's control modules.
In order to bring convenience for users to manage all the data and parameters stored in this diagnostic tool, Autel MK908P supports the following user-friendly managing functions: Shop Manager Operation, MaxiFix Operation, Data Manager Operation, etc. to quickly and directly select the required referring information while diagnosing.
Sale
Bestseller No. 5
Autel Pro MK908P Automotive Diagnostic Tool (Same Functions as MaxiSys Elite MS908P) with Jbox J2534 VCI ECUs BCM PCM Reprogramming and Coding
【Advanced Diagnostic Scanner for ECU Programming】 MK908P has been designed to perform some of the most complicated engine diagnostics and reprogramming in BMW and Mercedes Benz. With the jbox/J2534 VCI or BMW Ethernet Cable, you can edit the cars performance data, like adjusting RPM, fuel injection, etc. A professional car diagnostics scanner to save time/effort on repairs and dramatically improve the cars' lifespan/performance. form some of the most complicated engine diagnostics and reprogramming in BMW and Mercedes Benz. With the jbox/J2534 VCI or BMW Ethernet Cable, you can edit the cars performance data, like adjusting RPM, fuel injection, etc. A professional car diagnostics scanner to save time/effort on repairs and dramatically improve the cars' lifespan/performance.
【Comprehensive Features】 Besides Coding and ECU programming functions, the scan tool supports reprogram keys, Bi-directional control, active test, ABS bleeding, complete capabilities for codes, live data, actuation tests, adaptations, prints out recorded data with Wi-Fi. Save the money cost in buying an additional expensive adapter. Warm tips Benz-14 & Chang'an-3 Adapters only for UK version, not US version.
【User Friendly】 The Live Data Stream displayed the real time PID data from ECU and the displayed data included analog inputs and outputs, digital inputs and outputs, and system status information broadcast. The graphic display greatly improved the readability and understandability of above parameters. This is definitely a perfect scan tool for enthusiasts interested in knowing how their car is running.
【Operate Easily】 The hardware can equal to a best rank android tablet in the market and that made the whole diagnostic procedure more quickly and precisely. Maxisys platform, cloud-based Maxisys provide a large amount of data about the diagnosis and repair advices, that's really helpful, whenever you encounter problems, you can find solutions from it.
【Compatible with Some Add-ons】 Combination with Oscilloscope Maxi Scope MP408 and Digital Inspection Cameras MV108, the power of this tool is amazing and the detail you receive about every component of the vehicle makes pinpointing a problem painless. Affordable combination of MS908P and TS601 supports TPMS programming, which turns into a powerful diagnostic tool.
Bestseller No. 6
Autel MaxiCOM MK808 Automotive OBD2 Scanner (Combination of MaxiCheck Pro and MD802 All Systems) with Oil Reset, EPB, BMS, SAS, DPF, TPMS and Immobilizer
Advanced Functions : Read/clear codes for all available systems ( including engine, transmission, ABS and AIRBAG ), Bi-directional control ability. Support auto bleed test, Forced DPF regeneration and adjusting injectors. Relearn parking brake pad after replacement (brake reprogramming) and IMMO functions (key configuration).
Superior Features : Relearn/ reset throttle body positions. Reset Steering Angle Sensor (SAS, steering wheel calibration). Reset service mileage and service intervals. TPMS sensor relearn, Battery registration and reset, Reading automatic gearbox. Shows the vehicle's operation graphs. Adjust idle/ Relearn idle, Cycle the abs system to evacuate air, Bleed ABS pump/ ABS bleeding brake.
Cost-Effective : The automotive diagnostic scanner supports basic TPMS Service (Tires Pressures Monitoring System) including displaying sensor IDs from vehicle's ECU by inputting TPMS sensor replacement IDs and registering sensors to vehicle.
Extensive Vehicle Coverage : This diagnostic scanner is compatible with all OBD2 protocols and works on over 80 US, Asian and European vehicle makes after 1996. Smart AutoVIN technology for identifying vehicles easily. IMMO, the unique function MK808 is mainly used to disable the lost vehicle keys and program a new replacement key fob.
Update : Automatic system and software updates with real-time push message notifications via Wi-Fi. The most competitive advantage of MK808 is its add-on services for the well data arrangement and better using experience.
Sale
Bestseller No. 7
Autel Mk908P Automotive Diagnostic Scan Tool Advanced Full System Scanner with ECU Coding and J2534 ECU Programming With TS401
The diagnostic tool comes with a J2534 ECU programming device that helps Benz and BMW users replace the existing software/firmware in the ECU, program new ECUs and fix software-controlled driving performance and emission issues.
The software of MK908P has a wide range of compatibility and can be used to diagnose vehicles from over 80 brands in the US, Europe and Asia. Moreover, you can get more newly added car models with the fast-release software update service.
MK908P, as the advanced version of MS908P,MS908S,MS908E, MS908PS PRO, features the 10.1" 1920*1200 screen upgraded from 9.7" 1024*768, and the battery capacity is 15000mAh increased by 4000 mA. Also, it has a better anti-impact protection design.
The diagnostic tool supports bi-direction control to check the vehicle operating conditions. The bi-directional control of the ECM in Component Test enables the MK908P to transmit control commands to operate the vehicle systems.
The MaxiFix provides you with an online troubleshooter database, and Remote Desk allows you to get help from others via TeamViewer software.
Sale
Bestseller No. 8
VXDIAG Auto Diagnosis Scan Tool for GM/OPEL GDS2 Tech2 Car Code Reader Scanner Wifi version for Chevrolet Vehicle, for Cadillac, for Opel, for Saab Diagnose Engines 2009-2017years Work with Win7 32bit
---【Guarantee】---:1/Year Free Update; ------Before purchase, suggest message us with your car brand ,model, productive year and the function you require. ------ Work with computer Win7 System, 32bit, I5CPU 4G RAM , software Installation is a little complicated, We Support Remote help, feel free to contact us please
---[Function]---: Work for GM vehicle for Buick, for Chevrolet, for Cadillac ( 2005-2017 Years); for Opel and for Saab ( 2009-2017 ) diagnose engines, OBD II Code reader, clear fault code, transmissions, ABS, instrument panels etc. Program and coding require online account, we don't offer.
---[Compatible]---: ------VXDIAG GM professional Diagnostic Tool Fully compatible with GM vehicle SAE-J2534-1 & SAE-J2534-2; ------Because Antivirus software cannot recognize and regard VXDIAG software as virus, so, please shut down the antivirus software before you install software, hope you can accept, thank you.
---[Connection]---:Quick access to vehicle data for maintenance or management reports, quickly attaches to vehicle's diagnostic connector. Connect car and device via 16pin OBDII port, connect device by USB cable/ WIFI
---[Protocols]---:The software of VXDIAG VCX NANO for GM includes two parts: tech2win and GDS2. Version of tech2win: V33.003; Version of GDS2: V2016.1.0 ; Mixed fleet capabilities with broad protocol support, All current and most legacy vehicle protocols: CAN, UART, KW2000, Class2,for GM LAN, etc.
Sale
Bestseller No. 9
Sale
Bestseller No. 10
Autel MK908 Ultimate Wireless Automotive Scan Tool with ADAS, ECU Coding, Full Bi-Directional Control, ABS Brake Bleed, OE-Level All Systems Diagnosis OBD2 Scanner, Advanced Ver. of MS908 MS906 MK808
🚗 ULTIMATE WIRELESS SCAN TOOL: Being the most advanced Autel bluetooth diagnostic tool, Autel MaxiCom MK908 is equipped with the best hardware, combined with the best possible coverage of OE-level diagnostics, practical functions like ECU coding, auto VIN scan, complete OBD2 functions like rea and, erase codes, live data, freeze frame, I/M readiness status, O2 Monitor Test, component test and data printing. BT pairing between the diagnostic table and the MaxiVCI Mini dongle is fast.
🚗 DRIVE SAFER WITH ADAS CALIBRATION: Drive safer with the comprehensive & precise ADAS calibrationl. It supports the calibration of multiple driver assistant systems, including Adaptive Cruise Control (ACC), Night Vision System (NVS), Lane Departure Warning (LDW), Blind Spot Detection (BSD), Around View Monitoring (AVM), Rear Collision Warning (RCW) and Heads-up Displays (HUD) for Benz, BMW, Audi, VW, Porsche, Infiniti, Lexus, GM, Ford, Volvo, Toyota, Nissan, Honda, Hyundai and Kia.
🚗 ALL CAR SYSTEMS DIAGNOSIS: MK908, being the the most complete and advanced diagnostic scanner, it reads and erases codes and perform OE-Level disgnosis on all car systems, including Oil Reset, ABS, SRS, Airbag, EPB, BMS, SAS, DPF, TPMS, IMMO Keys, transmission, change tire size, headlight and etc and show custom live data of multiple sensors in text or graph.
🚗 FULL BI-DIRECTIONAL CONTROL: MK908 OBD2 scanner comes with full bi-directional control to check the operating conditions of various car systems and components like Anti-lock Braking System and the Supplemental Restraint System, car windows, doors and roof. It can also perform special functions such as ABS Brake Auto Bleed, Pump Motor Test,TPMS sensors relearn, IMMO (Anti-theft matching), key fob programming, checking Module information and etc.
🚗 12 MONTH WARRANTY AND ONLINE UPDATE: You deserve a Autel MK908 Ultimate Wireless Diagnostic Tool and so does your car. This diagnostic computer is backed by 45 Day Mony Back Guarantee and 12 Months US Seller Warranty and 12 Months FREE software online update. Hit the orange buy now button and start driving safer today!
Last update on 2019-06-26 / Affiliate links / Images from Amazon Product Advertising API
Last update on 2019-06-26 / Affiliate links / Images from Amazon Product Advertising API