B14-032
August 27, 2014
BTB 52221 (1408)  
Rear Side Body Plug Is Missing
AFFECTED VEHICLES
| Year | Model | Trim | VIN Range |
| --- | --- | --- | --- |
| 2010–13 | MDX | ALL | ALL |
SYMPTOM
The vehicle is missing one or both rear side body plugs.
POSSIBLE CAUSES
The rear side body plug flange does not sufficiently hold the plug.
CORRECTIVE ACTION
Replace both rear side body plugs, and secure them with the provided tape.
PARTS INFORMATION
| Part Name | Part Number | Quantity |
| --- | --- | --- |
| Rear Side Body Plug Kit (includes one rear body side plug and two pieces of tape) | 74514-STX-305 | 2 |
WARRANTY CLAIM INFORMATION
The normal warranty applies.
| Operation Number | Description | Flat Rate Time | Template ID | Failed Part Number |
| --- | --- | --- | --- | --- |
| 8231U1 | Replace and tape the rear side body plugs onto both sides the vehicle. | 0.6 hour | 14-032N | 74514-STX-A00 |
Defect Code: 07408
Symptom Code: 06005
Skill Level: Repair Technician
REPAIR PROCEDURE
NOTE: Replace both rear side body plugs even if only one is missing.
With the help of an assistant, remove the rear bumper.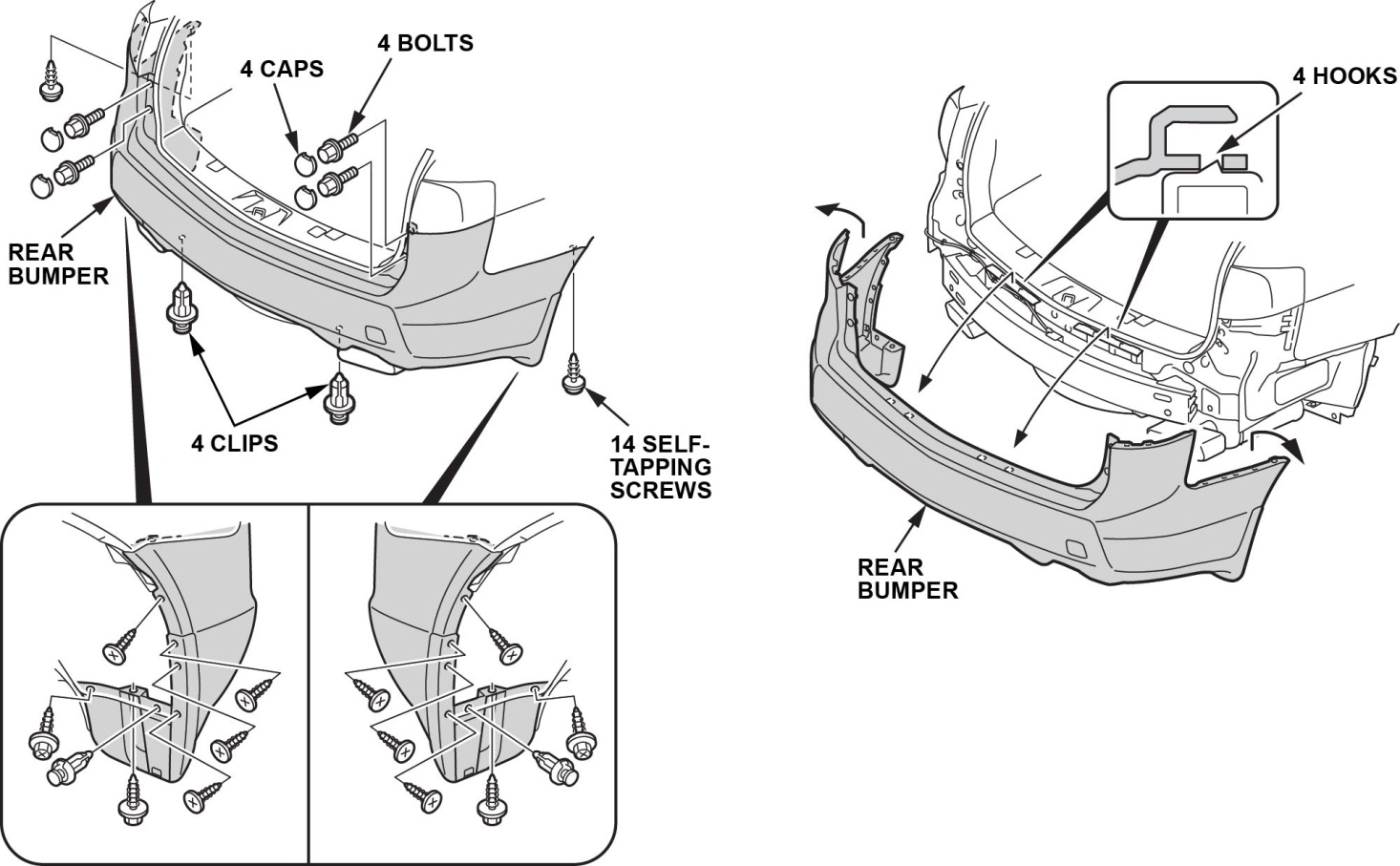 Clean the area around the rear side body plug opening with isopropyl alcohol.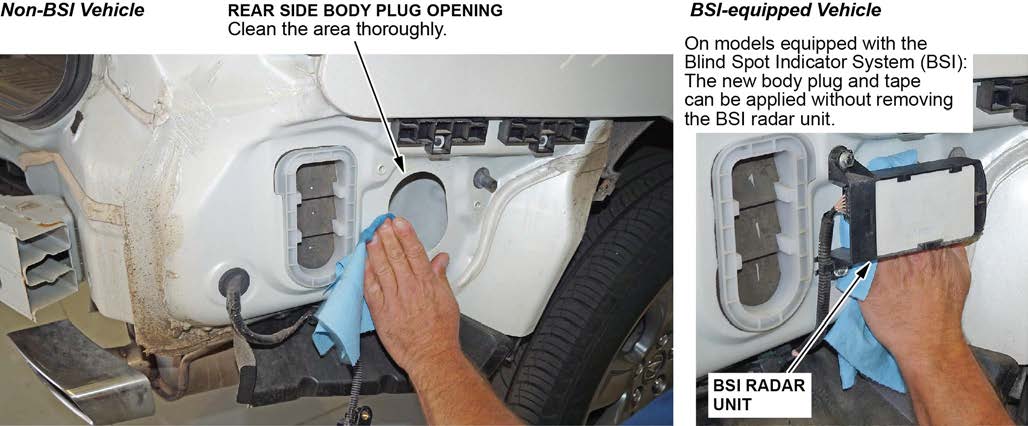 Install the new rear side body plug from the kit.

Apply a piece of tape from the kit as shown.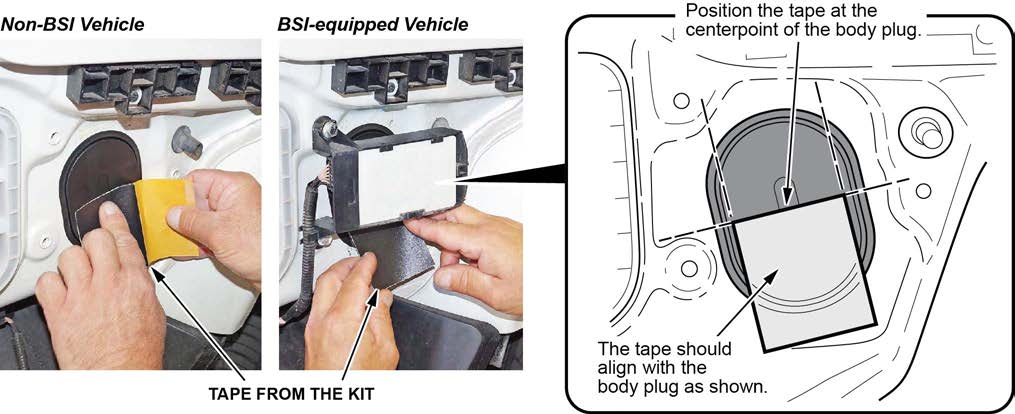 Apply the second piece of tape as shown, and make sure that the tape overlaps about 15 mm.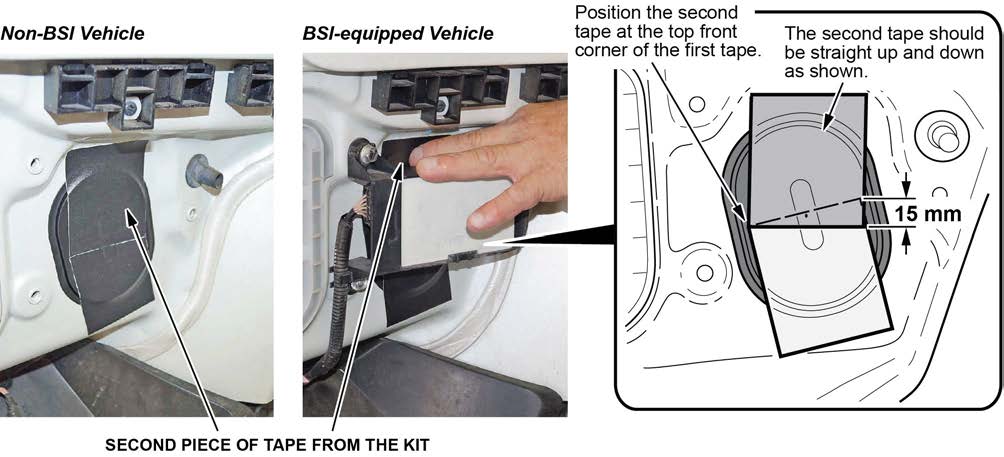 Press the tape down to ensure good adhesion.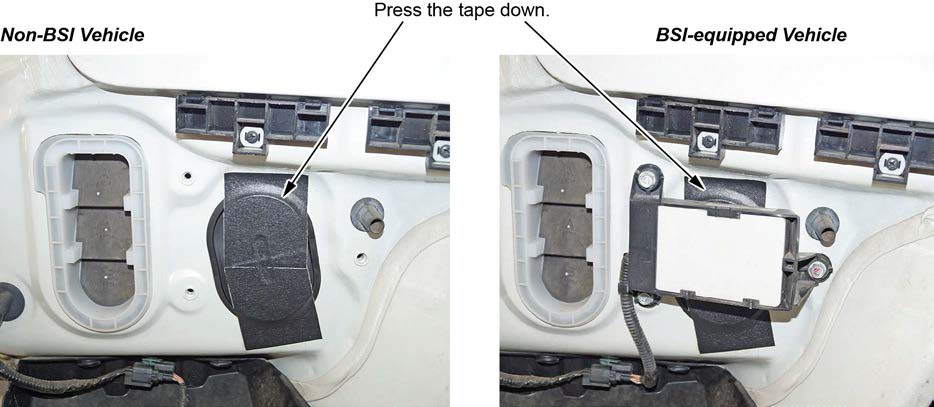 Repeat steps 2 through 6 on other side of the vehicle.
Reinstall the rear bumper.
END