B16-016
March 8, 2016
03300 Version 1
Starter Grinds or Spins at Startup
AFFECTED VEHICLES
| | | | |
| --- | --- | --- | --- |
| Year | Model | Trim | VIN range |
| 2014–16 | RLX | ALL | ALL |
SYMPTOM
The starter grinds or spins at startup.
POSSIBLE CAUSES
The clearance between the starter motor gear and the torque converter ring gear is not optimal.
CORRECTIVE ACTION
Replace the starter and rotate the torque converter clockwise one bolt hole.
PARTS INFORMATION
WARRANTY CLAIM INFORMATION
The normal warranty applies.
| | | | | | | |
| --- | --- | --- | --- | --- | --- | --- |
| Operation Number | Description | Flat Rate Time | Defect Code | Symptom Code | Template ID | Failed Part Number |
| 2181BD | Replace the starter and rotate the torque converter one bolt hole. | 0.9 hr | 07406 | 04201 | 16-016N | 31200-5G0-A02  |
Skill Level: Repair Technician
REPAIR PROCEDURE
Make sure the ignition is turned to OFF.
Disconnect and isolate the negative cable with the battery sensor from the battery. NOTE:

Always disconnect the negative side first.
To protect the battery sensor connector from damage, do not hold it when removing the negative terminal.
Do not disconnect the battery sensor from the negative terminal.

Disconnect the positive terminal from the battery.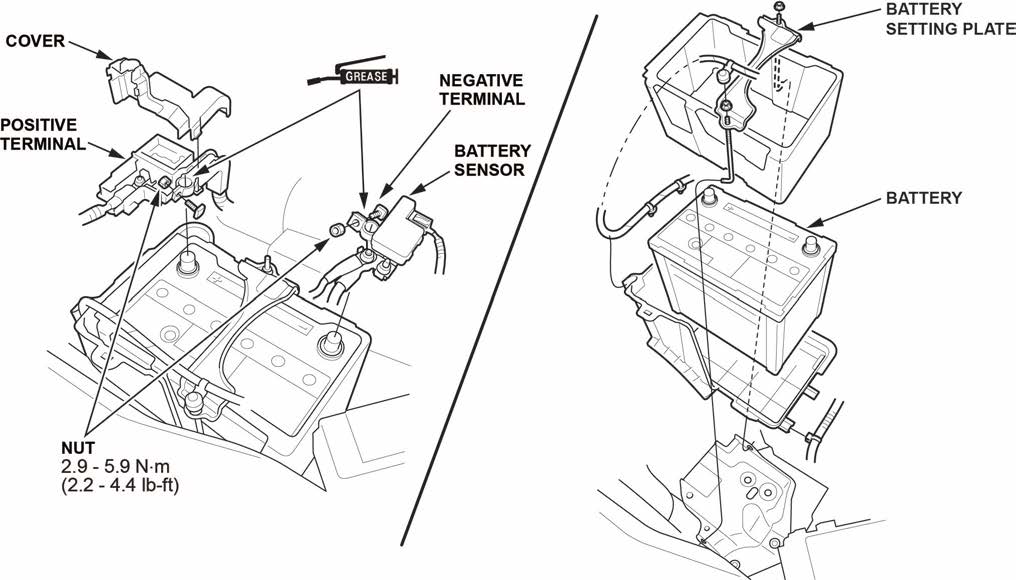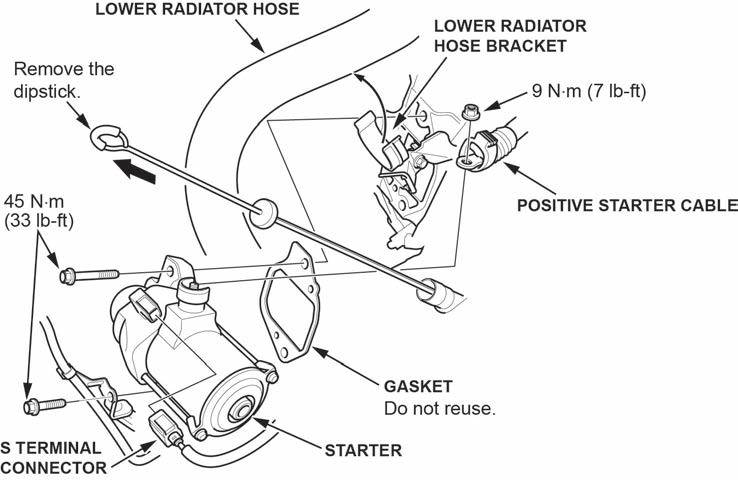 Remove the torque converter cover.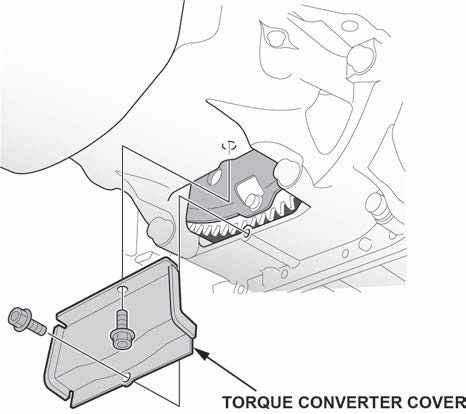 Rotate the crankshaft and remove all eight bolts.
NOTE: Do not remove the final bolt until ready to rotate the torque converter.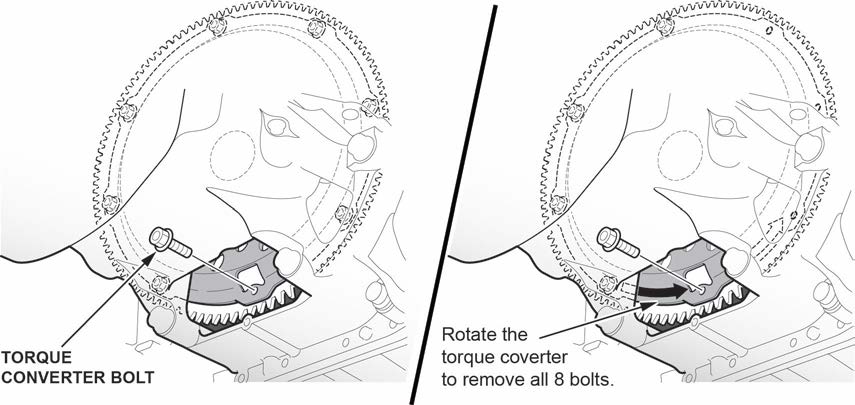 Rotate the torque converter clockwise one bolt hole. Then, install the bolts and torque them to 12 N·m (9 lb-ft). NOTE: Moving the torque converter more than one bolt hole will index the flexplate and torque converter incorrectly. The torque converter must be rotated as shown.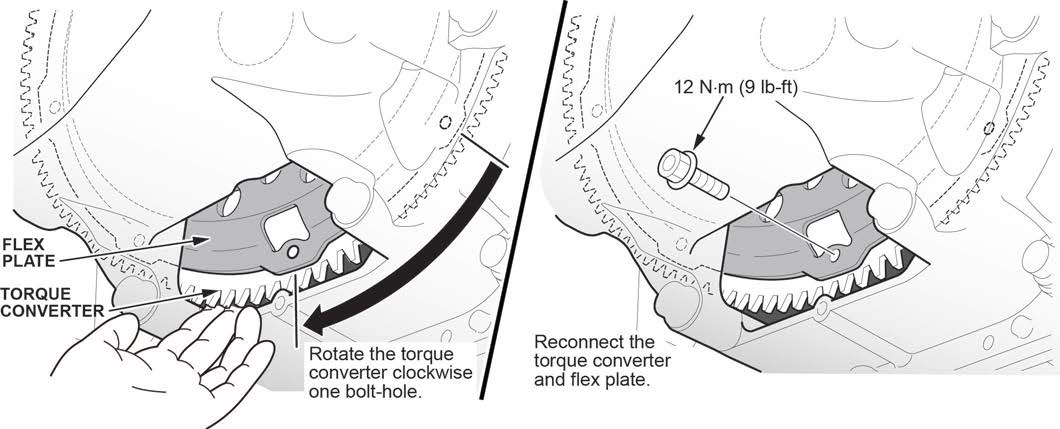 Mark the torque converter and the flex plate as shown. Then, write the bulletin number (16-016) on the flex plate with a permanent marker or paint marker.
NOTE: If there is a previous alignment mark and a reference to this bulletin, no further rotation can be done. A new torque converter will have to be installed.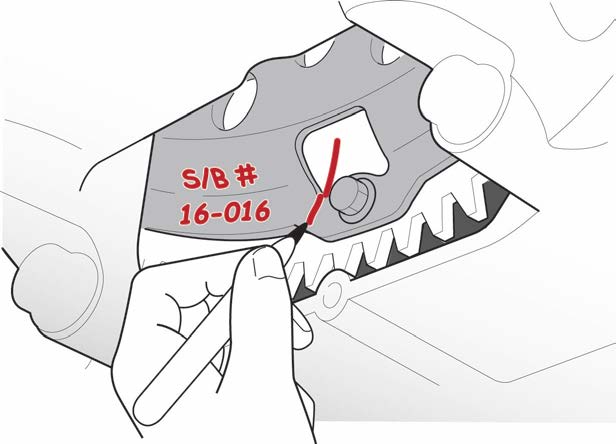 Install the torque converter cover and torque the bolts to 12 N·m (9 lb-ft).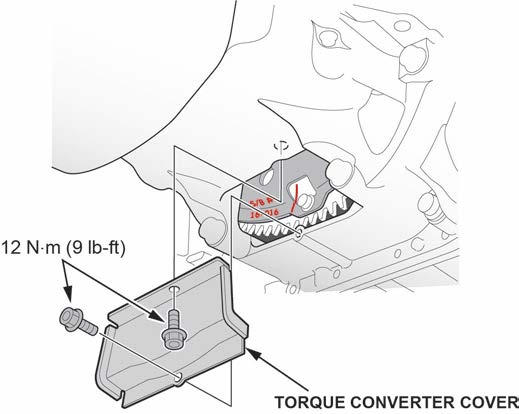 Install the new starter and gasket. Then, torque the bolts to 45 N·m (33 lb-ft).
Do the battery installation procedure.
Start the engine to make sure it works properly.
END