B14-053
December 19, 2014
BTB 01276 (1412)

TIGHTEN FUEL CAP Message On or DTC P0455 and/or P0456 is Set
AFFECTED VEHICLES
| | | | |
| --- | --- | --- | --- |
| Year | Model | Trim | VIN Range |
| 2013–14 | RDX | ALL | ALL |
| 2015 | RDX | ALL 2WD | 5J8TB3…FL000001 thru 5J8TB3…FL010016 |
| 2015 | RDX | ALL AWD | 5J8TB4…FL000001 thru 5J8TB4…FL017148 |
SYMPTOM
The TIGHTEN FUEL CAP message is on or DTC P0455 (EVAP system large leak) and/or DTC P0456 (EVAP system very small leak detected) set.
POSSIBLE CAUSES
During short drive cycles, the PCM may misinterpret inputs from the evaporative system.
CORRECTIVE ACTION
Check the EVAP system for leaks. If no leak is found, update the PCM.
TOOL INFORMATION
NOTE: Only one of the following tools is needed for this bulletin to be completed.
SOFTWARE INFORMATION
NOTE: Unnecessary or incorrect repairs resulting from a failure to update the HDS or MVCI are not covered under warranty.
MVCI Control Module (CM) Update:
Application (FW) Version 3.01.40 or later
Database Update 12-Nov-2014 or later
HDS Software Version:
3.015.023 or later
Before beginning the repair, make sure that both the HDS and the MVCI are updated as listed above.
Do only the update listed in this service bulletin.
Check that the MVCI indicates the applicable program ID listed below (or a later program ID) as the Recommended Updated when the update begins.
If the MVCI displays This vehicle does not need an update at this time during the update, the software for this bulletin is already installed.
For more information about updating the HDS, the MVCI, and vehicle systems, refer to Service Bulletin 01-026, Updating Control Units/Modules.
Year/Model/Trim
Program ID
(or later)
Program P/N
(or later)
System To Update
2013–15 RDX (2WD)
      8AA660
37805-R8A-A66
PGM-FI
2013–15 RDX (AWD)
      8AA560
37805-R8A-A56
PGM-FI
WARRANTY CLAIM INFORMATION
The normal warranty applies.
Operation   Number
Description
Flat Rate Time
Template ID
Failed Part Number
3105H5
Check EVAP system for leaks and vacuum test.
0.5 hr
14-053N
37820-R8A-A54
A
Update PGM-FI software.
0.1 hr
Defect Code: 03214
Symptom Code: 03272
Skill Level: Repair Technician
DIAGNOSIS
Confirm the client's drive time before the fault was displayed.

If the drive time was less than 20 minutes, go to step 2.
If the drive time was more than 20 minutes, this bulletin does not apply.
Confirm that there is no leak in the EVAP system.
YES – Check for poor connections or loose terminals at the FTP sensor, the EVAP canister purge valve, EVAP canister vent shut valve, and the PCM.  Go to step 3.
NO – This bulletin does not apply. Continue with normal troubleshooting.
Disconnect the vacuum hose from the engine side of the EVAP canister purge valve in the engine compartment, then connect a vacuum pump/gauge to the purge control solenoid valve as shown.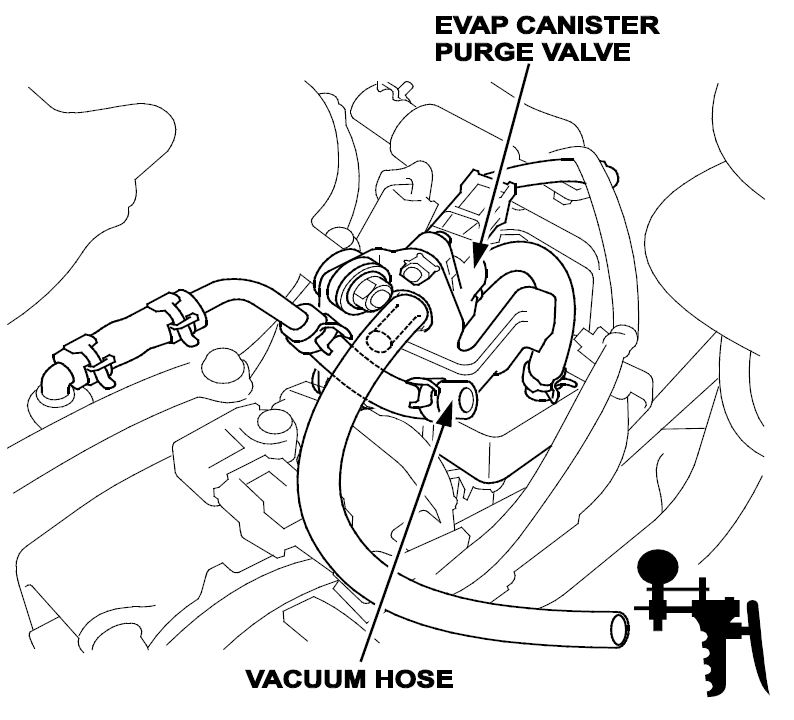 With the ignition turned to ON mode.
Apply about -0.59 inHg (-15.1 mmHg), of vacuum until the FTP reads 1.90 V.
NOTE: Be careful not to exceed the vacuum. If you do, the FTP sensor may be damaged.
Disconnect the PCS coupler and then check the FTP sensor reading for 1 minute.
Does the voltage increase more than 0.2V? 
Yes –This bulletin does not apply. Continue with normal troubleshooting.
No – Turn the ignition to OFF, reassemble all parts in the reverse order of disassembly, and go to REPAIR PROCEDURE.
REPAIR PROCEDURE
Update the PGM-FI software. Refer to Service Bulletin 01-026, Updating Control Units/Modules.
END
B14-053

---
American Honda Motor Co., Inc. offers SAE J2534 compliant reprogramming software for Honda and Acura vehicles FREE of charge. This J2534 software, when used with a properly built J2534 pass-thru device


, will automatically check for the latest vehicle calibration information.
Important Notice
Do NOT program a control module unless you are directed by a service procedure or an applicable Honda/Acura Service Bulletin. Control Module updating should only be undertaken by a skilled professional using proper equipment and procedures, or module damage can occur. The process of updating to the latest software not associated with a specific symptom may not resolve other specific customer concerns. Unauthorized or self-directed programming may cause unintended and irreversible effects and lead to vehicle harm and/or customer dissatisfaction.
American Honda urges end users to always use the LATEST production release of the J2534 Honda Reprogramming software. Using the latest version of the software is the best way to ensure successful reprogramming of applicable control modules.
It is possible to damage the vehicle's electronic control modules during reprogramming. Ensure the following conditions are met BEFORE programming a control module:
The vehicle battery must be fully charged before programming the control module. Stable battery voltage is critical during programming. Any fluctuation, spiking, over voltage or loss of voltage will interrupt programming.
Turn OFF or disable any system that may put a load on the vehicle battery.
Make certain all tool connections are secure. Do NOT disturb the tool harnesses while programming. If an interruption occurs during the programming procedure, programming failure or control module damage may occur.
THE ON-SCREEN REPROGRAMMING PROCEDURE MUST BE FOLLOWED EXACTLY AS OUTLINED BY THE SOFTWARE. FAILURE TO FOLLOW THESE INSTRUCTIONS WILL CAUSE THE REPROGRAMMING TO FAIL.
Some modules may require additional programming/setup events performed before or after programming. Please refer to the appropriate Service Bulletins for details. (e.g. IMA Battery Module)
The information in Service Bulletins is intended for use by trained, professional technicians with the knowledge, tools, and equipment to do the job properly and safely. The procedures should not be performed by "do-it-yourselfers". American Honda reserves the right to supersede this information with updates. The most recent information is available through American Honda's on-line technical resources.
Warning: Certain control module systems require special procedures and or hardware to be properly reprogrammed. Before proceeding ahead, check the vehicle list below.
Honda J2534 Pass-Thru User Guide
Honda J2534 Pass-Thru Software Download