A08-049
July 10, 2012
Applies To: 2007–11 CR-V – ALL
Exhaust System Squeaks
(Supersedes 08-049, dated August 15, 2008, to revise the information marked by the black bars)
REVISION SUMMARY
In Applies To, the model year range was changed. Under SYMPTOM, additional information was added. Under PARTS INFORMATION, the part numbers were changed, and a new required part was added. Under REPAIR PROCEDURE, step 7 was changed.
SYMPTOM
The exhaust system squeaks when the engine rocks back and forth under the following conditions:
PROBABLE CAUSE
The front exhaust gasket is sticking to the front flange of the TWC (three way catalytic converter) inlet.
CORRECTIVE ACTION
Clean both flanges with an angle grinder and a ScotchBrite Roloc surface conditioning disc, and replace the gaskets.
PARTS INFORMATION
REQUIRED MATERIALS
WARRANTY CLAIM INFORMATION
The normal warranty applies.
| | |
| --- | --- |
| Operation Number: | 3110A2 |
| Flat Rate Time: | 0.4 hour |
| Failed Part: | P/N 18229-SLJ-023 |
| Defect Code: | 03214 |
| Symptom Code: | 04205 |
| Skill Level: | Repair Technician |
REPAIR PROCEDURE
NOTE: Make sure not to bend the pipe or scratch it excessively.
Stuff a shop towel into the exhaust pipe to keep debris out. Use a 90-degree angle grinder with a Scotch-Brite Roloc surface conditioning disc to remove all old gasket material.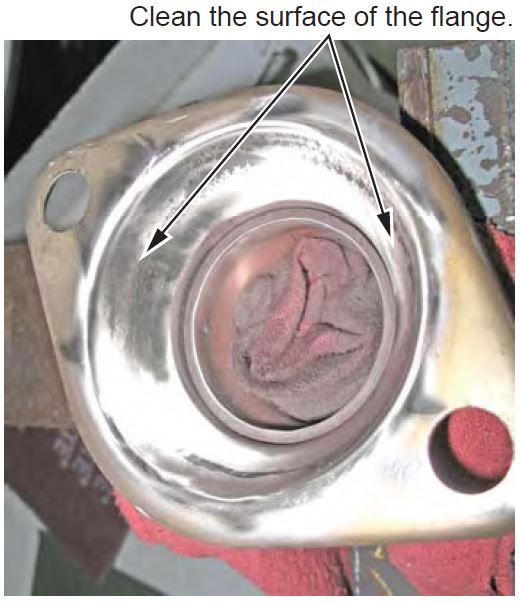 Install the TWC with new gaskets and new nuts. Torque the nuts to 33 N·m (25 lb-ft) and the bolts to 22 N·m (16 lb-ft).
NOTE: It may be necessary to walk the new exhaust gasket onto the primary catalyst, and then lightly tap the gasket into place.
Test-drive the vehicle to verify that the squeak is gone.