Service Bulletin
A17-083
September 18, 2018
Version 3
Hood Flutter or Vibration at Highway Speeds
Supersedes 17-083, dated September 18, 2018, to revise the information highlighted in yellow.
AFFECTED VEHICLES
| | | | |
| --- | --- | --- | --- |
| Year | Model | Trim | VIN Range |
| 2016–19 | Pilot | ALL | ALL |
| 2017–20 | Ridgeline | ALL | ALL |
| 2019 | Passport | ALL | ALL |
REVISION SUMMARY
Under WARRANTY CLAIM INFORMATION, the Flat Rate Time for Operation Number A was updated.
Under REPAIR PROCEDURE, a note was added before Step 1, Step 3 image was updated, and Step 4 was added.
SYMPTOM
The hood flutters or vibrates at highway speeds.
CORRECTIVE ACTION
Adjust the hood edge cushions to slightly touch the hood while still maintaining proper hood alignment. Inspect the adhesive between the hood skin and the support structure. Apply 3M ULTRAPRO Autobody sealant between hood skin and support structure if needed.
PARTS INFORMATION
REQUIRED MATERIALS
| | | |
| --- | --- | --- |
| Part Name | Part Number | Quantity |
| Insulator Clip | 91502-TZ5-A01 | 8 |
WARRANTY CLAIM INFORMATION
The normal warranty applies.
Operation
Number
Description
Flat
Rate
Time
Defect
Code
Symptom
Code
Template
ID
Failed
Part
Number
812003
Adjust the hood edge cushions. (includes inspection)
0.3 hr
07406
06201
A17083A
60100-TG7-A90ZZ
812003
Adjust the hood edge cushions. (includes inspection)
0.3 hr
07406
04201
A17083B
60100-TG7-A90ZZ
A
Apply 3M Ultrapro Autobody sealant.
0.2 hr
Skill Level:  Repair Technician
REPAIR PROCEDURE
NOTE: Before continuing on with this repair procedure please perform a VIN Inquiry to see if the vehicle qualifies for Service Bulletin 21-086, Safety Recall: Hood Vibration at Highway Speeds. If it qualifies for the safety recall, make sure the safety recall is completed first. Once completed, continue with the repair procedure provided below. If it doesn't qualify, continue with the repair procedure below.
1. Turn the hood edge cushions, in or out as necessary, so they touch slightly against the hood.
NOTE: Some vehicles left the factory with the hood edge cushions in their lowest height profile, which allows the hood to pivot off the center latch and bounce from side to side.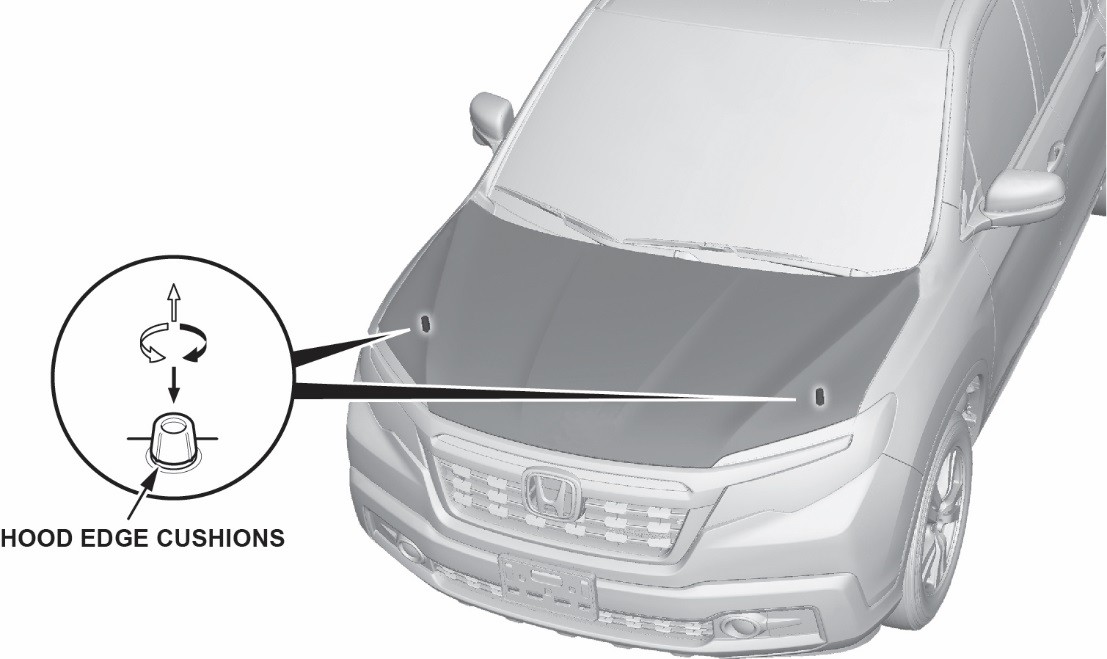 Inspect the areas shown designated with red boxes for adhesive separation between the hood skin and the support.
Updated Image: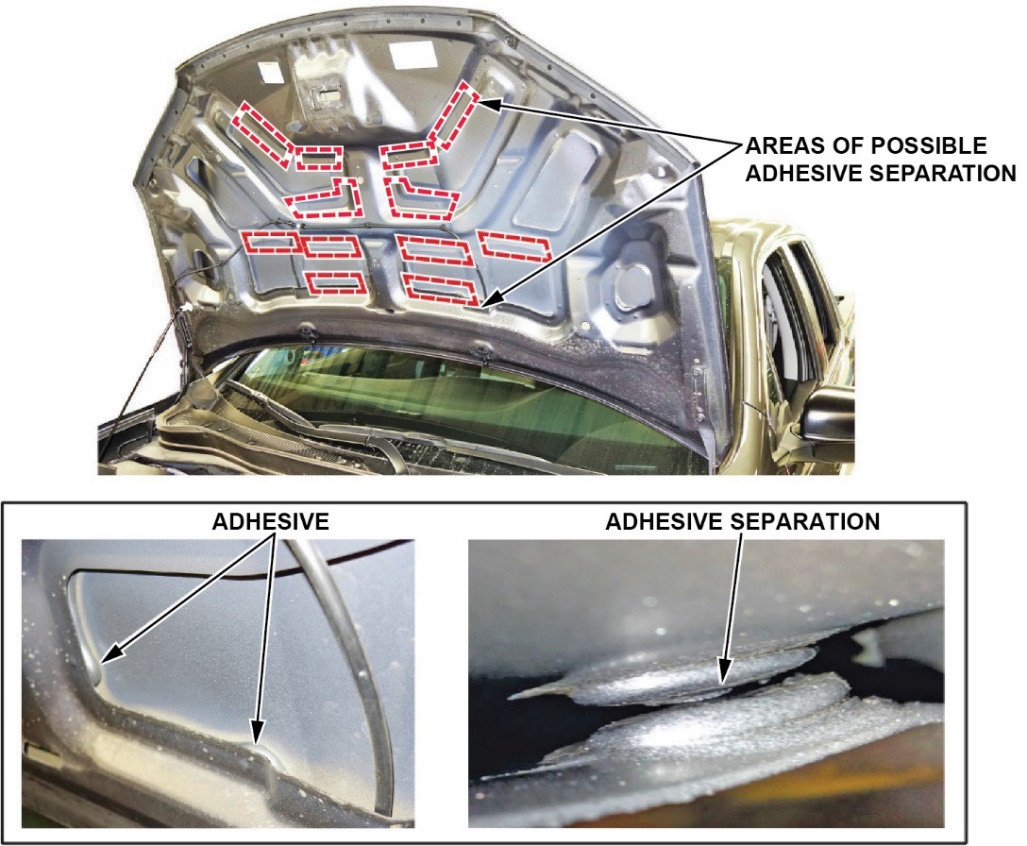 4. If separation is found, apply 3M Ultrapro sealant between the frame and the hood skin.
Insert the tube tip between the hood skin and frame at the area of concern.
Apply the amount of sealant needed just to where the sealant comes out to the edge of the frame.
Ensure that there is a consistent amount of sealant touching both the hood skin and frame.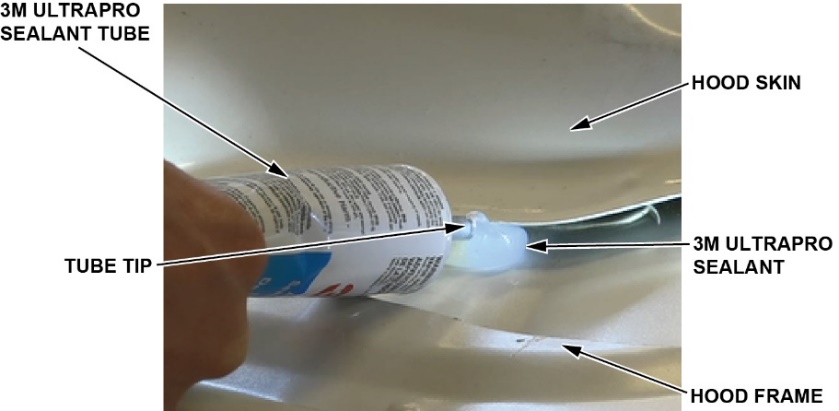 5. Install the hood insulator and replace any stressed or damaged clips.
END
---
A17-083
December 10, 2021
Version 3
Remedy Instructions and TSB
RCRIT-21V932-9828.pdf 692.07KB
RCRIT-21V932-9828

---
A17-083
September 18, 2018
10104 Version 2
https://www.nhtsa.gov/recalls?nhtsaId=10145389
https://static.nhtsa.gov/odi/tsbs/2018/MC-10145389-9999.pdf
MC-10145389-9999

---
Bestseller No. 3
Gear Aid Seam Grip WP Waterproof Sealant and Adhesive for Tents and Outdoor Fabric, Clear, 1 oz
Seal seams and permanently repair holes in tents, tarps, awnings, rainflys and camping gear like Thermarest sleeping pads
Treat up to up to 12' of seams (1 oz) or repair torn outdoor fabrics with an adhesive that cures into a flexible rubber seal; also available in an 8 oz tube
Waterproof gear with a sealant that flexes with fabric and bonds to nylon, polyester, canvas, leather and vinyl
Apply it to repair or re-proof gear without worrying about the seal peeling or cracking; includes two applicator brushes
Packaging may vary
Bestseller No. 4
GEAR AID Seam Grip FC Fast Cure Sealant for Tents, Clear, 2 oz
Seal up to 60 ft of seams on tents, tarps and awnings with this water-based seam sealant; cures in 2 hours at room temperature
Use it on various outdoor fabrics including nylon, polyester, and canvas; previously known as Seam Sure
Apply this long-lasting seal that is nearly invisible and flexes with fabric; available in 2 fl oz bottle
Treat gear using the included applicator brush to make application quick and easy
Packaging may vary
Bestseller No. 5
Barrier Bond Brushable Seam Sealer - Quart Can with 30.4 Fluid Ounces - Automotive Brush on Body Seams, Joints, Floors, Trunks - Autobody Repair, Fast-Drying, Paintable
Brushable Seam Sealer is fast drying and designed exclusively for automotive uses.
This product remains flexible and will not crack, harden, sink or sag.
Brushable Seam Sealer is easily applied with a brush and holds a perfect brush mark to match that O.E.M. seam.
It provides excellent adhesion, seals cracks, crevices, body seams and is ideal for use on all lap and flange seams and joints.
Brushable Seam Sealer is paintable in 30 to 60 minutes and comes in a light gray color.
Bestseller No. 7
Barrier Bond Black Polyurethane Seam Sealer Adhesive Compound - 10.5 fl. Ounce Cartridge Tube
Polyurethane Seam Sealer/Adhesive Compound is a one component, moisture-cure sealant designed exclusively for automotive uses.
This product cures under the effect of atmospheric humidity to form a permanently flexible and resistant joint.
This product is a high quality elastomeric sealant formulated to combine high flexibility with high ultimate strength, permanent bonds and long service life.
This product provides excellent adhesion to a wide variety of substrates and comes in an easy to use, non-sag consistency suitable for easy application with a standard caulking gun in both horizontal and vertical automotive joints.
Easy application, ready to use, no mixing required
Bestseller No. 8
Coghlan's Seam Seal
Waterproofs sewn seams on nylon and other synthetic outdoor fabrics
Ideal for tents, tarps, rain gear, and backpacks
Colorless, flexible, and washable
Bestseller No. 10
COLEMAN SEAM SEALER , White/Green/Black
Brush applicator allows seam sealer to be worked into needle holes, sewn hoints, coners and under folded seams
Seal seams on tents and other outdoor gear
Fast drying, flixible urethane formula
2oz. Bottle
Last update on 2022-10-06 / Affiliate links / Images from Amazon Product Advertising API
This product was presentation was made with AAWP plugin.