NHTSA Campaign Number: 18V421
Manufacturer Honda (American Honda Motor Co.)
Components EQUIPMENT
Potential Number of Units Affected 13
Random Characters on Certification Label
If the owner is not able to verify if their vehicle is involved in safety recall, it can increase the risk of injury or crash.
Summary
Honda (American Honda Motor Co.) is recalling certain 2018 Honda Civic vehicles. The manufacturing date area of the certification labels may have random characters which can affect the owner's ability to determine if a safety recall includes their vehicle.
Remedy
Honda will notify owners, and dealers will replace the certification label, free of charge. The recall is expected to begin August 9, 2018. Owners may contact Honda customer service at 1-888-234-2138. Honda's number for this recall is U23.
Notes
Owners may also contact the National Highway Traffic Safety Administration Vehicle Safety Hotline at 1-888-327-4236 (TTY 1-800-424-9153), or go to www.safercar.gov.
Check if your Honda has a Recall
---
June 21, 2018
Version 1
Safety and Non-Compliance Recall: 2018 Civic Certification Label Missing Production Date
Supersedes 18-071, Non-Compliance Recall: 2018 Civic Certification Label Missing Production Date, dated June 15, 2018
AFFECTED VEHICLES
| Year | Model | Trim | VIN Range |
| --- | --- | --- | --- |
| 2018 | Civic | ALL | Check the iN VIN status for eligibility. |
BACKGROUND
During manufacturing, the certification label was printed without the month and year. This causes the vehicle to be noncompliant with Title 49 of the Code of Federal Regulations, Part 567, "Certification." In the event of a vehicle safety recall, an incorrect manufacturing date may prevent owners from determining if the recall affects them, increasing their risk of injury or a crash.
CUSTOMER NOTIFICATION
Owners of affected vehicles will be sent a notification of this campaign.
Do an iN VIN status inquiry to make sure the vehicle is shown as eligible.
Some vehicles affected by this campaign may be in your new or used vehicle inventory.
Failure to repair a vehicle subject to a recall or campaign may subject your dealership to claims or lawsuits from the customer or anyone else harmed as a result of such failure. To see if a vehicle in inventory is affected by this safety recall, do a VIN status inquiry before selling it.
CORRECTIVE ACTION
Replace the certification label.
PARTS INFORMATION
| Part Name | Part Number | Quantity |
| --- | --- | --- |
| Certification Label | Controlled Part | 1 |
NOTE
Once an appointment is scheduled with the customer, order a certification label from TRS. Make sure you have the VIN available when you call 800-880-1072 between 8:30 am – 5:00 pm PST.
WARRANTY CLAIM INFORMATION
| Operation Number | Description | Flat Rate Time | Defect Code | Symptom Code | Template ID | Failed Part Number |
| --- | --- | --- | --- | --- | --- | --- |
| 8150C2 | Remove and replace the certification label. | 0.3 hr | 6CM00 | U2300 | A18071A | 42762-TLA-A01 |
Skill Level: Repair Technician
REPAIR PROCEDURE
Open the driver's door, and locate the certification label.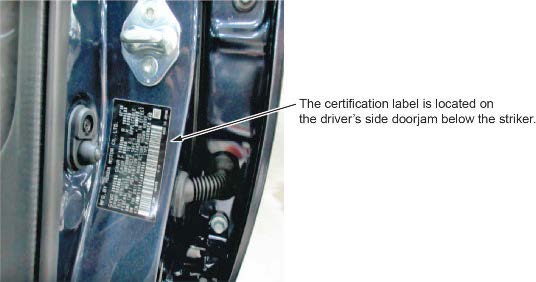 Confirm the VIN on the dashboard matches the VIN on the new certification label.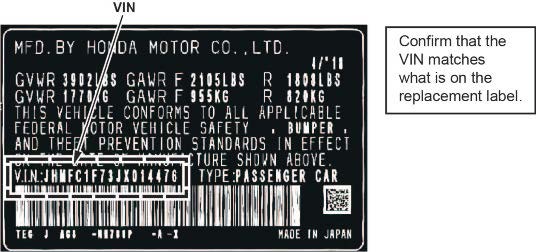 Use a heat gun and a plastic tool to remove the label. Be careful not to scratch or damage the paint.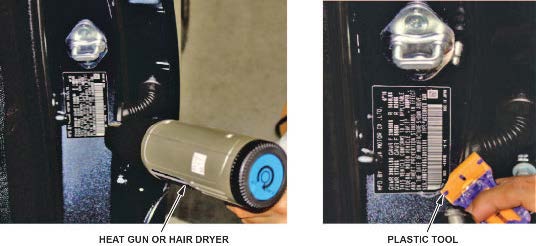 After the label is removed, using isopropyl alcohol on a lint free cloth, thoroughly clean the area where the new label will be attached. Make sure there is no residue from the old label, and allow the alcohol to dry.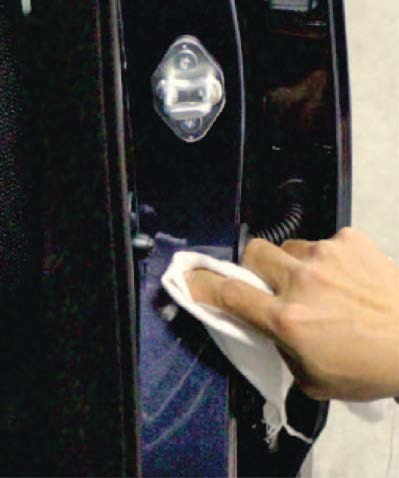 Apply the new certification label 5 mm below the striker. Make sure the label is applied in the same orientation as the removed label.
NOTE
Make sure the label is properly applied to the body, and make sure there are no wrinkles, tears, or bubbles on the new label.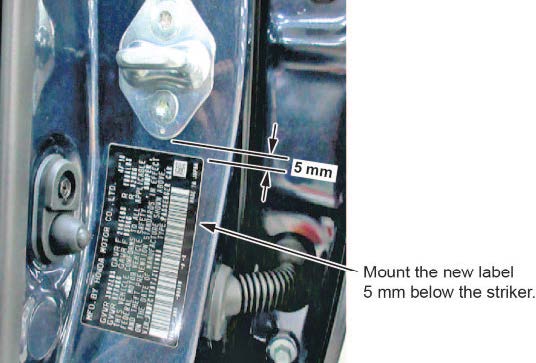 As a secondary confirmation, have another person confirm the VIN on the new certification label with the VIN on the dashboard.
END
---
A18-071
June 21, 2018
Version 1
https://static.nhtsa.gov/odi/rcl/2018/RCRIT-18V421-3372.pdf
---
Manufacturer Notice
June 21, 2018
https://static.nhtsa.gov/odi/rcl/2018/RCMN-18V421-3011.pdf
---
DEFECT INFORMATION REPORT
https://static.nhtsa.gov/odi/rcl/2018/RMISC-18V421-1237.pdf
---
Recall Acknowledgement
July 16, 2018
https://static.nhtsa.gov/odi/rcl/2018/RCAK-18V421-2375.pdf
---
Sale
Bestseller No. 1
Shine Armor Fortify Quick Coat Wax – Top Coat Ceramic Gloss Polish and Sealer – Professional Detailing Spray Sealant – Waterless Car Wash Kit
ADVANCED 3-IN-1 FORMULA! Frustrated with all the products (and MONEY) it takes to get a smooth, clean and shiny finish on your ride? Look no further! SHINE ARMOR FORTIFY QUICK COAT is your one-stop-shop to achieving your desired results. Shine Armor Fortify Quick Coat provides a waterless wash, coat and shine, all in ONE CONVENIENT BOTTLE.
NO STREAKING, SMEARING OR SCRATCHING - Shine Armor Fortify Quick Coat's premium formula is both gentle and effective on any vehicle! It provides a clean and shiny finish, without hurting your car's paint or leaving unsightly drying smears and streaks. Simply, apply SHINE ARMOR FORTIFY QUICK COAT once and experience all the formula has to offer!
CUTS DIRT, GRIME & GREASE - Only SHINE ARMOR FORTIFY QUICK COAT eliminates dirt, grime & grease instantly on contact! Save time and money with our signature 3-in-1 formula. In just one 8-ounce bottle, you'll get a waterless wash, coat and shine for a clean, showcase look.
SAFE FOR ALL SURFACES - Use Shine Armor Fortify Quick Coat on AUTOMOBILES, BOATS, MOTORCYCLES, RVs, FOUR-WHEELERS AND MORE! It is the perfect blend of surfactants and SiO2 ceramic-coating science. FORTIFY QUICK COAT will allow you to achieve the showcase look you love without damaging the surface of your favorite ride!
GET SHINE ARMOR FORTIFY QUICK COAT RISK FREE: 100% MONEY-BACK GUARANTEE - We are confident you will love our FORTIFY QUICK COAT, we offer a 30-day money-back guarantee! CLICK "Add to Cart" NOW, ZERO RISK!
Bestseller No. 2
Meguiar's G7101FFP Gold Class Car Wash - 1 gallon
ONLY ONE STEP: Designed to both clean and condition your car in one easy step
ADVANCED FORMULA: Cleans without stripping wax protection
THE BEST CLEAN: Foams away tough dirt, road grime and contaminants
RADIANT LOOK: Contains ultra-rich conditioners to make your paint look its best
FOAM CANNON READY: Diverse application allows it to be used in a bucket or in a foam cannon. *Dilute 5:1 when used with a foam cannon.
Bestseller No. 3
Bestseller No. 4
Chemical Guys WAC_201_16 Butter Wet Wax (16 oz)
100 percent carnauba-based wax
New formulation for even easier application
Deep wet look to any paintwork
Improved level of protection.Date on item is manufactured date
More UVA and UVB protection
Sale
Bestseller No. 5
Meguiar's G18216 Ultimate Liquid Wax, 16 Fluid Ounces, 1 Pack
ONE EASY STEP: Formula delivers maximum synthetic protection, durability, depth of color, and reflectivity in this easy one step
EFFORTLESS APPLICATION: Thin Film technology provides for easy application and wipe off even in full sun, and will not stain non-painted trim pieces white
LONG-LASTING PROTECTION: Advanced synthetic polymers crosslink to form a long-lasting protective barrier while amplifying reflection for incredible depth and mirror-like shine
WATER ROLLS RIGHT OFF PAINT: Hydrophobic Polymer technology increases surface tension to protect paint
SAFE AND FLEXIBLE: Safe and effective on all glossy paints and clear coats, and can be applied by hand or dual action variable speed polisher like Meguiar's MT300 Dual Action Polisher
Sale
Bestseller No. 6
Meguiar's M6332 Flagship Premium Marine Wax 32. Fluid_Ounces
EASY TO USE: Our formula offers long-lasting polymer protection and incredible deep gloss to fiberglass and gel coat surfaces
BEST PROTECTION FOR YOUR BOAT: Protects against UV damage and wear
VARIETY OF USES: Removes light oxidation, fine scratches and swirls while protecting
GREAT RESULTS: Dramatically enriches color and shine while bringing out the full richness of the surface
USE WITH HAND PADS OR POLISHER: Formulated to be effective by hand or dual action variable speed polisher
Bestseller No. 7
Adam's Detail Spray 16oz - Enhance Gloss, Depth, & Shine - Extends Protection With Wax Boosting Technology - Our Most Iconic Product, Outshine The Competition
MADE WITH SHINE IN MIND! Using state of the art technology that is guaranteed to outshine the competition. Detail Spray has been the industry leader providing high gloss, deep shine, and extending the life of your car wax and paint sealants significantly!
STREAK FREE AND SAFE FOR ANY SURFACE! Use Detail Spray on your show cars, during a clay/decontaminating process, as a quick detailer, as a quick boost to car polishes, or as a drying aid when drying your vehicle! Safe on plastic, windows, paint, and trim.
INCREDIBLE GLOSS AND SHINE! Most store bought detail sprays are packed full with fillers and "hiders" that give the false shine that only last a few minutes. Spray over your existing ceramic coating and add to the shine and hydrophobics!
EASY APPLICATION AND USAGE! All of our products are pleasantly colored to please your eye and smell so good you'll want it in your house! Our products are consistent and will give a first time user the same result as a veteran detailer using our product!
110% SATISFACTION GUARANTEE! We pride ourselves on customer service and satisfaction and believe that this is THE BEST automotive detail spray on the market! If you don't agree, we'll do everything we can to make it right.
Sale
Bestseller No. 8
Mothers 07240 California Gold Clay Bar System
Removes embedded grains of metal, tree sap, airborne environmental deposits and paint overspray for "new" look
Safe to use on paint
Includes 2 clay bars, Showtime Instant Detailer, Microfiber towel
Regular use provides a long lasting benefit to your vehicle
Bestseller No. 9
Brasso Metal Polish, 8 oz Bottle for Brass, Copper, Stainless, Chrome, Aluminum, Pewter & Bronze, 8 oz
Cleans & polishes a variety of metals
Provides long-lasting smooth & polished surface
Provides brilliant shine
Multi-purpose metal polish for: brass, copper, stainless steel, chrome, aluminum, pewter, and bronze
Great to use on: car rims, stainless refrigerators/ovens/toasters/dishwashers, faucets, metal kitchenware and metal furniture
Bestseller No. 10
Meguiar's M10508 Mirror Glaze Ultra-Cut Compound, 8 Fluid Ounces, 1 Pack
DEFECT REMOVAL: Great for removing scratches, defects, acid rain and severe swirls/holograms
ULTRA-FAST COMPOUNDING: Ultra-fast cutting removes 1200 grit or finer sanding marks
SUPERIOR FINISH: Exclusive super micro-abrasive technology leaves best-in-class finish
CLEAR COAT SAFE: Safe and effective on all glossy paint finishes including clear coats
VERSATILE USE: Formulated for use by hand, dual action polisher or rotary buffer, and is body shop safe. Also available in 32 oz and 1 gallon sizes
Last update on 2019-04-23 / Affiliate links / Images from Amazon Product Advertising API
Last update on 2019-04-23 / Affiliate links / Images from Amazon Product Advertising API