Service Bulletin
B15-044
February 24, 2016
02352 Version 2
2016 TLX: TQI Information
Supersedes 15-044, dated September 10, 2015, to revise the information highlighted in yellow.
AFFECTED VEHICLES
Year
Model
Trim Level
2016
TLX
4-Cylinder 2WD: P-AWS, 8-Speed DCT
6-Cylinder 2WD: P-AWS, 9-Speed A/T
6-Cylinder AWD: SH-AWD,  9-Speed A/T, Auto Idle Stop
Base
Base
N/A
Technology
Technology
Technology
N/A
Advance
Advance
REVISION SUMMARY
Under TQI PROCEDURES, retitled 10. Do the Idle Learn Procedure to read 10. Do the PCM Idle Learn Procedure.
Under TQI PROCEDURES, added 11. Do CKP-Pattern Learn Procedure after 10. Do PCM Idle Learn Procedure. Renumbered all succeeding steps to reflect this addition.
INTRODUCTION
This bulletin covers the total quality inspection (TQI) of the 2016 TLX. It includes these procedures:
To do a TQI on a model with a navigation system, be sure to complete S/B 15-045, 2016 TLX: TQI of the Navigation System.
CLAIM INFORMATION
Reimbursement Time: 1.4 hours
NOTE: This time includes the TQI of the navigation system (if equipped).
TQI PROCEDURES
Before Starting Review these items:
TQI checklist in the maintenance journal
Make sure you record the TQI on the appropriate pages of the maintenance journal. The TQI is not done until this bulletin and the TQI checklist are both complete. Note on the repair order any repairs or problems that cannot be fixed within a few minutes.
Remove all TQI items from the trunk and glove box.
Starting the Vehicle Without the Backup Fuse
To prevent parasitic draw, the vehicle comes from the factory with the No. 29 BACKUP (10 A) fuse removed from the main under-hood fuse/relay box. With it removed, the engine will not start when you apply the brake pedal and press the ENGINE START/STOP button.
If you need to move the vehicle before doing the TQI, follow these steps:
Press the ENGINE START/STOP button once.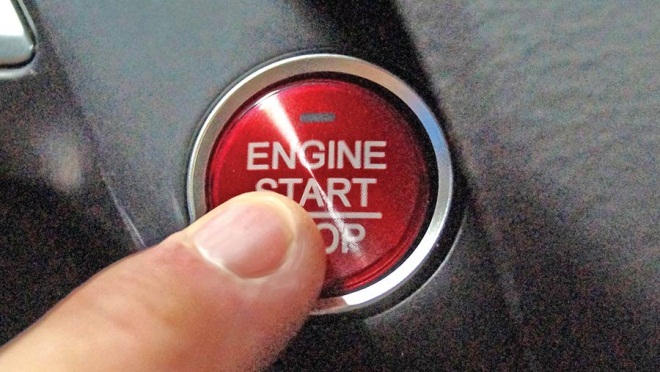 When the indicator blinks, touch the keyless remote to the ENGINE START/STOP button.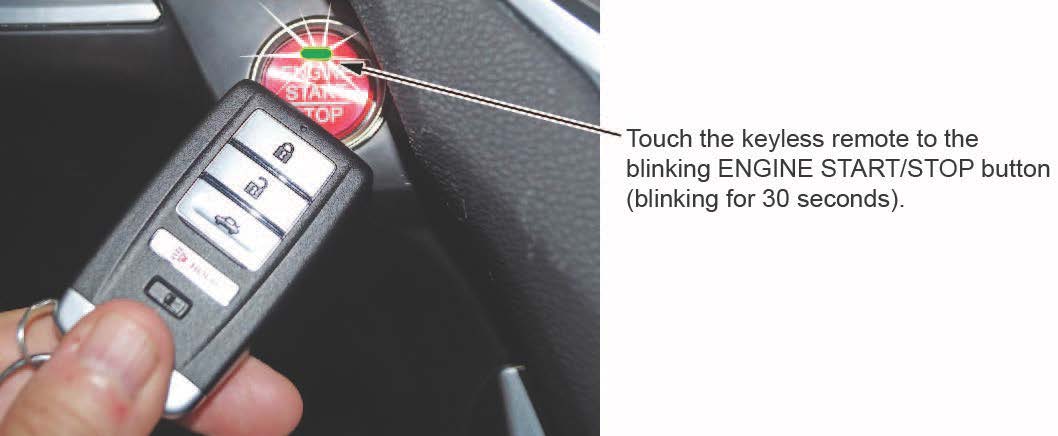 NOTE: The indicator will switch from blinking to steady when communication is complete.

Start the engine by pressing the ENGINE START/STOP button while applying the brake pedal. You must start the engine within 10 seconds. If you press the button without applying the brake pedal, the ACCESSORY power mode will set.
1. Remove the Exterior Protective Coatings
Carefully remove all of the exterior protective coatings. See S/B 96-009, Removal of Protective Coatings During TQI.
.
2. Install the Backup Fuse
To prevent battery drain during vehicle shipping, the No. 29 BACKUP (10 A) fuse is removed from the main under-hood fuse/relay box and stored in the tray inside the technology pocket, ahead of the electronic gear selector (6-cylinder models) or shift lever (4-cylinder models). Make sure the power mode is set to OFF before reinstalling this fuse.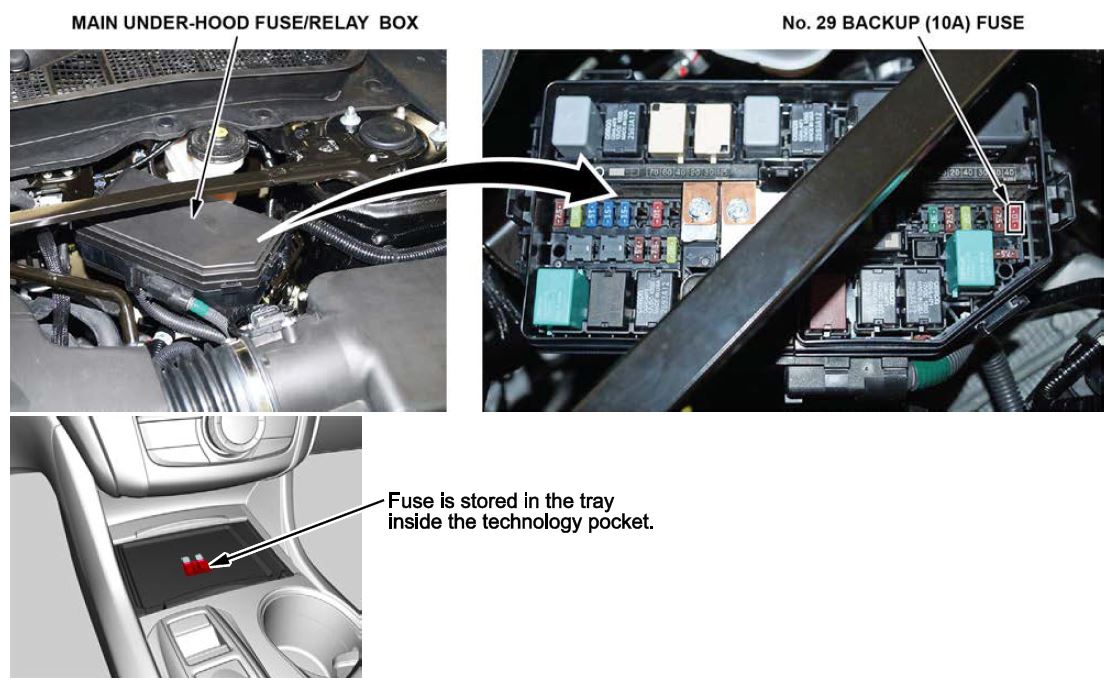 3. Remove the Interior Protective Coverings
There are several protective coverings on the interior trim pieces and some areas of the carpet. A couple of new items were added. One is the protective cover on the interface dial. The other is two paper tags on each of the front head restraints (one at the front and one at the rear). Carefully remove all items with clean hands to avoid soiling any surfaces. If any of the interior is dirty, clean it with mild soap or an Acura cleaning product such as Leather & Vinyl Cleaner (P/N 08700-9214A) or Carpet Spot Remover (P/N 08700-9215A).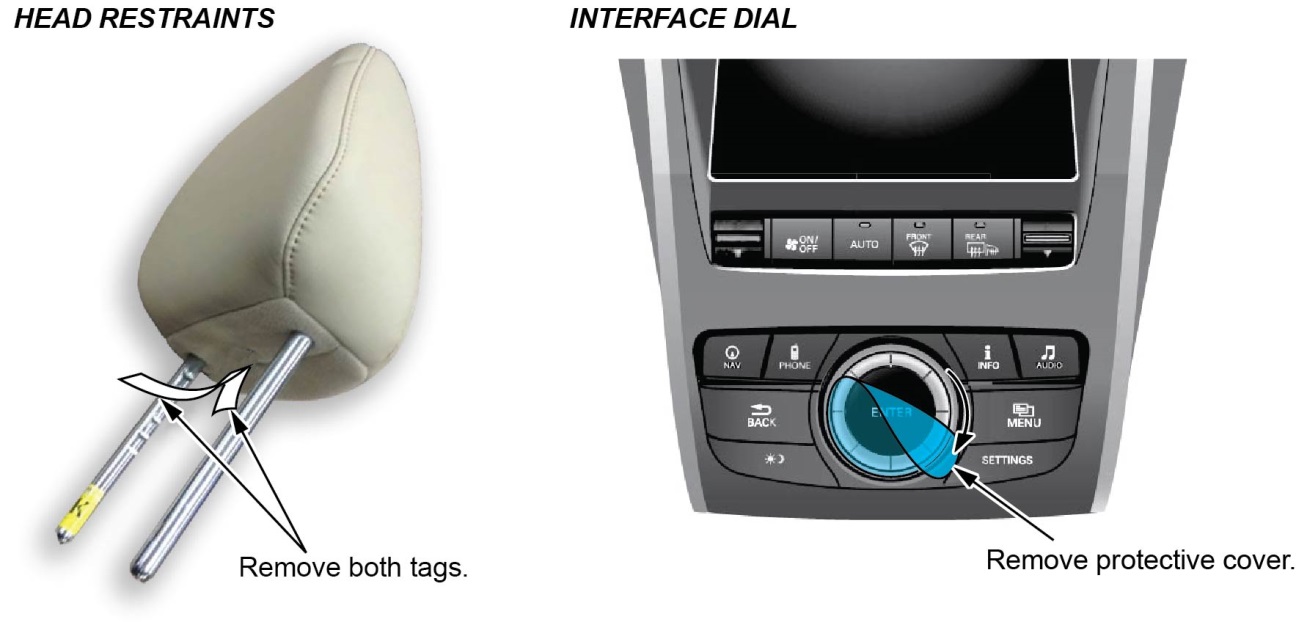 Install the floor mats in the appropriate positions. Place the driver's and front passenger's floor mat eyelets over the anchors on the floor, then turn the knobs clockwise to the lock position. Do the same for the rear seat floor mats.  The anchors for those mats are on the floor under the front seats.

This vehicle comes with either a conventional flooded lead acid (FLA) battery or the new absorbent glass mat (AGM) battery, depending on the trim level. Here is the breakdown:
4-cylinder 2WD models: FLA
6-cylinder 2WD models: FLA
6-cylinder AWD models: AGM
Each battery type has its own uniquely tuned charging and battery management systems, therefore cannot be interchanged.
To ensure long battery life and that the client gets a fully charged battery as outlined in S/B 89-006, Battery Maintenance at Dealers, it must be checked at these times:
When the vehicle first arrives at the dealership
During the TQI, if done at a later date
At regular intervals
Just before vehicle delivery
If you plan to keep the vehicle in long-term storage, be sure to remove the No. 29 BACKUP (10 A) fuse.
Test the battery with the ED-18 battery tester using S/B 88-016, Battery Testing and Replacement. Make sure the  ED-18 has the latest software installed before using it. See S/B 09-027, ED-18 Battery Tester Update Information.
If the test results show GR8 DIAGNOSTIC NEEDED, you must charge the battery with the GR8 battery diagnostic station. Make sure the GR8 has the latest software installed before using it. See S/B 09-034, GR8 Battery Diagnostic Station Update Information.
NOTE: When charging an AGM battery, always select AGM Battery. Serious damage can result if you select Standard Battery (FLA). Also, make sure the negative battery lead is connected to the negative battery post. The temperature probe is in the handle of the negative lead. The GR8 monitors battery temperature during charging so that it does not overheat and destroy the battery.
Write down the GOOD BATTERY 10-digit code in the maintenance journal. During the TQI, write down the code in the "Under Hood (Engine Cold)" section. Then, at vehicle delivery, write it down in the "Final Inspection (At Delivery)" section.
Vehicle Exterior (Vehicle Raised to Full Height)
Install the four body plugs as shown. If they are not installed, the vehicle could make a wind noise that is hard to troubleshoot.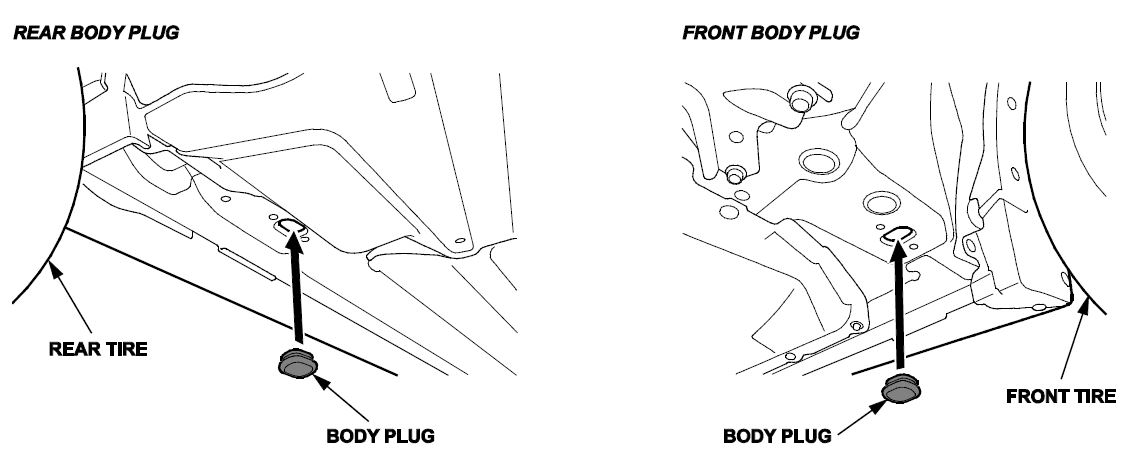 7. Install the Front Strakes
Install the front strakes as shown.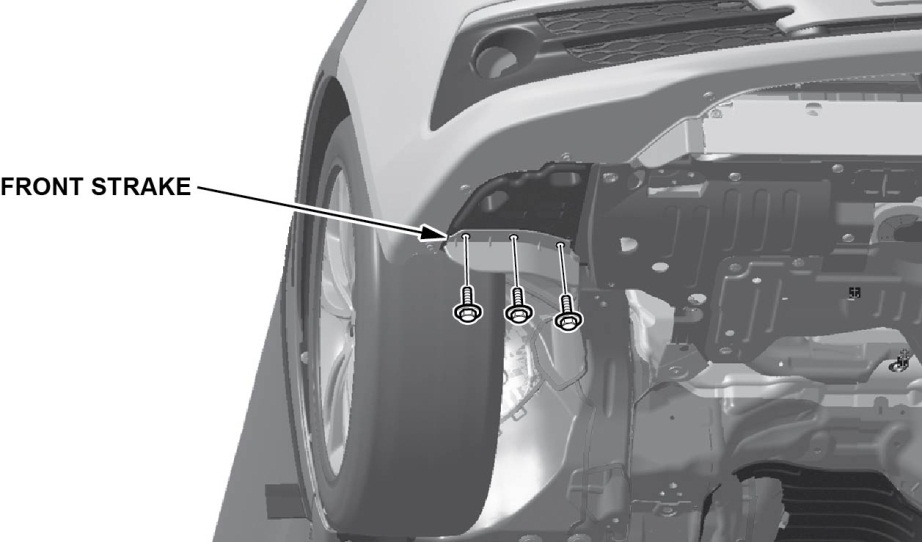 Vehicle Exterior (Vehicle Lowered to Half-Height)
8. Install the Front License Plate Holder
If state regulations require the use of a front license plate, install the front license plate holder as shown.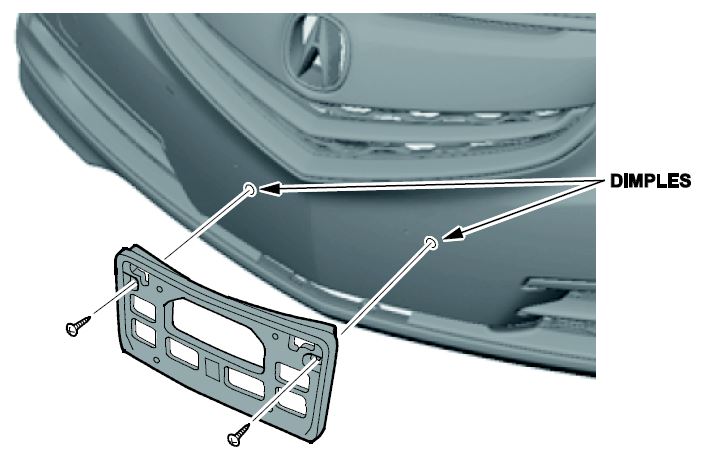 Vehicle Exterior (Vehicle Lowered to Ground)
9. Set the Tire Pressures
To prevent flat spots during vehicle shipping and storage, the tires are inflated to over 40 psi. If the vehicle is going into dealer storage, leave the tire pressures at 40 psi until it is sold (see the "Perfect Delivery Action Plan").
If the vehicle is moved to the sales lot or is sold, set the tire pressures as follows:
NOTE:
You must do these steps exactly as written to enable full function of the TPMS Fill Assist System.
If you are in a cold climate region, make sure the tires are at the same temperature as the outside air before adjusting the pressures; otherwise, the Low Tire Pressure/TPMS indicator may come on in cold weather.

Set the power mode to ON.
Use a tire pressure gauge with a bleeder valve to quickly lower the pressure in each tire to around 28 psi.
Set the pressure in each tire to the recommended value listed on the driver's doorjamb label and check it with a hand-held gauge.
Test-drive the vehicle for at least 2 minutes above 15 mph. If the MID does not show the tire pressures, make sure you completed the test drive as specified.
NOTE: This vehicle does not have a spare tire; it comes with a tire repair kit stored under the trunk lining. An optional spare tire wheel kit can be ordered separately.
10. Do the PCM Idle Learn Procedure
To ensure a steady engine idle, do the applicable PCM idle learn procedure after installing the No. 29 BACKUP (10 A) fuse:
NOTE: This procedure must also be done after updating or replacing the PCM. It does not need to be done after clearing DTCs.
4-Cylinder Models
Make sure all electrical items (A/C, audio unit, rear window defogger, lights, etc.) are turned off.
Start the engine, and let it reach operating temperature (the cooling fans cycle twice).
Let the engine idle for 10 minutes with the throttle fully closed.
6-Cylinder Models
Make sure all electrical items (A/C, audio unit, rear window defogger, lights, etc.) are turned off.
Start the engine, and let it reach operating temperature (the cooling fans cycle twice).
Let the engine idle for 10 minutes with the throttle fully closed.
Set the power mode to OFF.
Jump the SCS line with the HDS.
Wait 60 seconds, then exit the SCS mode.
11. Do the CKP-Pattern Learn Procedure
To ensure proper engine operation, do the CKP-pattern learn procedure after doing the PCM idle learn procedure.
NOTE:
Make sure all electrical loads (A/C, heated seats, audio unit, etc.) are turned off before doing this procedure.
Failure to do this procedure correctly may result in poor driveability along with misfire DTCs.

While driving on a level road, decelerate (with the throttle fully closed) from 2,500 rpm to 1,000 rpm with the transmission in 2nd
Repeat step 1 three times.
Vehicle Interior
12. Install the Shift Lock Release Cover
Install the shift lock release cover as shown.
NOTE: For 6-cylinder models, this cover just serves as a trim piece.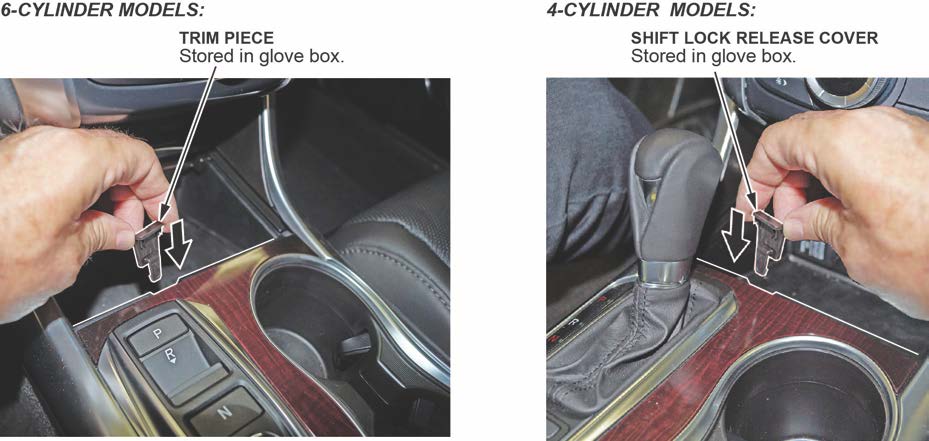 13. Initialize the Audio-Navigation Unit Anti-Theft Function, and Set the AM/FM Audio Unit Presets
Models Without Navigation
After installing the No. 29 BACKUP (10 A) fuse, set the power mode to ON, then press and hold the audio unit power button for at least 2 seconds. This synchronizes the audio unit with the vehicle and initializes the system for use.
NOTE: In the glove box, you will find a small sheet of two labels. Each label has the five-digit anti-theft code and the audio-navigation unit serial number printed on it. Remove one label, and attach it to the RO. The other one should be given to the client for safekeeping, rather than left in the vehicle.
Enter a local AM or FM station on all of the audio unit presets (AM, FM1 and FM2). To enter a station, tune to it, change the screen to the preset screen, then press and hold the preset number that you want to store that station.
Models with Navigation
Enter a local AM or FM station on all of the audio unit presets (AM, FM1 and FM2). To enter a station, tune to it, change the screen to the preset screen, then press and hold the preset number that you want to store that station.
14. Set the Clock (Models Without Navigation)
To set the clock, follow these steps:
Press the SETTINGS button.
Turn the interface dial to select Systems Settings, then press the ENTER button.
Turn the interface dial to select Clock, Clock Adjustment, then press the ENTER button.
Turn the interface dial to select the hour, then press the ENTER button.
Turn the interface dial to select the minutes, then press the ENTER button.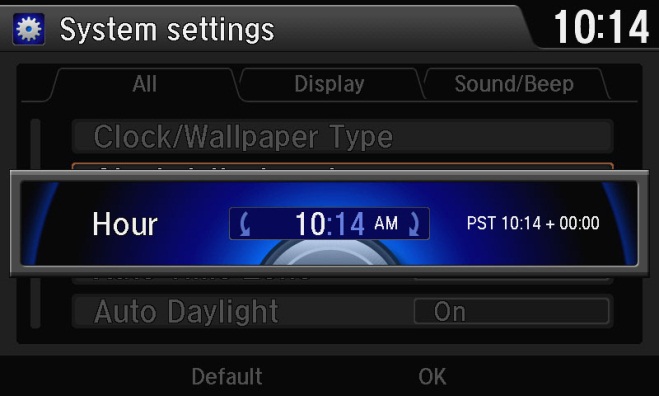 15. Set the Compass Zone (Models Without Navigation)
In most areas, there is a variation between magnetic north and true north. At the TQI, the compass zone needs to be set to your geographic zone to compensate for this variation.
To set the compass zone, do this:
Set the power mode to ON.
Press and hold the MENU button for about 5 seconds until the display shows the compass setting menu items.
Find the zone number in this map.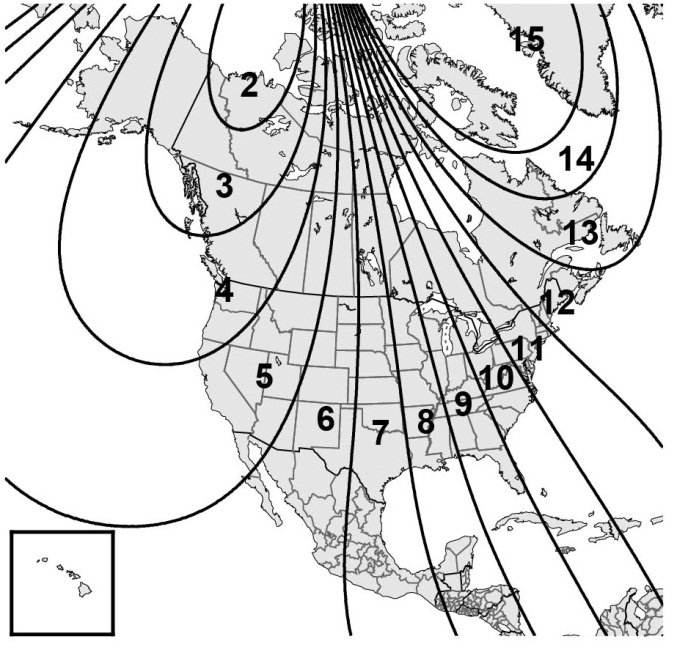 Turn the interface dial to select ZONE, then press the ENTER button. The display will show the currently selected compass zone number.
Turn the interface dial to select your zone, then press the ENTER button.
Press the BACK button to return the display to normal.
16. Check the Compass Calibration (Models Without Navigation)
If the compass shows the wrong direction or the CAL indicator blinks, manually calibrate the system with this procedure:
NOTE: Do this procedure in an open area, away from buildings, power lines, and other vehicles.
Set the power mode to ON.
From the top screen of any audio source, press and hold the ENTER button for 10 seconds. The display will switch to the Compass Settings
Turn the interface dial to select Calibration, then press the ENTER button.
When the display changes to Calibration, Start, press the ENTER button.
Drive the vehicle slowly, in two complete circles. The compass should show a direction and the CAL indicator should go off.
17. Check/Refresh the SiriusXM® Radio Dealer Demo Service (Except in Alaska and Hawaii)
The audio system comes from the factory activated with the SiriusXM® Radio dealer demo service. Once you install the No. 29 BACKUP (10 A) fuse, the system should receive the full range of available channels. You can see a full list of channels at siriusxm.com.
While watching the audio unit display, tune to several channels within the full lineup. If you can tune to all of the channels, the dealer demo service is activated.
18. Check the ACC, LKAS, Lane Departure Warning, Forward Collision Warning, Collision Mitigation Braking System, and Road Departure Mitigation Indicators (If Equipped)
When you first set the power mode to ON, these indicators should come on for a few seconds and then go off:
ACC (Adaptive Cruise Control [with low speed follow]) (Advance models)
LKAS (Lane Keeping Assist System) (Technology and Advance models)
Lane Departure Warning (LDW) (Technology and Advance models)
Forward Collision Warning (FCW) (Technology and Advance models)
Collision Mitigation Braking System (CMBS) (Advance models)
Road Departure Mitigation (RDM) (Technology models)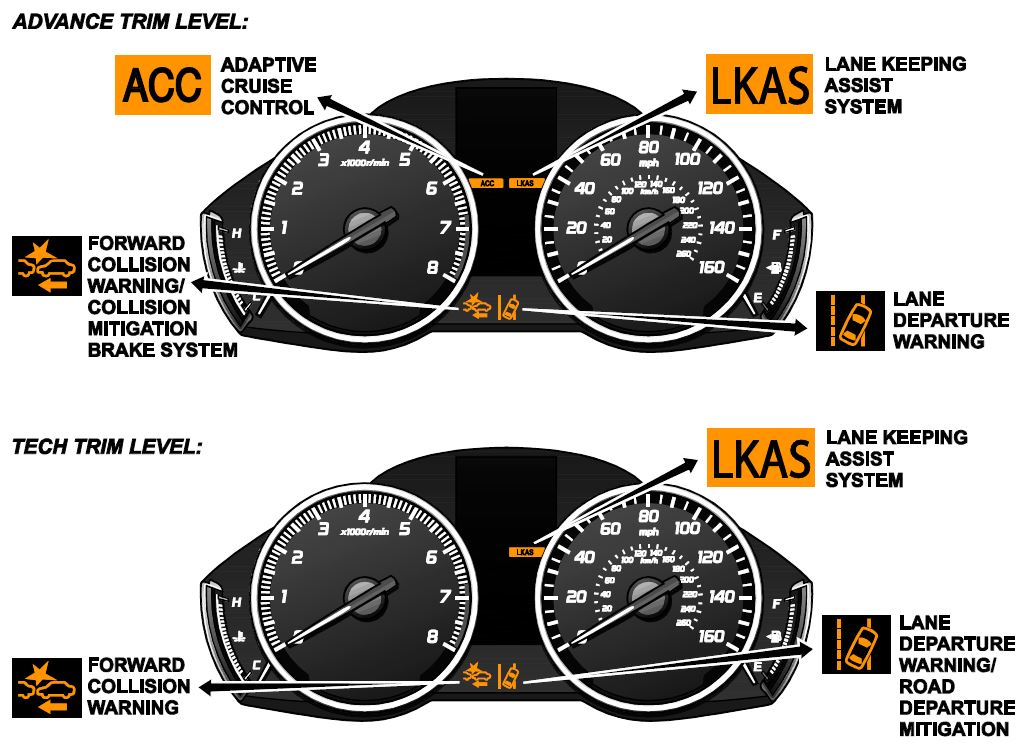 To ensure HFL is working, start the engine, then press and hold the Hang-up/Back button on the steering wheel for about 10 seconds. You should hear "TCU is OK." (models with navigation) or "The HFT is OK" (models without navigation). If you do not hear this message, see the service information for troubleshooting information.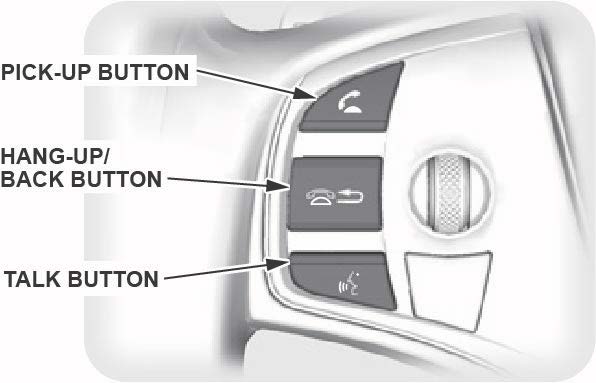 ---
B15-044

---
Bestseller No. 1
Autel AutoLink AL619 Scanner, 2023 Newest Car ABS SRS & CAN OBD2 Diagnostic Scan Tool, 10 OBDII Test Modes, DTCs Lookup, Live Data, Check Engine Light Code Reader, Upgraded of ML619 AL519 ML519 AL319
🎉【2023 Upgraded Ver. of AL519/ ML519/ ML619】Autel develops the brand-new AutoLink AL619 as the advanced ver. of Autel ML519, AL519, AL319, MS309. This AL619 OBD2 scanner can scan ABS & SRS systems, and support 10 Modes of OBD II Diagnostics Function on Worldwide Vehicles to read, erase codes and turn off the MIL, ABS, SRS warning lights so that you can better maintain your car when related malfunctions occur and make your vehicle ready for the annual test.
🎉【Accurate ABS/ SRS Diagnostics Functions】The ABS/ SRS diagnostic function is used to retrieve and clear codes from the ABS/ SRS systems. It can read and clear DTCs, show definitions of each code, display live data of multiple sensors in the graph to locate fault causes, and assist home mechanics to do the proper repair and clear ABS & Airbag warning lights. Diagnoses ABS/ SRS system codes on most 1996 and newer major vehicle models. Please email 📩 immoautel @ outlook. com 📩 for help.
🎉【All 10 Modes of OBD II Diagnostics Function】The OBD II Diagnostics function is a fast-access option that allows you to carry out a quick test on the engine system of OBD II vehicles. Read Codes, Erase Codes, Live Data, Freeze Frame, Retrieving I/M Readiness Status, O2 Monitor Test, On-Board Monitor Test, DTC Lookup, Component Test, Viewing Vehicle Information, Modules Present.
🎉【Live Data and Freeze Frame Data】With Live Data functions, Autel AL619 OBD2 diagnostic code reader allows you to view the live PID (Parameter Identification Data) of the vehicle's computer module(s) in text, graph to check the status of various sensors. And Freeze Frame Data enables you to view the vehicle's operating parameters at the moment a DTC is detected. These information will aid the technician by allowing the parameters to be duplicated for diagnostic and repair purposes.
🎉【DTC Lookup Feature】Besides showing you the code's definition while you are reading the diagnostic trouble codes, AL619 features comparably user-friendly DTC Lookup Function which enables you to retrieve the definitions of any error codes from the large database of AL619, saving you from the hassle of wasting time searching definition of every code via Google.
Bestseller No. 2
OBD2 Scanner Code Reader AL600, ABS& SRS Scanner Diagnostic Tool with Active Test, TOPDON Scanner for Car with Oil/BMS/SAS Reset Service, Full OBD2 Functions Automotive Scan Tool, Lifetime Free Update
[ABS & SRS Scanner with Active Test] The ABS/ SRS diagnostic tool Read & clear DTCs, displays live data in a graph to locate the cause of faults and assists the home mechanic with repairs and clearing ABS and airbag warning lights. Active test sensors, valves or solenoids etc. and tracks any threats in real time. It is invaluable to have a diagnostic tool with Active Test feature that you will never find on similar ABS/ SRS scanners.
【3 HOP Reset Services 】Easy to set up 3 regular reset services for Oil Light, Battery Management System, and Steering Angle Position. With this obd2 scanner, you can reset the oil service light and reset pre-programmed mileage intervals for energy efficiency; adjust or reset the steering angle position to keep steering aligned; and clear the original low battery fault information. No need to leave home for shop-quality car maintenance.
【All OBD2 Test Modes 】 This ABS & SRS scan tool is also a full featured obd2 code reader, allowing a quick test of the engine system of OBD II vehicles, can Read/Clear engine light codes, Live Data, Freeze Frame, Retrieving I/M Readiness Status, O2 Monitor Test, On-Board Monitor Test, Evap Test, Read Vehicle Information, and help pass smog test for most post-1996 OBD2/CAN vehicles.
[DTC LookUp Library] Can't read the code? Go to the DTC LookUp Library. The Topdon AL600 OBD2 scanner offers a wealth of code definitions so you don't have to look them up in a list or database, and the HELP function takes you to diagnostic tips for possible fixes, saving time searching for repair materials online. No other scan tool or code reader under $100 offers this level of assistance.
[User-Oriented] You'll love the feel of this automotive scanner, with black rubber grips all around the outer edges for durability and to withstand accidental drops. With its easy access menu, you can operate all functions in minutes with just a few button presses. The 3-color LEDs give you a intuitive indication of the OBD2 test results in a second. 3 shortcut keys, one key to read/clear DTCs and a one-touch smoke status check make it easy to use even for beginners.
Sale
Bestseller No. 3
LAUNCH CRP123 OBD2 Scanner 2023 Newest Elite Code Reader Engine/ABS/SRS/Transmission Car Diagnostic Tool, ABS Code Reader, SRS Scan Tool, Check Engine Code Reader, Lifetime Free Update Scan Tool
🎁 New Elite Version🎁 Easy to Use--Work out of Box🎁Function as LAUNCH CRP123E 🎁 Lifetime Update🎁 5 YEARS Back Up.
[Engine/ABS/SRS/Transmission Diagnostic Tool]----The crp123 obd2 scanner is perfect balance of power and affordability, providing the ability to view preset, or user defined, live data streams for ENGINE, AT, ABS and SRS data, the ability to graph, record, replay and print data, read and resets codes for engine/abs/srs/transmission system.(Note: Does not work for other System and does not have Special services!)
[Full OBDII Test Code Reader]----LAUNCH CRP123 scan tool supports all 10 modes of OBDII standard to ensure complete, accurate, system diagnosis. Read and Clear DTCs, do smog tests , I/M readiness and O2 sensor tests, Mode 06 EVAP system test, Mode 08 on-board test component test. And OBDII Code lookup tool and acronym database to assist and speed diagnosis and repair time.
[Live Data Stream + Advanced OBDII Scanner + Lifetime Update]---- Launch crp123 scanner support for Generic OBDII Codes (P0, P2, P3 and U0); manufacturer specific codes (P1, P3 and U1); pending codes; freeze frame data; monitor and I/M readiness; live PCM stream data; graphing functionality for up to four (4) live data streams include the Engine Coolant Temperature, Long&Short Fuel Trim, the change of Accelerator Pedal Position Sensor , Throttle valve position , Generator load signal,Fuel Tank Pressure , Engine RPM, Intake Ait Temperature and so on; clears DTC codes and turns off the MIL; resets monitors; provides Data Link Connector (DLC) location hints.
[Extensive Vehicle Coverage + 9 Languages]----The LAUNCH CRP123 reads data from ENGINE, TRANSMISSION, ABS and SRS systems from Asian, US and European manufacturers. Coverage includes Suzuki, Honda, Mitsubishi, Nissan, Toyota, Mazda, Hyundai, Kia, Subaru, Infiniti, Lexus, Acura, Isuzu, Ford, GM, Chrysler, Benz, BMW, VW, Opel, Volvo, Fiat, Land Rover, Seat, Skoda, Audi, Porsche, Saab, Jaguar and many others. Support 9 different languages.
Bestseller No. 4
FOXWELL Car Scanner NT604 Elite OBD2 Scanner ABS SRS Transmission, Check Engine Code Reader,Diagnostic Scan Tool with SRS Airbag Scanner, Car Diagnostic Scanner for All Cars with Battery Test
【Easy to Use--Work out of box】+【FOXWELL 2023 New Version】 FOXWELL NT604 Elite scan tool is the 2023 new version from FOXWELL, which is designed for those car owners who want to figure out the cause issue before fixing the car problem via scanning the most common systems like abs srs engine and transmission.The NT604 Elite diagnostic tool comes with latest software, which can be used out of box. No need to waste time to download the software first.
【Affordable】+【Reliable Car Health Monitor】 Will you be confused what happen when the warning light of abs/srs/transmission/check engine flashes? Instead of taking your cars to dealership, this foxwell scanner will help you do a thorough scanning and detection for your cars and pinpoint the root cause, which saves you time and money. It will t-urn off the warning light car after the problem is fixed.👉TIPS: Airbag crash/collision data can NOT be cleared even you replace the new airbag.
【5 in 1 Diagnostic Scanner】Compared with those auto scanners (50-100 USD), NT604 Elite code scanner not only includes their OBDII diagnosis but also it can be an abs/srs scanner, transmission and check engine code reader. When it's an odb2 scanner, you can use it to check if your car is ready for annual test through I/M readiness menu. In addition, live data stream, built-in DTC library, data play back and print, all these features are a big plus for it.
【Fantastic AUTOVIN】+【No extra software fee】Through the AUTOVIN menu, this NT604 Elite car scanner allows you to get your V-IN and vehicle info rapidly, no need to take time to find your V-IN and input one by one. What's more, the NT604 Elite abs srs scanner supports 60+ car makes from worldwide (America/Asia/Europe). You don't need to pay extra software fee.
【Solid protective case KO plastic carrying bag】+ 【Lifetime update】Almost all same price-level obd scanner diagnostic tool only offers plastic bag to hold on the scanner.However, NT604 Elite automotive scanner is equipped with solid protective case, preventing your obd2 scanner from damage. Then you don't need to pay extra money to buy a solid toolbox.
Bestseller No. 5
FOXWELL NT630 Plus OBD2 Scanner Diagnostic Tool, Car Code Reader ABS Scan Tool Bleeding Brake SRS Scanner Bidirectional Control with Airbag Light Reset SAS Calibration Oil Light EPB Service
【More Than a OBD Scanner】 Based on the NT301 FOXWELL Scanner, NT630 Plus takes OBD diagnostics to the next level by customizing all functions for ABS and SRS systems. From reading to resetting error codes, this srs abs scanner provides in-depth insights and the ability to reset services efficiently. Plug to the vehicle's OBD2 port and follow the instructions to start diagnosis.
【NO.1 ABS Bleeder Scan Tool】 The brake pedal was always slowly sinking down or becoming loose? This abs brake bleeding scan tool will bleed the brake system by cycling the pump and valves to achieve a tight brake pedal. No need to cost hundreds to own a foxwell obd2 scanner with abs auto bleed can solve your issues. Refer to the step on the screen, even a beginner can do it.
【Not Only Error Code Erase】 Are you still pay for the reset functions one by one? The obd2 scanner with abs and srs can not only read car faults but also perform frequently required resetting services which other same priced scanners cannot do. Like airbag light reset/ SAS calibration/ Oil light reset and EPB service functions. This car scanner will make the components operates normally after part replaced and reset services.
【Also can Work like NT301】 The NT630 Plus car diagnostic scanner plugs to the OBD2 port directly. It scans all obd2 modules instantly, displays the live data, locates bad sensors and I/M readiness status before the annual inspection. Guides you to do the maintenance work, reduces the potential driving risk and keep a peak performance on the road.
【Complicate? Unreadable?】 Intuitive LCD display with clear operate instructions, even a beginner can diagnose the car faults with the NT630 Plus. Ergonomic Touch with anti-collision and anti-slip cover design, comfortable for daily car diagnose work. Unique button press sound will provide the overall tactile and visual experience to notice you a task has been completed or a command has been executed.
Sale
Bestseller No. 6
LAUNCH CRP123X Elite Lifetime Free Online Update scan Tool, SAS Calibration/Throttle Reset/Oil Reset OBD Scanner Diagnostic Tool, ABS SRS Transmission Car Scanner, Battery Test, Auto VIN
[2023 New Processor, Lifetime Free Update, No Subscription fee ] Faster! Stable! The CRP123X Elite car diagnostic scanner has a new processor, Android 7.0, 16GB of memory, 5-inch touchscreen (720P), 6100mAh rechargeable battery, One-touch Wi-Fi Lifetime Free update for more vehicle coverage, bug fixes,newly added parameters, and functionality to help you access, diagnose and fix more vehicles faster. SAVE AT LEAST $2000 PER YEAR.
[Newly Added 3 RESET FUNCTIONS] 2023 New Ver. scan tool CRP123X Elite ADDS NEW SPECIAL FUNCTIONS--Throttle Adaptation, Oil Reset, SAS Reset. Before the trip to the mechanic, the launch crp123x elite can do deeper diagnosis for the car system and react with accurate data in minutes. Just Update the software of your CRP123X scanner, and you'll get this high-end function at no charge.
[Accurate & Intuitive Multi System Diagnosis] Will you be confused about what happens when the warning light of transmission, ABS, and SRS Airbag check engine flashes? Launch obd2 scanner diagnostic tool CRP123X to pinpoint the problem components for a faster diagnosis for your car instead of taking your car to the dealership, and will turn off the warning light for you after fixing the problem, make to know more about your cars and do your own repair.
[Multiple Display of Live Data + DTC Code Definition Explanation] Launch car tools shows real-time data of oil temp, pressure, transmission temp, engine speed, coolant temperature, you will know which car part is abnormal. Data can be shown in a single, multi- graph, and merge two graphs for analysis(merge 4 PIDs in one). It's convenient for car owners to purchase auto parts and replace it by yourself, 🔥Code Search,DTC Library provide massive information.
[Auto VIN Smart Diagnostic&Wide Range of Vehicle Supported] Launch scanner autovin technology allows you to get your VIN and vehicle info rapidly (vehicle make, model, and year info), no need to take time to find your VIN and input one by one (Some models need to type it in manually.)It has newest car software. This car code reader support vehicle like passenger car, SUVs, minivans, 12V light-duty trucks, etc. produced by Asian, European, American, Indian, and more brands between 1996 and 2023.
Bestseller No. 7
INNOVA 6100P OBD2 Scanner ABS SRS Transmission, Car Code Reader Diagnostic Scan Tool with Oil Reset, Battery & Alternator Test, Full OBD II, Live Data
【Buy with Confidence】 As a America's No.1 diagnostic tool brand, Innova stands for innovation, quality, and accessibility in the automotive diagnostic industry. we are known for developing cutting-edge diagnostic tools that are user-friendly, reliable, and made for US by Americans.
【Unleash Your Drive's Potential】Much more than a car code reader, the 6100P scanner effectively reads and erases engine, ABS, SRS, and transmission codes for popular US car makes such as Ford, Chevy, Dodge, GM, etc. when the traction light is constantly on,the ability to really detect where the problem is concerning brakes and airbags enables you to make sure all safety measures in place before putting yourself in harm's way.
【Your Car's Health Doctor】Easily view procedures or send commands for oil change, mileage or driving time reset for most 1996 and newer OBD2 vehicles. it also monitors your oil level and oil life status, ensuring optimal vehicle health.
【Your Car's Personal Battery Guru】The Innova 6100P scanner is perfect for assessing the performance of the battery or alternator in your hybrid, car, SUV, minivan, or light truck diesel as well. During rough winters and scorching summers, this diagnostic tool will be invaluable when trying to root out start-up issues.
【Drive with Confidence and Peace】Quickly identify if your vehicle needs immediate attention with our Code Severity Levels function. This feature helps you understand whether you need to fix an issue immediately or if it can wait until you get home, keeping warning lights at bay.
Bestseller No. 8
GODIAG GD203 OBD2 Scanner, ABS SRS Diagnostic Scan Tool, Car Code Reader for Oil Light Reset, EPB, TPS, SAS, OBD2 Car Scanner with 28 Special Function and Lifetime Free Update Online
【Multi-Function OBD2 Scanner】GODIAG GD203 code reader is a cost-effective products for your vehicle maintenance. This obd2 scanner does not only professional in checking the ABS/SRS systems, but also do a lot of special reset functions like Anti-lock Brake Reset, Electronic Park Brake Reset, Diesel Particulate Filter Reset, Oil Service Light Reset, TPMS, TPS/TBA, etc.
【ABS Bleeding Scan Tool】When the vehicle has replaced the ABS computer/ABS pump, replacing the brake master cylinder, brake cylinder, brake pipeline, and brake fluid, there may be air in the Car's ABS system. Our car diagnostic scanner can help you check for ABS bleeding, which you should perform the ABS bleeding to bleed the brake system to restore ABS braking sensitivity.
【ABS SRS Scan Tool】The function of airbags is to reduce the degree of injury to the people in the event of a vehicle collision. You need to check frequently whether the ABS SRS is functioning properly. Our code reader can help you find common airbag problems easily include: malfunctioning airbags, disconnected airbag wiring, and damaged airbag sensors.
【Oil Light Reset, EPA, SAS】If the brake pads are damaged, the brake pads should be replaced, and the brake pads need to be reset at the same time. When your car replaces the steering angle position sensor, the steering angle needs to be reset to find the relative zero where the car keeps driving straight. The oil light reset is required when the car oil or the mechanical parts that monitor oil life are replaced. Our obd2 scanner can do these jobs very well!
【Support 17 Languages and Multiple Car Models】Supported languages include English, Spanish, German, French, Portuguese, Swedish, Italian, Simplified Chinese, Traditional Chinese, Russian, Japanese, Korean, Hungarian, Thai, Slovak, Dutch and Polish. This is a car scanner tool for ABS and SRS systems that supports most types of cars on the market. (Please Note: 28 special functions are excluded!)
Bestseller No. 9
ANCEL OBD2 Scanner FX2000 Car Diagnostic Tool, ABS SRS Transmission Airbag Car Scanner, Check Engine Code Reader, Vehicle Scan Tool for All Vehicle
🔧【PLUG AND PLAY - EASY TO USE】 : It only takes 3 steps to connect to the car for diagnosis without cumbersome operations. The latest FX2000 is equipped with a one-key diagnosis function, which can automatically identify the model and year of your car, and automatically diagnose the car. Even beginners can use it to read the data to find out what the fault codes mean, how serious the fault is and what options there are to fix it before you go to the repair shop.
🚗【FULL OBD-LEVEL DIAGNOSTICS】: Quickly determines the cause of engine system faults, reads current, permanent and pending codes. After the repair, clears the codes and turns off the warning light. In addition, the FX2000 also displays important OBD II advanced data such as fuel, live data and other manufacturer-specific parameters in real time to ensure that the engine ECU is operating correctly and safely, saving vehicle owners a lot of time and money in maintenance.
🚙【TRANSMISSION FAULT DIAGNOSTIC】: When noises start to come from the transmission, your car might have transmission problems. This transmission scanner will read fault codes, display live transmission system data (fluid temperature, fluid pump, clutch actuation, pressure, etc.), and ensures transmission performance is optimal for vehicle speed and load. It provides detailed TCM data of the vehicle, so you can quickly and accurately find existing or potential problems.
🚐【FIND OUT SRS WRONG】: It is able to read and clear fault codes in the SRS (airbag) and turn off the warning light to make sure the system is working correctly and safely. This diagnostic tool also displays a live graphical data stream of the supplemental restraint system (air bag), which allows you to analyze and verify that the air bag system is working properly.
🚌【ABS OBD2 SCANNER】:The FX2000 can read and clear the Diagnostic Trouble Codes (DTC) data stream transmitted from the ABS. It can verify the operating conditions of the ABS through a series of bi-directional tests and turn off the warning light. By retrieving the ABS code data, it can check the various brake components and accurately diagnose problems.
Sale
Bestseller No. 10
OBD2 Scanner TOPDON AL600, ABS SRS Code Reader, Diagnostic Scan Tool, Active Test for ABS/SRS, with Car Maintenance Reset Service of Oil, BMS, SAS
ABS/SRS OBD2 Scanner > Enjoy this ABS OBD2 code reader to reveal exact issues underlying in your brake, airbag, and engine systems, test individual ABS/SRS sensors, valves, or solenoids to quickly locate malfunctions (compatible with GM, Nissan, Fiat, Benz, Volvo, Land Rover, BMW, USA Ford), making sure critical safety systems work in perfect harmony together against accidents to be safe than sorry. NOTE: Only support upgrade on windows.
3 Most Needed Service Functions > This OBD2 scanner guides you through step by step procedures to reset oil service light and programmed mileage intervals for engine efficiency (Oil Reset); to calibrate steering wheel position for vehicle's traveling in a straight line (SAS Reset); to clear the original low battery fault information against coming battery failures or damage (BMS Reset); saving your needless visits to mechanics.
Full OBD2 Diagnostics > Say goodbye to the hassle of manual check-ups via this srs code reader. Quickly correct Check Engine Light warning on most OBD2/CAN compatible vehicles. Easily access to your smog status with one simple click I/M Readiness; and being filled with features for live data readings, freeze frame data, plus EVAP system, onboard monitor test means this scan tool checks all daily car care boxes.
Work Easier > Red-Yellow-Green LEDs in this OBD2 scanner quickly show the overall DTC status without toggling through menu selections. HELP hotkey takes you directly to detailed descriptions/tips. Read/Erase DTC, I/M readiness shortcuts are added for optimized operation, along with DTC Lookup library for interpreting codes, designing the SRS OBD2 code reader a pleasure to use right out of the package even for beginners.
Helpful Service > Get instant, free lifetime access to the most recent updates to add new car models and troubleshooting bugs making the OBD2 scanner a long-term investment for any home mechanics. The extended 1 years of quality assurance sweetens the worry-free deal even further. Multilingual Menu: EN, FR, ES, DE, IT, RU, PT, and JP. NOTE: Only support upgrade on windows.
Last update on 2023-11-23 / Affiliate links / Images from Amazon Product Advertising API
This product presentation was made with AAWP plugin.
---