B06-026
August 15, 2006
Applies To: 2005–06 RSX – ALL
Clunking Noise While Turning
SYMPTOM
The front suspension makes a clunking noise while turning.
PROBABLE CAUSE
The front springs are moving on the spring seats.
CORRECTIVE ACTION
Replace both front springs, and do a four-wheel alignment.
PARTS INFORMATION
WARRANTY CLAIM INFORMATION
In warranty: The normal warranty applies.
Operation Number:
414101
Flat Rate Time:
2.1 hours
Failed Part:
P/N 51401-S6M-306
Defect Code:
07403
Symptom Code:
04201
Template ID:
06-026A (RSX Type S)
06-026B (RSX M/T)
06-026C (RSX A/T)
Skill Level:
Repair Technician
Out of warranty: Any repair performed after warranty expiration may be eligible for goodwill consideration by the District Parts and Service Manager or your Zone Office. You must request consideration, and get a decision, before starting work.
DIAGNOSIS
With the engine running, while either parked or driving at 5 mph, turn the steering wheel from lock to lock and listen for a clunk.
If you hear a clunk, go to REPAIR PROCEDURE.
If you do not hear a clunk, continue with troubleshooting. This bulletin does not apply.
REPAIR PROCEDURE
Replace the front springs.
NOTE: Be sure the wrapped or insulated end of the spring is installed against the spring seat.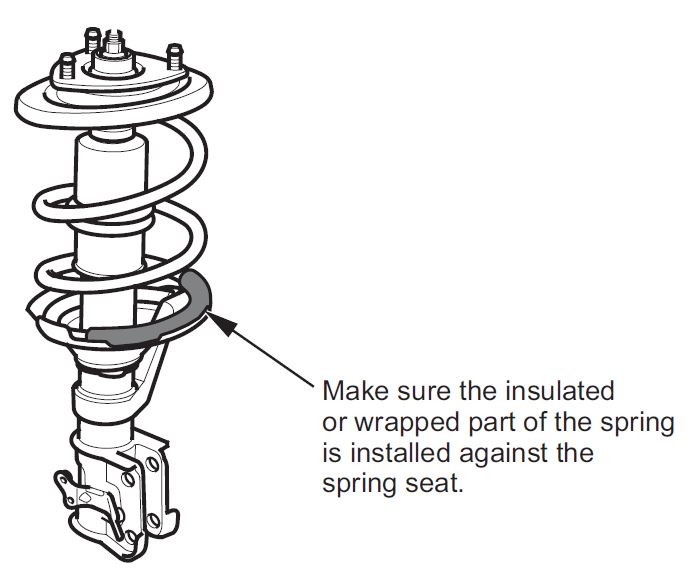 Refer to page 18-20 of the 02–06 RSX Service
Online, enter the keyword SUSPENSION, then select Front Damper/Spring Replacement from the list.
Do a four-wheel alignment.
Test-drive the vehicle to make sure the noise is gone.
B06-026