B14-049
January 14, 2015
01191
Gurgle or Chirp from Under Hood at Cold Start-Up
AFFECTED VEHICLES
| Year | Model | Trim | VIN Range |
| --- | --- | --- | --- |
| 2012−14 | TL | ALL with A/T | ALL |
SYMPTOM
There is a gurgle or chirp from under the hood at cold-start-up.
POSSIBLE CAUSES
There is a restriction in the ATF filter.
CORRECTIVE ACTION
Replace the ATF filter and ATF.
PARTS INFORMATION
WARRANTY CLAIM INFORMATION
The normal warranty applies.
| Operation Number | Description | Flat Rate Time | Template ID | Failed Part Number |
| --- | --- | --- | --- | --- |
| 218184 | Replace ATF filter and ATF. | 0.6 hr | 14-049N | 25430-PLR-003  |
Defect Code: 07403
Symptom Code: 04201
Skill Level: Repair Technician
REPAIR PROCEDURE
Warm up the engine to normal operating temperature (the cooling fans cycle twice), then turn the ignition to OFF.
Remove the engine compartment covers.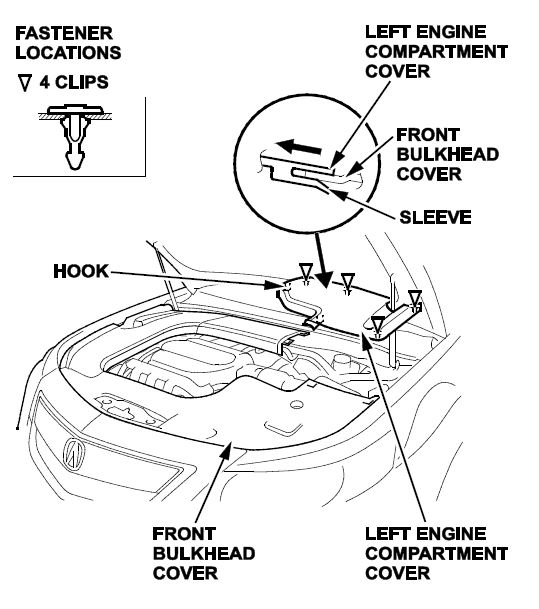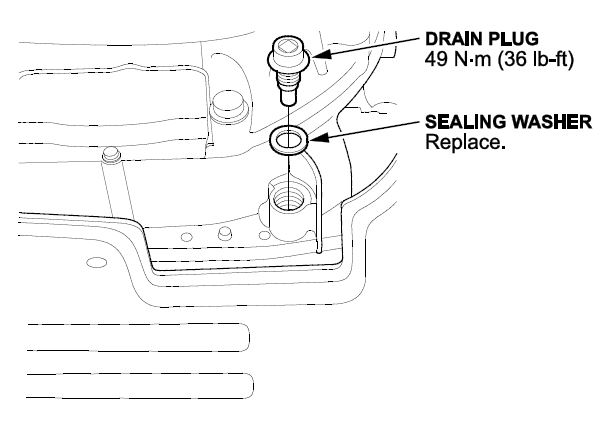 Install the drain plug with a new sealing washer and torque the drain plug to 49 N∙m (36 lb-ft).
Disconnect the ATF cooler hoses from the ATF filter.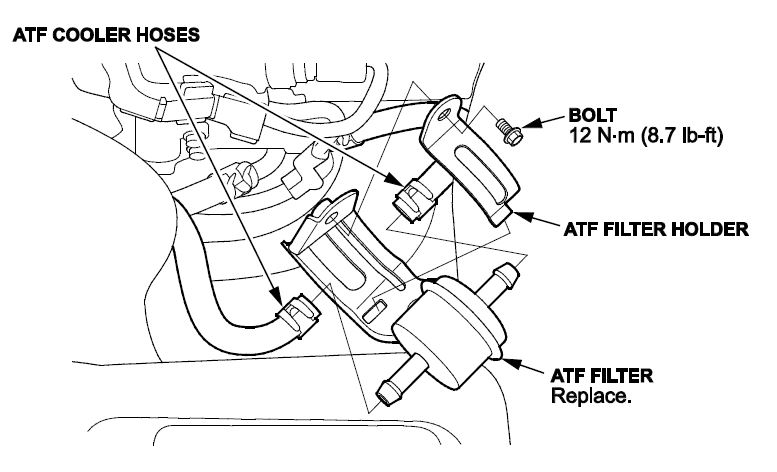 Remove the bolt from the ATF filter holder and remove the holder and filter.
Install a new filter, then install the filter holder and bolt. Torque the bolt to 12 N∙m (8.7 lb-ft).
Connect the ATF cooler hoses.
Remove the ATF filler bolt and sealing washer.
Refill the transmission with about 3.1L (3.3 qt) of ATF.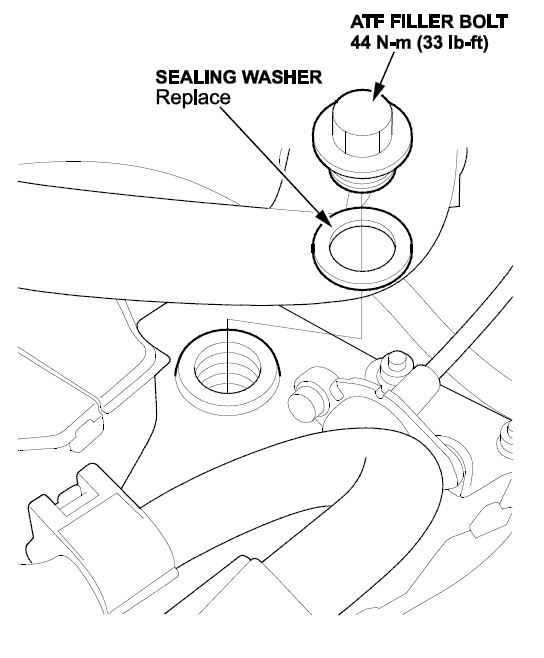 Install the ATF filler bolt with a new sealing washer. Torque the bolt to 44 N∙m (33 lb-ft).
Make sure the fluid level is between the upper and lower mark on the ATF dipstick.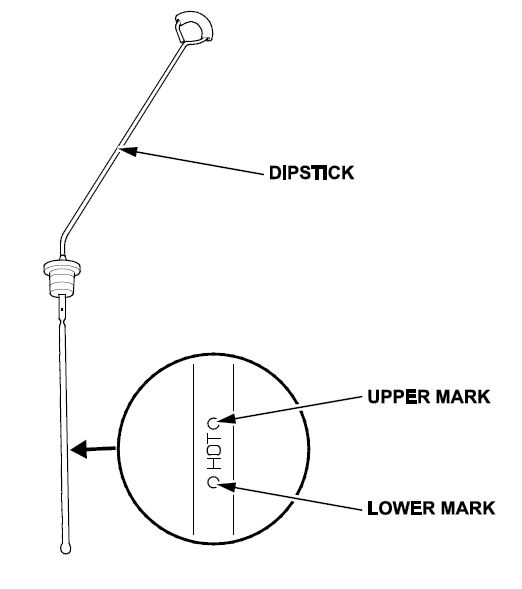 Install the intake air duct.
Install the air cleaner.
Install the engine compartment covers.
Reset the Maintenance Minder.
NOTE: If the Maintenance Minder required ATF replacement, reset it and you are done. If it did not require ATF replacement, go to step 22.
Connect the HDS and turn the ignition to ON.
Select BODY ELECTRICAL, ADJUSTMENT, and MAINTENANCE MINDER.
Select RESET and MAINTENANCE SUB ITEM 3 RESET.
END