A16-003
January 23, 2016
03049 Version 1
Product Update: 2011–14 Odyssey Vehicle Certification Label
AFFECTED VEHICLES
| Year | Model | Trim | VIN Range |
| --- | --- | --- | --- |
| 2011–14 | Odyssey | ALL | Check the iN VIN status for eligibility. |
BACKGROUND
The trailer hitch weight was not properly calculated into the gross axle weight rating (GAWR) on the vehicle certification label. This can create a situation where the vehicle exceeds the indicated gross axle weight rating.
CUSTOMER NOTIFICATION
Owners of affected vehicles will be sent a notification of this campaign.
Do an iN VIN status inquiry to make sure the vehicle is shown as eligible.
Some vehicles affected by this campaign may be in your new or used vehicle inventory. Repair these vehicles before they are sold.
CORRECTIVE ACTION
Apply the vehicle certification correction sticker and replace the Owner's Manual.
NOTE: Make sure the correct model year specific packet (Owner's Manual and sticker) is applied to the correct model year Odyssey.
PARTS INFORMATION
WARRANTY CLAIM INFORMATION
Model Year
Operation Number
Description
Flat Rate Time
Defect Code
Symptom Code
Template ID
Failed Part Number
2011
4350A2
Apply the certification label correction sticker and replace the
0.2 hr
6MA00
JW500
16-003A
42762-TK8-A01
2012
4350A2
0.2 hr
6MA00
JW500
16-003B
42762-TK8-A01
2013
4350A2
0.2 hr
6MA00
JW500
16-003C
42762-TK8-A01
2014
4350A2
0.2 hr
6MA00
JW500
16-003D
42762-TK8-A01
Skill Level: Repair Technician
REPAIR PROCEDURE
Using rubbing alcohol and a clean shop towel, clean the certification label on the driver's doorjamb. Allow the label to dry.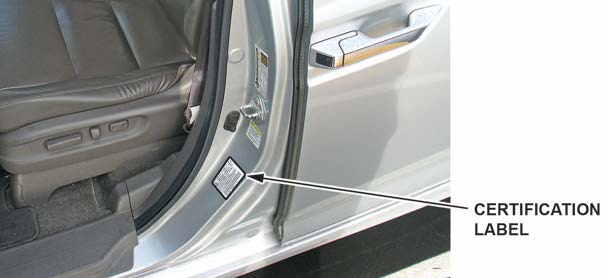 Peel the backing off the correction sticker and apply it to the certification label in the exact position shown. Press the correction sticker to make sure it's properly affixed.
NOTE:
Start by aligning the right edge of the correction sticker with the tire size text to the right, and the bottom of the sticker with the text underneath the vehicle weight capacities. This helps ensure proper placement of the sticker.
Avoid touching the back side of the sticker to prevent transferring oil from your skin to the adhesive on the sticker.

Replace the Owner's Manual with a new one. Discard the original Owner's Manual using your dealership's normal recycling process.
END