A08-013
May 23, 2009
Applies To: See VEHICLES AFFECTED
MIL Comes On With DTC P0456
(Supersedes 08-013, dated March 14, 2008, to revise the information marked by the black bars)
REVISION SUMMARY
Under VEHICLES AFFECTED, the VIN ranges for 2008 models have changed.
SYMPTOM
The MIL is on with DTC P0456 (EVAP system very small leak detected).
PROBABLE CAUSE
There is an internal leak in the EVAP canister purge valve, allowing a small amount of purge to occur when the ECM/PCM does not request any purge.
VEHICLES AFFECTED
2007 Civic 2-Door LX, DX, and EX –
From VIN 2HGFG1…7H573910 thru 2HGFG1…7H585806
2007 Civic 4-Door LX, DX, and EX –
From VIN 1HGFA1…7L126576 thru 1HGFA1…7L144272
From VIN 2HGFA1…7H511037 thru 2HGFA1…7H514106
From VIN 2HGFA1…7H309698 thru 2HGFA1…7H316660
2008 Civic 2-Door LX, DX, and EX –
From VIN 2HGFG1…8H500001 thru 2HGFG1…8H578414
2008 Civic 4-Door LX, DX, and EX –
From VIN 1HGFA1…8L000001 thru 1HGFA1…8L113782
From VIN 2HGFA1…8H500001 thru 2HGFA1…8H535158
From VIN 2HGFA1…8H300001 thru 2HGFA1…8H352417
CORRECTIVE ACTION
Replace the EVAP canister purge valve.
NOTICE
Make sure you torque the bolts in the proper order and to the proper torque, or the new purge valve may leak (see REPAIR PROCEDURE).
PARTS INFORMATION
WARRANTY CLAIM INFORMATION
In warranty: The normal warranty applies.
Operation Number: 1201D0
Flat Rate Time: 0.4 hour
Failed Part: P/N 36162-RNA-A01 H/C 8048126
Defect Code: 03217
Symptom Code: 03203
Skill Level: Repair Technician
Out of warranty: Any repair performed after warranty expiration may be eligible for goodwill consideration by the District Parts and Service Manager or your Zone Office. You must request consideration, and get a decision, before starting work.
DIAGNOSIS
Disconnect the hose from the EVAP canister purge valve.
NOTE: Be careful not to break the inlet port when disconnecting the hose.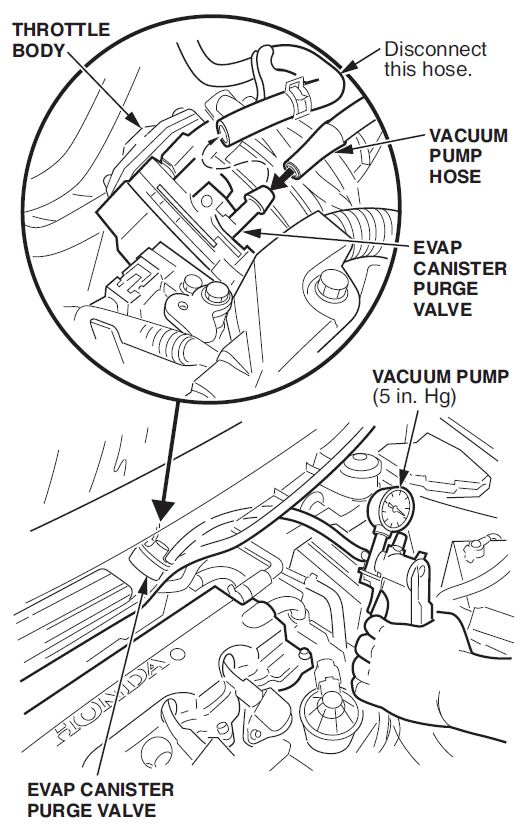 Connect a hand-held vacuum pump to the EVAP canister purge valve.
Apply 5 in. Hg of vacuum to the purge valve, then watch the gauge.
Does the EVAP canister purge valve hold the vacuum for 10 seconds?
Yes – Disregard this bulletin and continue with normal troubleshooting.
No – Go to REPAIR PROCEDURE.
REPAIR PROCEDURE
Remove the cowl cover.

Refer to page 20-232 of the 2006–08 Civic Service Manual, or
Online, enter keyword COWL, and select Cowl Cover Replacement from the list.

Disconnect the 2P connector from the EVAP canister purge valve.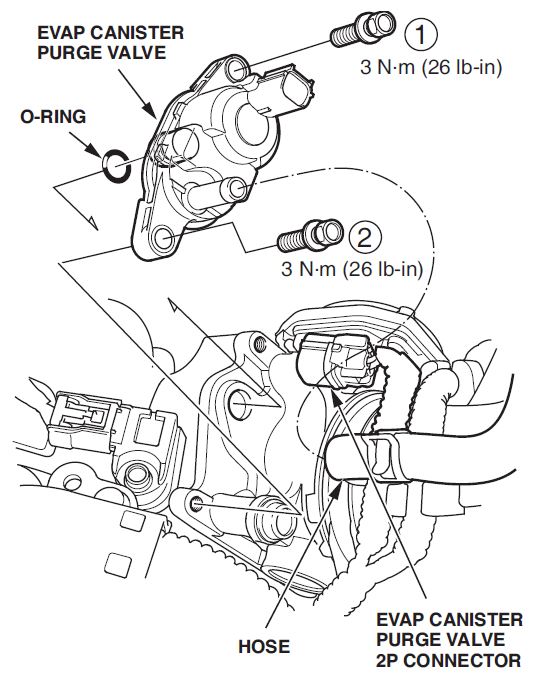 Remove the two bolts securing the EVAP canister purge valve, then remove the valve.
Install the new EVAP canister purge valve onto the throttle body with a new O-ring.
NOTE: Make sure the valve is completely pushed into the throttle body port (not tilted).
Tighten the mounting bolts by hand first.
Torque the bolts in the order shown above to 26 lb-in (pound-inches, not pound-feet).
Reconnect the 2P connector and hose, then reinstall the cowl cover.
A08-013


Price Disclaimer