NHTSA Campaign Number: 18V629
Manufacturer Honda (American Honda Motor Co.)
Components VISIBILITY, BACK OVER PREVENTION
Potential Number of Units Affected 232,140
Rearview Image Display Failure/FMVSS 111
If the rearview camera display does not show what is behind the vehicle, it can increase the risk of a crash.
Summary
Honda (American Honda Motor Co.) is recalling certain 2018 Honda Accord and 2019 Honda Insight vehicles. In certain scenarios, the back-up camera center display may not function properly. As such, these vehicles fail to comply with the requirements of Federal Motor Vehicle Safety Standard (FMVSS) number 111, "Rearview Mirrors."
Remedy
Honda will notify owners, and dealers will reprogram the display audio unit software, free of charge. The recall is expected to begin November 5, 2018. Owners may contact Honda customer service at 1-888-234-2138. Honda's numbers for this recall are K2G and V2F.
Notes
Owners may also contact the National Highway Traffic Safety Administration Vehicle Safety Hotline at 1-888-327-4236 (TTY 1-800-424-9153), or go to www.safercar.gov.
Check if your Honda has a Recall
---
A18-093
September 21, 2018
Version 4
Safety Recall: 2019 Insight: Rear Backup Camera
Supersedes 18-093, dated September 20, 2018, to revise the information highlighted in yellow
REVISION SUMMARY
Revisions were made under REPAIR PROCEDURE
AFFECTED VEHICLES
| Year | Model | Trim | VIN Range |
| --- | --- | --- | --- |
| 2019 | Insight | EX, Touring | Check the iN VIN status for eligibility. |
BACKGROUND
There is a problem with the audio/audio-navigation unit software, which may lead to one or more of the following symptoms:
Display Audio screen only shows guidance lines with the transmission in reverse. As a result, affected vehicles do not comply with applicable Federal Motor Vehicle Safety Standards.
Display Audio screen turns black when shifting from reverse to park.
Head Up Display (if equipped) and Meter does not show the compass and turn by turn for navigation.
Navigation app crashes when using VR to add destinations or when rerouting a destination.
The key is in the OFF position while the "incoming call" screen is displayed and when key is turned back to the ON position, the "incoming call" screen will remain on Head Up Display (if equipped).
If the rear-view camera image does not appear while the vehicle is moving backwards, the driver may have limited visibility, raising the potential for a collision.
CUSTOMER NOTIFICATION
Owners of affected vehicles will be sent a notification of this campaign.
Do an iN VIN status inquiry to make sure the vehicle is shown as eligible.
Some vehicles affected by this campaign may be in your new or used vehicle inventory.
Failure to repair a vehicle subject to a recall or campaign may subject your dealership to claims or lawsuits from the customer or anyone else harmed as a result of such failure. To see if a vehicle in inventory is affected by this safety recall, do a VIN status inquiry before selling it.
CORRECTIVE ACTION
Update the audio unit/audio navigation unit software using the audio-navigation system update USB flash drive.
WARRANTY CLAIM INFORMATION
| Operation Number | Description | Flat Rate Time | Defect Code | Symptom Code | Template ID | Failed Part Number |
| --- | --- | --- | --- | --- | --- | --- |
| 0105A9 | Update the audio unit/ audio navigation unit software. | 0.3 hr | 6RR00 | K2G00 | A18093A | 39540-TXM-A51 |
Skill Level: Repair Technician
REQUIRED TOOLS
| Tool Name | Part Number |
| --- | --- |
| Display Audio Update | 07AAU-TVAA1D0 |
HONDA FIRMWARE DOWNLOADING PROCEDURE
Honda is providing dealers with two options to do this update:
NOTE
If the USB flash drive is damaged or misplaced, you can download the software from the Honda Firmware Downloader as a backup. You will need a 16GB USB flash drive that is clear of data and formatted to FAT32.
From your computer's desktop, open Honda Firmware Downloader. Refer to job aid Honda Firmware Downloader for additional information.
Select About, and make sure you are running version 1.5.0 or higher.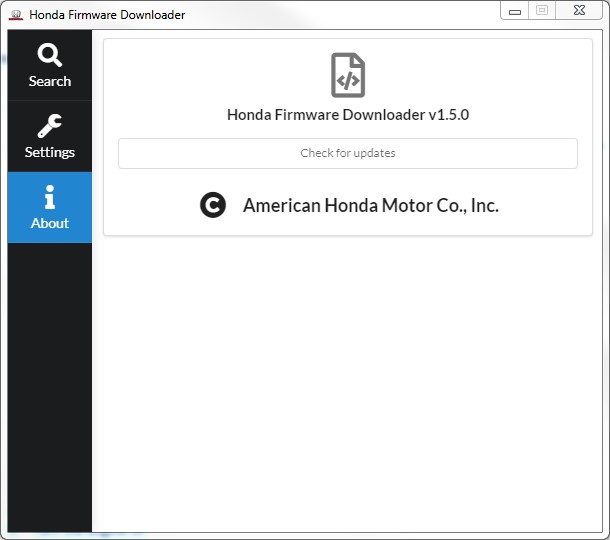 Enter the service bulletin number and the VIN, then select the Download icon when the software appears.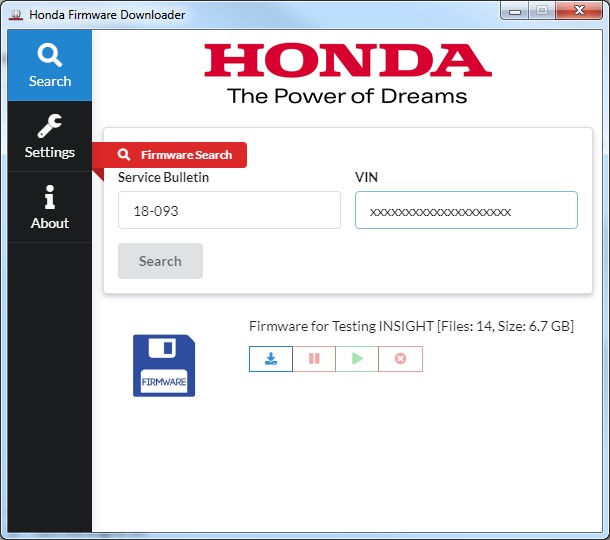 Once the download is complete, label the USB flash drive for future use.
NOTE
Downloading could take anywhere from 30 minutes to 3 hours to complete because of the large file size and your internet speed.
REPAIR PROCEDURE
Before updating the software, write down the customer's audio unit presets.
Prepare the vehicle for the update by doing either of the following:
NOTICE
If the battery voltage drops, ignition is cycled, or the USB flash drive is removed during the update, the audio unit will be permanently damaged.
Insert the USB flash drive into USB Port 1.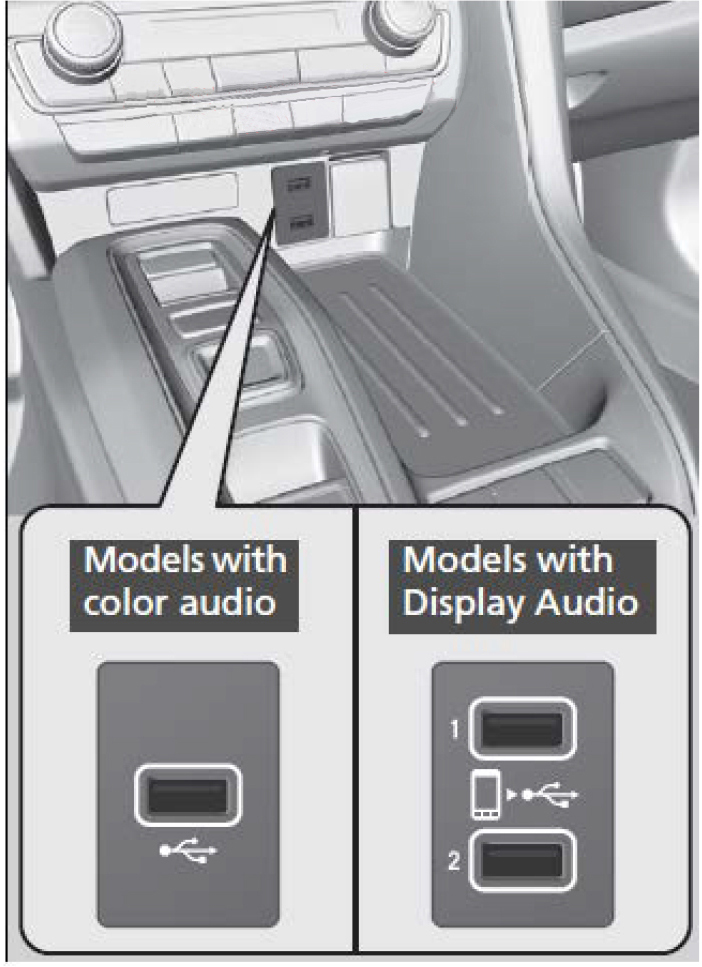 From the Home screen, press and hold the HOME+POWER+SEEK LEFT for at least 5 seconds to enter the Diagnosis Menu.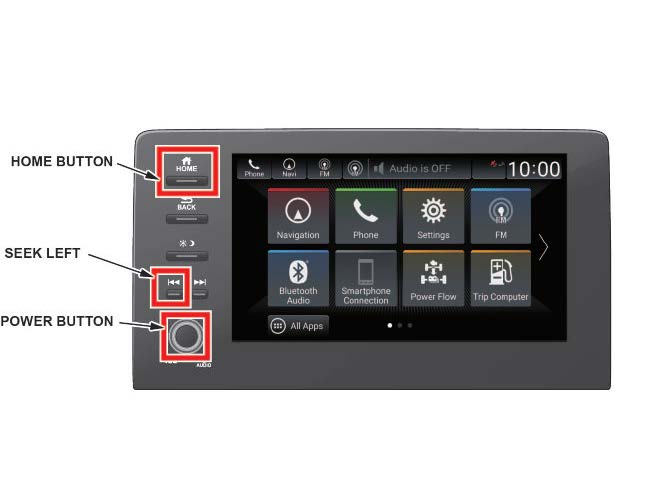 From the Diagnosis Menu, select Detail Information & Setting.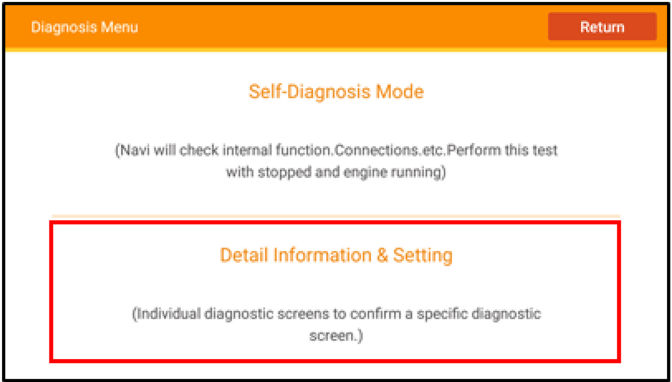 Select Version.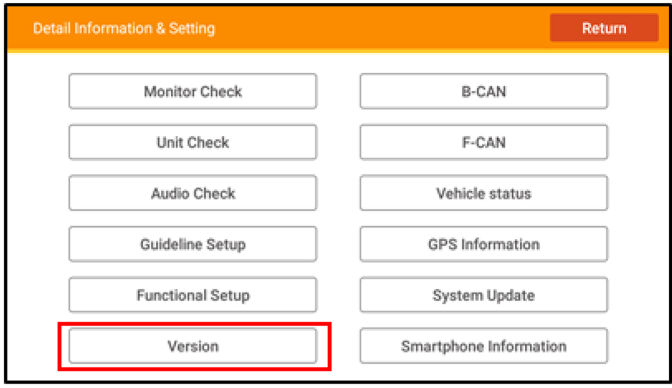 Select Loading.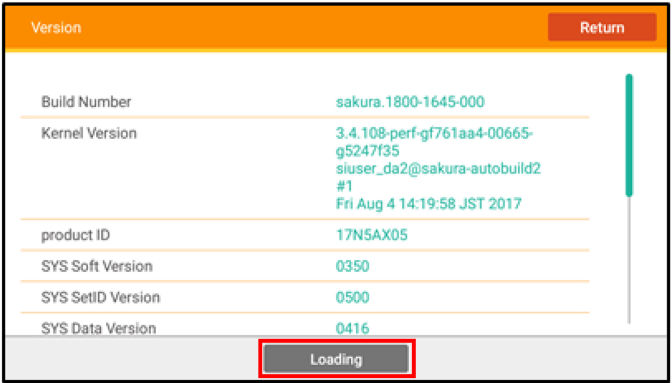 Verify that the software verison is 18AE-1945-001. If the verison is correct, select Install to begin the update.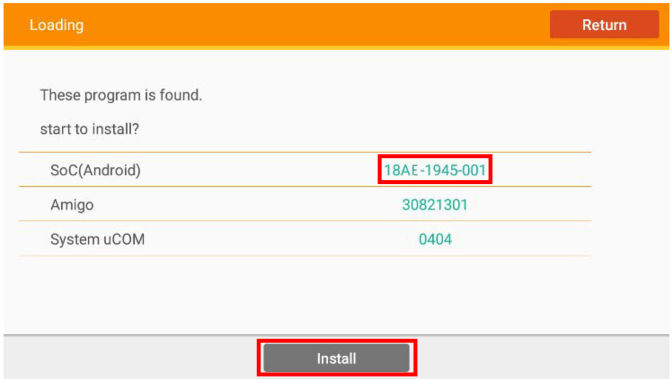 Once you select Install, a notification will appear. Press OK.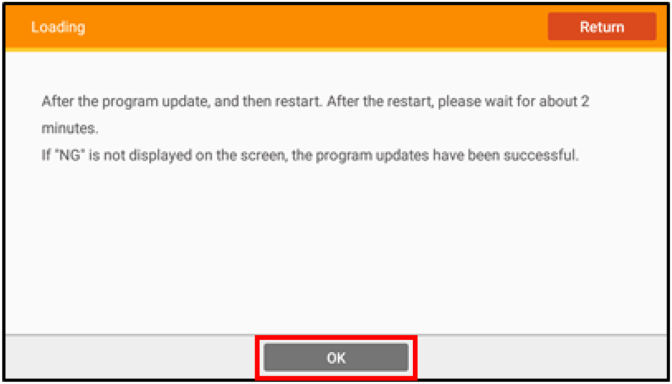 NOTE
The install takes about 25 minutes.
During the updating process, the audio unit will reset several times. If the battery voltage drops, ignition is cycled, or the USB flash drive is removed during the update, the audio unit will be permanently damaged.

Once complete, the system will reboot and load to the Home screen.
Go to RESETTING DATA.
RESETTING DATA
From the Home screen, press and hold the HOME+POWER+SEEK LEFT for at least 5 seconds to enter the Diagnosis Menu.
From the Diagnosis Menu, select Detail Information & Setting.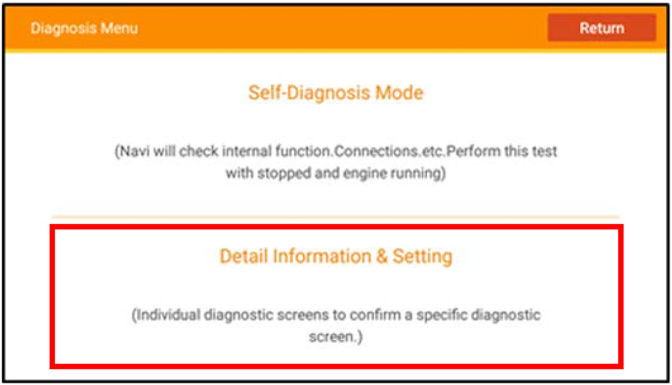 Select Functional Setup.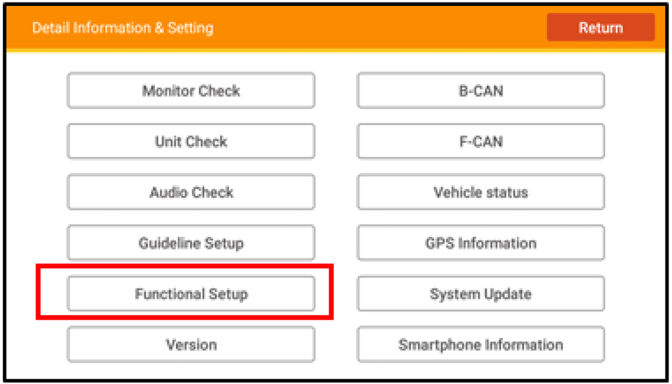 Select Backup Data Clear.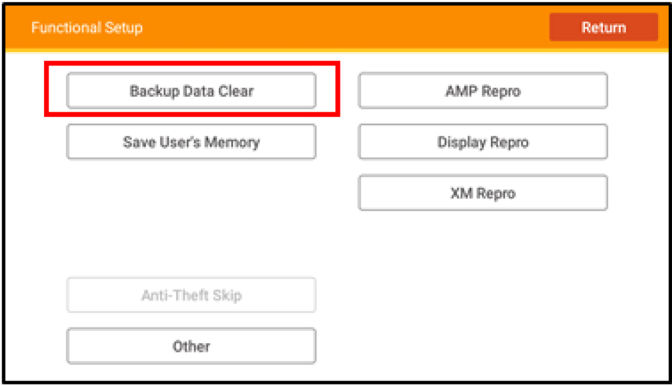 In the Backup Data Clear menu, select All Clear.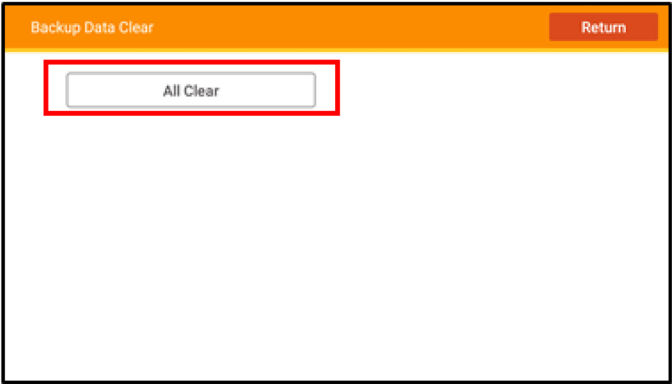 When you see the Confirmation All Clear message, press Yes. Do not turn the engine or ignition off during the data reset.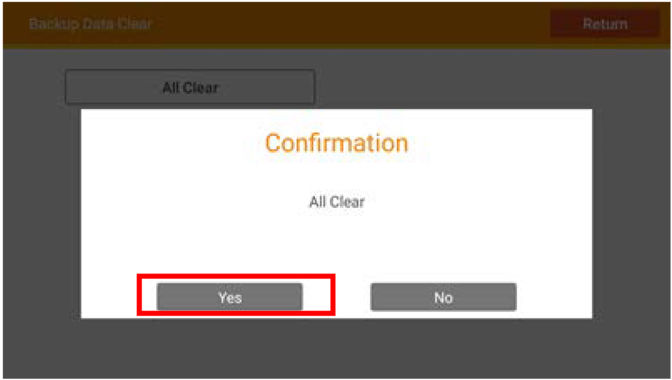 NOTE
The system may take 10 seconds or more to respond after pressing Yes.
After the Backup Data Clear is complete, the Anti-Theft System screen will display. With the engine on, press and hold the Power button to bypass the screen.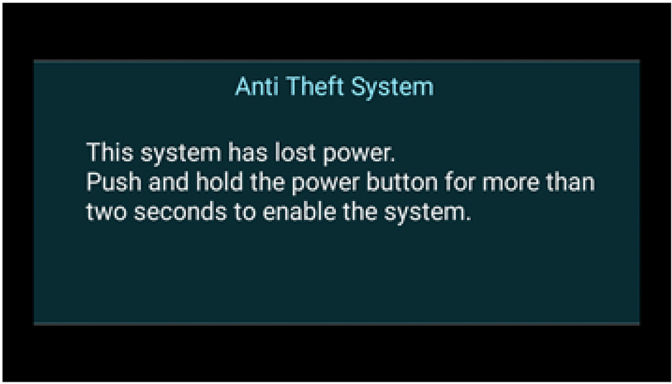 NOTE
You may need to update the time zone on the clock.
Go to SOFTWARE UPDATE CONFIRMATION.
SOFTWARE UPDATE CONFIRMATION
From the Home screen, press and hold the HOME+POWER+ SEEK LEFT for at least 5 seconds to enter the Diagnosis Menu.
From the Diagnosis Menu, select Detail Information & Setting.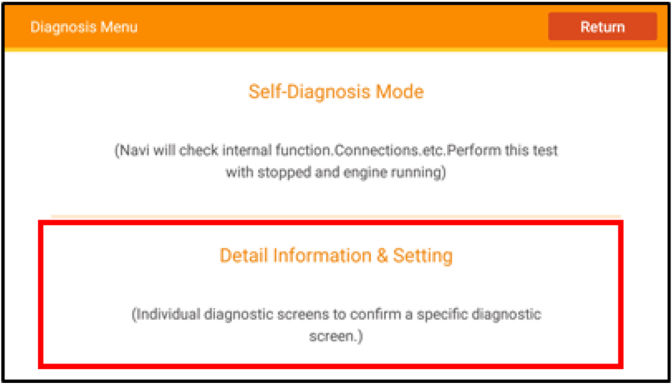 Select Version.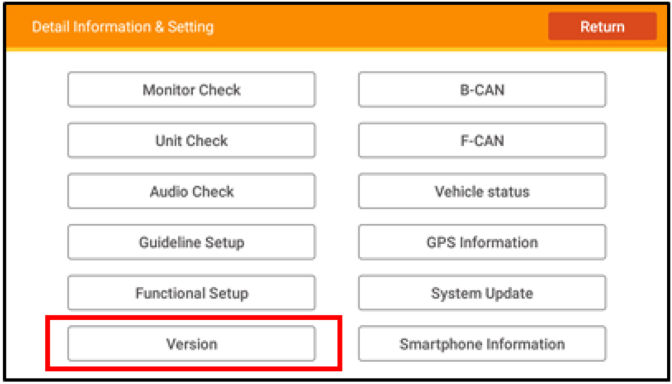 Make sure the Build Number reads 18AE-1945-001.
NOTE
If the Build Number does not match, repeat the procedure.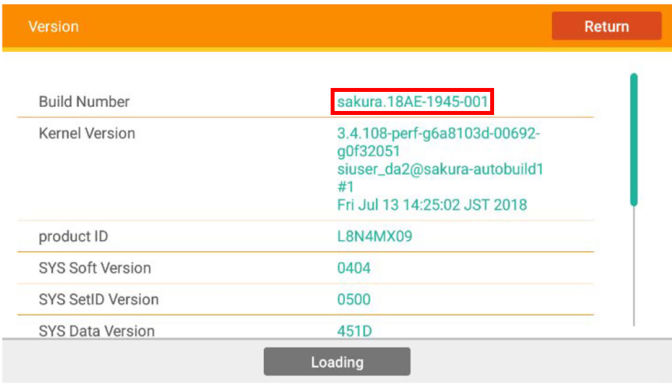 Remove the USB flash drive. The update is complete.
Once the procedure is complete, restore the audio unit presets, and have the service advisor tell the customer that any previously paired devices must be paired again.
END
---
A18-093
September 21, 2018
Version 4
https://static.nhtsa.gov/odi/rcl/2018/RCRIT-18V629-2469.pdf
---
A18-093
September 14, 2018
Version 1
https://static.nhtsa.gov/odi/rcl/2018/RCRIT-18V629-9417.pdf
---
Statement by American Honda Regarding Rear Camera Noncompliance Recall: 2018 Honda Accord and 2019 Honda Insight
Sept. 27, 2018
https://static.nhtsa.gov/odi/rcl/2018/RMISC-18V629-2594.pdf
---
Manufacturer Notice
September 14, 2018
https://static.nhtsa.gov/odi/rcl/2018/RCMN-18V629-4213.pdf
---
Manufacturer Notice
https://static.nhtsa.gov/odi/rcl/2018/RCMN-18V629-1967.pdf
---
DEFECT INFORMATION REPORT
https://static.nhtsa.gov/odi/rcl/2018/RMISC-18V629-4289.pdf
---
Recall Acknowledgement
September 27, 2018
https://static.nhtsa.gov/odi/rcl/2018/RCAK-18V629-8858.pdf
---
Sale
Bestseller No. 1
Samsung BAR Plus USB 3.1 Flash Drive 128GB - 300MB/s (MUF-128BE3/AM) - Champagne Silver
COMPACT FLASH DRIVE: Exceptionally compact Samsung FIT Plus USB flash drive for instant storage of your photos, videos, music, and files on laptops, tablets, TV's, car audio systems, gaming consoles and more
QUICK AND CONVENIENT READ SPEEDS: Redefine everyday file transfers with read speeds up to 300MB/s; USB 3.1 flash drive with backwards compatibility (USB 3.0, USB 2.0)
SEAMLESS FITTING RUGGED DESIGN: The seamless fit features a rugged metal casing for durability with key ring to prevent loss
BUILT TO LAST RELIABILITY: Shock proof flash drive is also water proof, temperature proof, x-ray proof and magnetic proof
5-YEAR LIMITED WARRANTY: 5-year limited warranty
Bestseller No. 2
mosDART 5 X 32GB USB 2.0 Flash Drive Swivel Bulk Thumb Drives Jump Drive Zip Drive Memory Sticks with Led Indicator,Black/Blue/Red/White/Green(32GB,5pack Mix Color)
SUPER SAVER PACK - Includes 5 units of 32GB USB 2.0 Flash Drive packed in a compact and eco-friendly box
LED INDICATOR DESIGN - The bottom of the usb drive has one red LED light.
360 TWIST AND TURN DESIGN - The Metal Clip rotates 360 around the ABS plastic body having a rubber oil finish. The Metal Clip is integrated with a key chain loop which helps you to protect your drive from getting lost.
USAGE - Fast data transmission allows you to store all your important documents, images, videos, software, instruction manuals etc. in the thumb drive which will be available on the go and can be accessed from any device with USB slot.
COMPATIBILTY AND INTERFACE - Supports almost all operating systems including Windows Windows 2000/7/8/8.1/10/Vista/XP/2000/ME, Linux and MacOs 10.3 and above. No need to install any additional drivers to use to the flash drive. Compatible with USB 2.0 and backwards.
Bestseller No. 3
Micro Center SuperSpeed 2 Pack 64GB USB 3.0 Flash Drive Gum Size Memory Stick Thumb Drive Data Storage Jump Drive (64G 2-Pack)
HIGH DATA TRANSFER SPEED USB 3.0 flash drive with read/write transfer speeds up to 70MB/s and 5MB/s respectively. Backward-compatible with USB 2.0 and transfer faster. Rear LED indicator lights while reading/writing
SLIM FIGURE YET LARGE STORAGE Gum size usb flash drive with 64GB capacity, meet your needs of daily use on work, school, home and travelling for photos, music, videos, files storage and transfer
PLUG AND PLAY Just plug the thumb drive then start data storage, backup and transfer between devices and locations. It supports Windows OS and compatible with PC, Laptop, TV, Car, Audio and etc
SLEEK AND PRACTICAL DESIGN The memory stick's hard plastic cover prevents rough treatment. Multiple colors for easy clarify. Cap protects USB plug and the rear easily attached loop prevents lost
RELIABLE DATA STORAGE OPTION The Micro Center USB Flash Drive is constructed from quality components and strictly tested to offer well performance. Backed by 2 years warranty, giving you worry free use, a pen drive you can count on
Sale
Bestseller No. 4
SanDisk Cruzer Glide CZ60 64GB USB 2.0 Flash Drive- SDCZ60-064G-B35
Provides an extensible design that enables service prioritization for data
Design that delivers high availability, scalability, and for maximum flexibility and price/performance
The country of origin is China
Secure storage meets simplicity with the Cruzer Glide USB flash drive.
Easily password-protect your private files while allowing access to the files you want to share with the included SanDisk Secure Access software.
Bestseller No. 5
10pcs 16GB USB Flash Drives 10 Pack Flash Drive Flash Memory Stick Swivel USB 2.0 in Black
INCREDIBLE STORAGE - 10 * 16GB USB Flash Drive, total 160GB capacity, great cost performance and high quality, multiple color, and capacity choice - Black; Black/Silver; Blue; Green; Orange; Red with 1GB; 2GB; 4GB; 8GB; 16GB and 32GB- You can store, transfer and share music, photos, movies, designs, manuals, programs, handouts in a quick speed
PLUG AND WORK SAFE WITH HIGH COMPATIBILITY AND PERFORMANCE - You do not need install any software. The most important is all the usb flash drives are formatted via the specific machine, NO dangerous viruses or malware or any file in them - they are safe for your device. And it can work when you plug it on your PC. Support windows7 / 8 / 10 / Vista / XP / 2000 / ME / NT Linux and Mac OS, Compatible with USB2.0 Backwards compatible to USB 1.1
SLEEK, CHIC, CONVINIENT AND ALSO USEFUL - The lightweight and portable usb sticks have a nice and sleek design with a metal swivel cover on each memory stick. The aluminum swivel is very smooth - making the flash drives look stylish and chic! They have a tiny LED inside which is solid red when connected and flashes when it's being written to. The end of the thumb drives has a loop for a lanyard or key ring to keep it safe or on your keys
GOOD AND PROFESSIONAL PACKAGE - They are packaged very securely in a heavy cardboard box with a foam insert and cutouts that has a spot carved out for each drive. Each memory stick drives with a little polythene cover on to make sure they stay in good condition and the end is protected by the metal part that swings over it. The packaging was so clean and neat, let you are confident giving these to your clients or friends
100% RISK - FREE SATISFACTION GUARANTEE - 30-day money back guarantee 12-month warranty, let you confident with our charger cords. Free lifetime technical support, carefree service! If you have any problem,Please email us via [email protected], we will provide satisfied solution to you!
Sale
Bestseller No. 6
SanDisk Cruzer 256GB USB 2.0 Flash Drive (SDCZ36-256G-B35)
Reliable storage for photos, videos, music and other files
Transfer with confidence when moving images and other content
Retractable design keeps the connector safe
SanDisk Secure Access software with 128 bit AES encryption and password protection
Compatibility USB 2.0
Bestseller No. 7
USB Flash Drives Thumb Drive USB 3.0 Memory Stick External Storage Expansion Compatible with iPhone iPad iPod iOS Android PC New MacBook, OTG Pen Jump Drive Adapter (64G)
【EASY AND SPEEDY TRANSFER】Directly plugs into your lightning\type c port and USB port; experience up to 80 MB/s reading and 40 MB/s writing speed with USB port. (the SD Card is free).
【STRONG BACK STORAGE】Amazing transfer speed using its 3.0 USB connector. Add 64 GB external memory expansion to your iPhone/ iPad & new MacBook , transfer files to and from a computer/ laptop WITHOUT using a cable, iTunes, or iCloud instantly free up memory.
【FRIENDLY STREAMING APP】The free APP "CooDisk" automatically prompt installation at first connect, supports all major video and music formats so you can stream directly from the flash drive, and shooting picture, saving you precious space and time. Enabling you to play movies stored on the AODINI flash drive directly from the drive.
【ACCESS SECURITY】Password protect your data safe on "CooDisk" (flash drive) and "iPhone" (in-app storage). Open TouchID and Password on setting to secure your whole storage, or Lock selected files with password. Perfect to protect individual privacy.
【COMPATIBILITY & WARRANTY】Lightning connector - Ensure 100% compatible and syncs with Apple lightning devices, can be used as iPhone 6 7 6s Plus 6 7 Plus 5s 5c 5 flash drive, iPad Air Air 2 mini new MacBook flash drive.
Bestseller No. 8
Bestseller No. 9
Sandisk CZ48 128GB USB 3.0 Flash Memory Drive - SDCZ48-128G-U46
Super-fast transfer speeds with up to 100MB/Sec
Enabled for USB 3.0, this fast drive lets you transfer and store large files up to ten times faster than USB 2.0 drives.USB 3.0 enabled (backward compatible with USB 2.0)
Includes Rescue PRO Deluxe file recovery software (one-year subscription offer)
Sale
Bestseller No. 10
USB Flash Drive for iPhone_ LUNANI iPhone Flash Drive 256GB photostick Mobile for iPhone USB 3.0 iPhone External Storage,Android,PC Photo iPhone Picture Stick(Gold)
[IPHONE DOWNLOAD ONTHE APP] -This new safe & free software, designed by engineer LUNANI flash drive for iphone. iphone flash drive support One-click Backup, iphone external storage support share pic/vid to social media, iphone picture stick support file encryption, and you can save directly to the photostick mobile for iphone when shooting video.
[PLUG-AND-STAY IPHONE FLASH DRIVE] -photostick mobile for iphone is document viewer for all major file formats. Use iphone external storage playback the videos/music directly from external memory Stick. Use flash drive for iphone share your photos, videos, songs and other files between iphone picture stick with ease.
[IPHONE EXTERNAL STORAGE HIGH] - iPhone flash drive read speeds up to 80MB/s. flash drive for iphone, picture stick, photostick mobile for iphone. speed USB 3.0 iphone picture stick for iphone that's ideal for adding more storage to laptops, game consoles, in-car audio and more.
[IPHONE FLASH DRIVE COMPLIANT MORE DEVICES] - iphone picture stick with USB 3.0 specifications+flash drive for iPhone X、photostick mobile for iPhone 8 Plus、iPhone 8 flash drive、iPhone 7 Plus、iPhone 7、iPhone6S、iPhone6SPlus、iPhone SE、iPhone5S、iPhone6, iPad 2/3/4, iPad Air 1, iPad Air 2, iPad Pro 9.7, iPad Mini, iPod, Android, Macbook, PC & laptops(iphone external storage not support type-c port)
[BACKUP PICTURE/VIDEO/PHONEBOOK] -Every time use the iphone flash drive, Use flash drive for iphone, Open the software to backup photos/video/phonebook at one click,which will be automatically stored into the iphone external storage. Use iphone picture stick, The Password & Touch ID can encrypt file information in APP to protect your private files. photostick mobile for iphone backed by a 5-year limited warranty - ONLY for LUNANI Store.
Last update on 2020-02-22 / Affiliate links / Images from Amazon Product Advertising API
Last update on 2020-02-22 / Affiliate links / Images from Amazon Product Advertising API